YouTube is one most popular online video watching site. And there are lots of ways available on the Internet with that you can easily download YouTube videos free for personal use. Downloading a YouTube video on Android device is not hard task but you will need some basic knowledge before downloading.
I have also written some posts about how to download YouTube Videos on android with UC Browser and With Tubemate Downloader. And today here I'm going to share how to Download YouTube HD Videos with Firefox Browser (Browse Speedy).
Download YouTube Videos with Firefox Browser Android.
Donloading a YouTube Video with FireFox Browser easier as you can download on Desktop Browser. It is because mostly addon supports Firefox android same as on Desktop browser. But You will need to download a compatible YouTube Videos Downloader Addon, Due to YouTube mobile site compatibility.
There are many Videos Downloader addons available in Mozilla addons store. But I found Flash Video Downloader – YouTube HD Downloader [4K] easier than others. and You can download HD 3GP, webm, flv, mp4 Videos in the resolution of 144P, 240P, 360P, 480P, 720P and 1080P, 2K and 4K (If available). So how to download YouTube Videos with Flash Video Downloader – YouTube HD Download [4K].
First download Flash Video Downloader – YouTube HD Download [4K] from Mozilla Add-on Store:
Open Firefox Browse Speedy in your android device and Go to the download page Flash Video Downloader – YouTube HD Downloader [4K] click here to go.
When the page opens, Click on Add to Firefox button.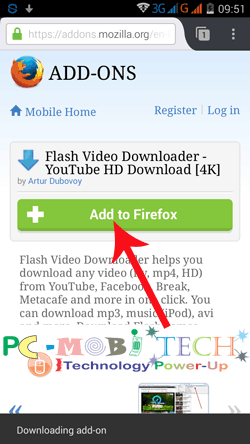 You will see Downloading add-on notification at the bottom of the browser. And wait  for few minutes on the download page until Add-on installation box doesn't appear. When it appears tap on Install.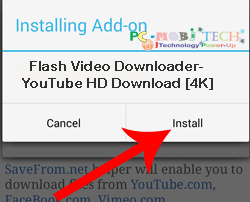 Thats it, you have successfully installed Flash Video Downloader – YouTube HD Downloader [4K].
Now open m.youtube.com into Firefox Android. Play any video which you want to download. Wait for a few moments and you'll see a download icon at the end of the browser address bar. To download the video tap on the Download icon.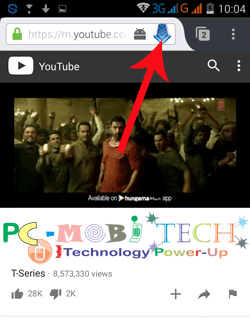 Now a download page will open in the new tab. You will see many download link with different types of video files with different types of resolution. Tap on the Download link according to your desired resolution and file eg: mp4 [HD, 720p] Download xx.xxMB. And your video will be started immediately.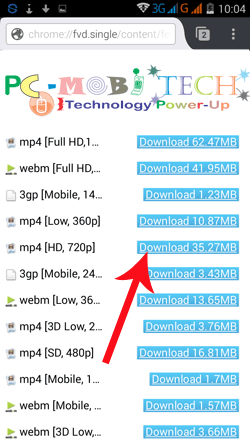 Note: Some HD 1080P and 480P videos will download without voice, So You can try 144P, 240P, 360P, 720P Mp4 files.

Also See: 
Use Youtube Watch Later Feature on Youtube Mobile app
.