As we all know that Android is a power hungry OS (Operating System). Android OS and Android System's background services drain the battery much faster than any other OS. But it is not only the Android operating system that uses the most of your Smartphone battery. There are many others factor that helps to reduce your battery power. Some of these factors are Screen, WiFi, Cellular Network, Google Services and Apps background processing. In my one previous post, I was explained how we can increase Android Smartphone battery life. And there I described some of the factors that drain the Android Smartphone battery life. But these are not only that affect your battery performance.
In Android phone, we install many other apps such as Antivirus, Games, Browsers etc. Where after the installation we don't pay more attention. If an app is using background services more than necessary. Since then it is far more likely that the app is playing an important role in alleviating your phone battery life. If you'll not give your attention to this then no matter how powerful battery phone you are using. You'll not save the battery life. So after keeping all the things in the mind your phone battery is draining continue faster. then firstly you need to know which app is using your most of battery power. So here I'm going to share how you can check most battery hungry app in Android 5.0 Lollipop or above version.
Check which apps are using most of your Smartphone battery.
To check your phone battery where is going and how many apps are eating extra power. For this, you need to go in Smartphone Settings and under the Device section tap on Battery option.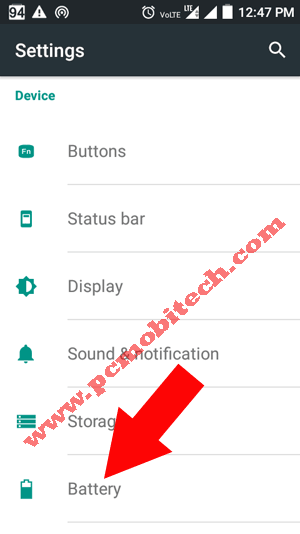 In the Battery, you can check the used battery state. It Means that if the phone battery has been used 80%. Here you can see how many apps are used your 80% phone battery. Now scroll down the page and you'll see which apps are consuming your phone battery power. If you find any app which is consuming unwanted power, then tap on the app.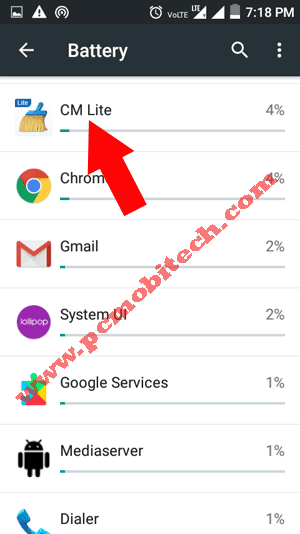 And now you can see total battery used by the app. So if the app is necessary to you. And you don't want to uninstall the app, Then you can tap on FORCE STOP button. So the app will be immediately stopped and will not consume your battery power.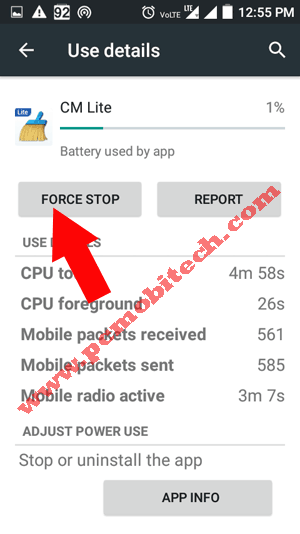 But this is a temporary solution because as soon as you start the app or restart the phone then it will again start to consume battery. So if want a permanent solution then you can uninstall the power-hungry apps to improve phone battery performance. Read: How to uninstall an app completely from Android Phone.
Get More Advanced Battery State with GSam Battery Monitor app
Android Battery app collects more information rather than its display. So if you want to get more information on App battery uses then you need to do a third party app install. Such as GSam Battery Monitor. It is a free app, so you can easily install it through the Google Play Store.
After the installation leaves the GSam Battery Monitor for at least one day, So it will track your phone battery power used time by the app. Or if you have a rooted phone then the app will give more Advanced and accurate Battery State than a non-rooted phone.
To Check App battery uses time to launch the GSam Battery Monitor and tap on App Usage option.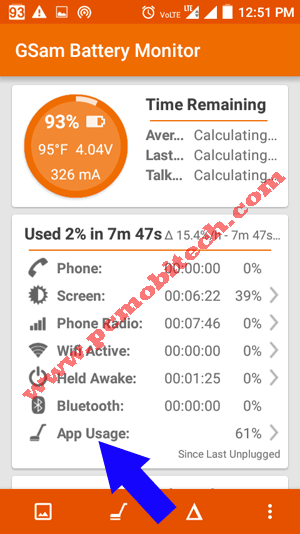 Now In the App Usage (App Sucker – View % Power), you can see most battery hungry apps on your Android Phone.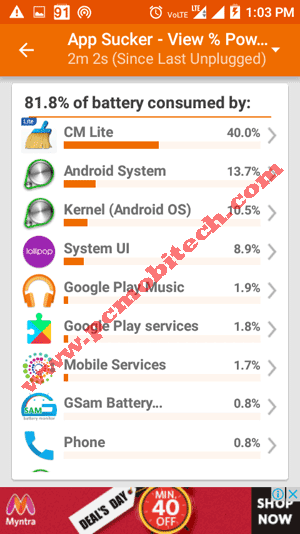 To Know more how much time battery power has been used by the app. Just tap on the app and it will show you totally used time.
Also See: