Hiding your IP Address completely not only ensures your online privacy but also allows you to unblock any sites that may be restricted in your region. By using the distributed network of relays, you can access these sites with ease without being tracked or monitored. These software tools provide an added layer of security, preventing anybody from watching your internet connection and learning about the sites you visit.
Moreover, these tools also block the sites you visit from learning your physical location, ensuring that your online activity remains private and secure. With these features, you can browse the web anonymously and unblock any sites that you may not be able to access otherwise. By utilizing these tools, you can enjoy a safer, more private online experience without any restrictions on the websites you can visit.
Free Software's that Hide IP Address & Protect your identity online-
There are numerous software tools available that can help you hide your IP Address and protect your online identity for free. These tools operate by masking your IP Address and routing your internet traffic through multiple relays, making it difficult for anyone to monitor your online activity and track your physical location.
Using these free software tools, you can access any blocked websites and enjoy a more private, secure online experience without worrying about your identity being exposed. These tools also offer additional security features, such as encryption and firewall protection, to ensure that your online activity remains safe and secure. With these free software tools, you can take control of your online privacy and browse the web with complete peace of mind.
(1) Opera VPN: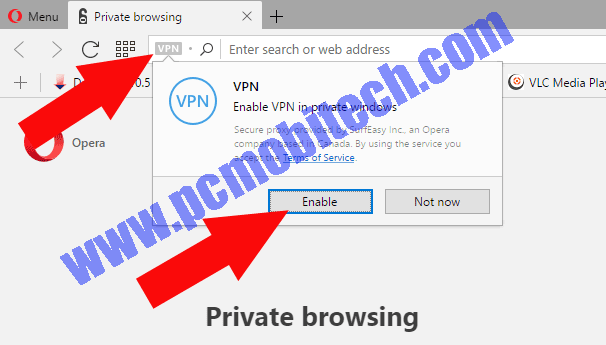 Opera VPN is my one favorite Browser and I always use when I want to hide my identity online. If the VPN feature will be enabled then you can chose a server location between 3 location ASIA, EUROPE, AND AMERICAS. When you are connected to Opera VPN, the site you visit will see your exact location that is set in its Opera VPN Settings. So It is one safest option if we compare to below softwares.
Check: How to enable & use free VPN in Opera Desktop Browser?
(2) Tor Browser Bundle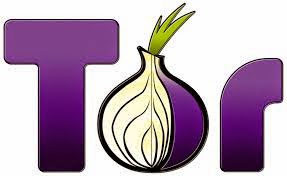 The Tor Browser Bundle is a unique portable version of Firefox Browser. The Tor Browser Bundle enables you a free internet network access which allows you to access all blocked websites in your country. It uses an extensive anonymous complex network that hides your IP & protects your privacy. But this is not good for your daily browsing routines because Tor passages your internet data through many layers & arbitrary endpoints So sometimes you may feel slow loading speed terrible experience.
How to connect to Tor Network?
After Download Extract Tor bundle.
After Extract Double-click "Start Tor Browser."
Now Tor Browser will Establish a connection to Tor Network. Wait until the connection is not established.
As soon as an internet connection with Tor network is established, The Tor Firefox browser automatically loads, and you can quickly start browsing easily.
(3) UltraSurf-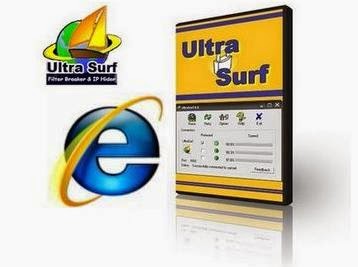 Protect your privacy online with anonymous surfing and browsing. Ultrasurf hides your IP address, clears browsing history, cookies, and more. Ultra surf also helps internet users in non-censoring countries to encrypt their communications, and protect their IP address from the websites visited; it is recommended in particular for use at wireless hotspots and public WiFi networks.
Ultra surf works only with Internet Explorer. Please use latest Internet Explorer with Ultrasurf.
(4) Free Hide Ip-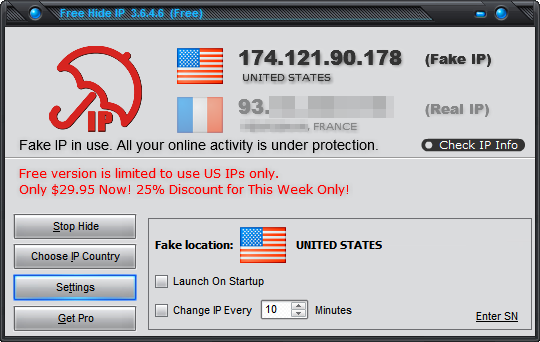 Hackers and identity thieves are becoming more and more rampant in today's society. They may break into anyone's computer and monitor one's activity or steal one's identity or other personal information. For stay safe online, the best way is to keep your IP address from being shown to others. Now Free Hide IP provides you a FREE solution to hide your IP address. Use Free Hide IP to hide your real IP address for free, anonymize your web surfing, keep your computer safe from hacker attacks and other risks, all with a single click.
Safest Alternative:
If you don't want to compromise with your Security and Privacy then I always prefer to use a Best Paid VPN Service. As you know free is free, there is no guaranty that your privacy will be safe, if it leaks then you can't do anything. So never go for free If you really care about privacy and security. Here are the list of some popular VPN service provider list:
See Also:
Safety –  It is necessary that if you want to hide your IP address entirely then please Close/disable all extensions, add-ons or any other software like adobe flash player or download manager because these types of plugin send your real IP Address over the internet.