If you're using Windows 10 for your Computer or Laptop, then it is necessary to Signup for Microsoft account and Sign-in Windows 10 device to Microsoft account. Because without a Microsoft account you can't use Windows 10 to fully functional. A Microsoft account can enable access to following accounts: Windows updates, Windows Store, Outlook, Office, Skype, OneDrive, Xbox Live, Bing, MSN. Along with this, you can enable Find My Device option, that will help you to track or find your lost Windows 10 device online, in-case if you lose or someone steals it.
So It will have good for your Windows 10 device security to Sign up for a Microsoft Account. Microsoft account signup is free and you can signup using a web browser and Windows 10. If you Signup using Windows 10, then you'll not need SignIn because it'll be automatically signing to account after signup. So how to create a free Microsoft account with Windows 10.
Create a Microsoft account using Windows 10.
Click on the Start Menu and choose Settings. In the Settings window, click on the Accounts option.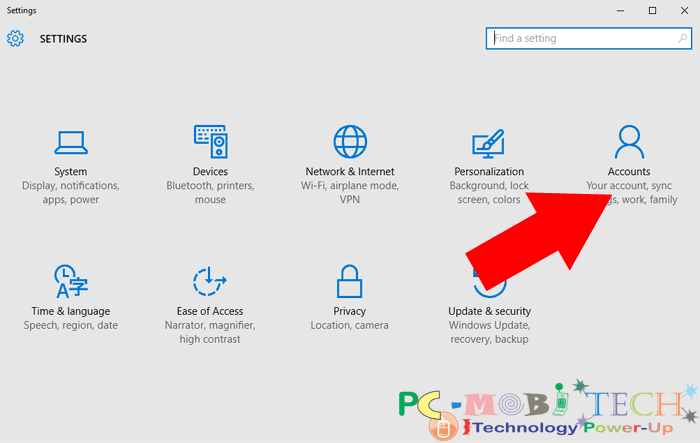 Now you'll see ACCOUNTS window and Your account tab will be automatically selected. Here click on Sign in with a Microsoft account instead.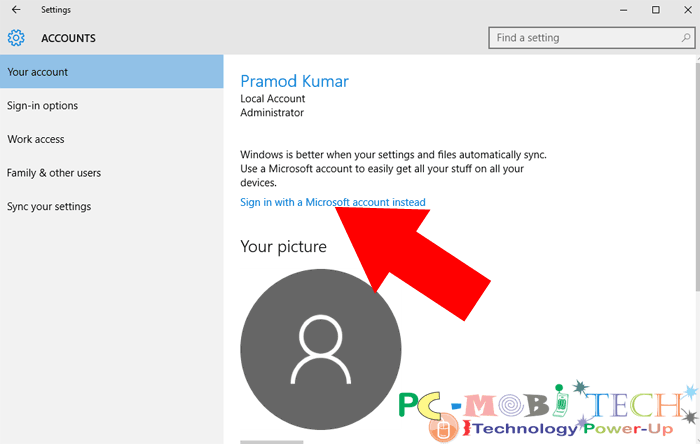 On next "Make it yours" screen appear. If you already have a Microsoft account, then Sign in using existing Microsoft account ID and password. Otherwise to create a new one, Click on Create one!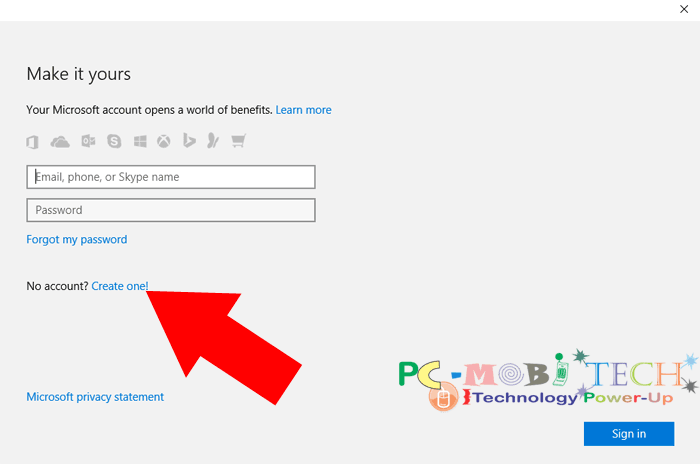 Also See: How to track or find your lost Windows 10 Laptop online.
On next, enter your existing email ID (Gmail, Yahoo or any other email account ID) in the First box, In the second box enter a good password and in the third choose your Country. After this creation, Click on the Next button.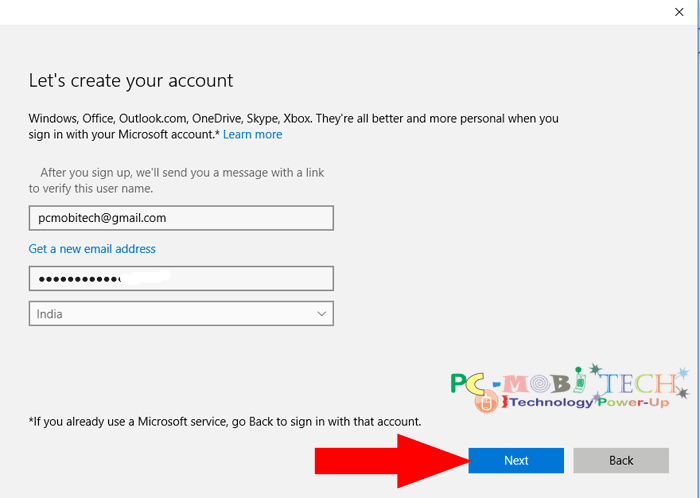 See what's most relevant to you page will appear. Here you can uncheck two boxes that it related to your privacy and advertising, If you would like, Otherwise click on the Next button.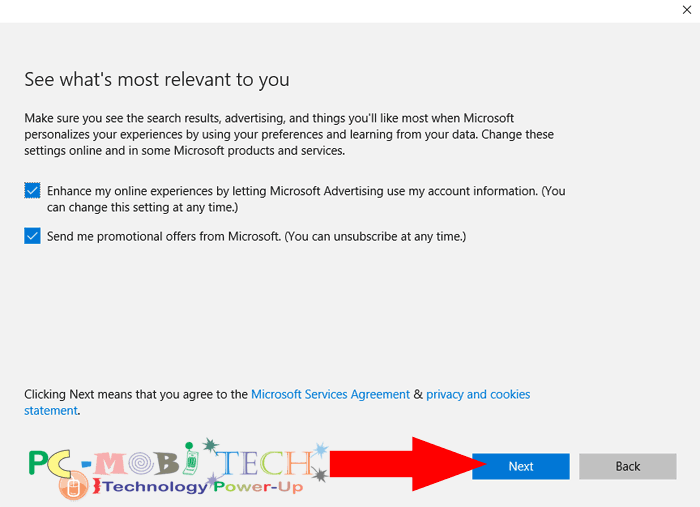 On next screen will ask you to enter your current Windows password. If you have setup any login password for Windows 10 Welcome (lock) screen then enter the password here. Because it will help you to recover your Windows password if you forget the Windows login password.  Enter the password and click on Next button.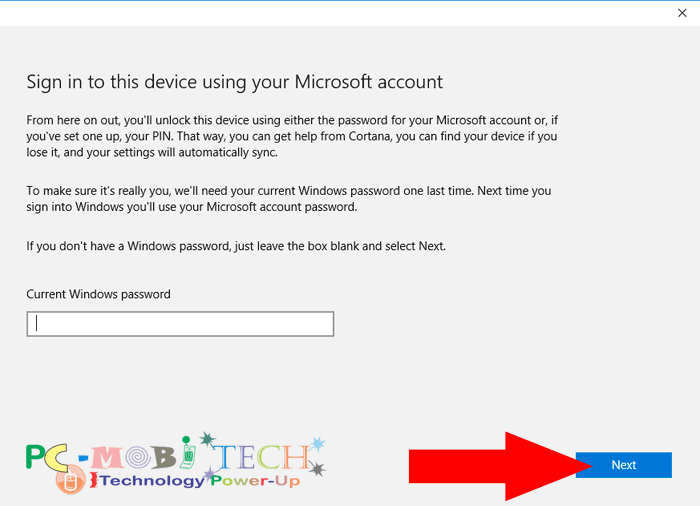 Next "Use Windows Hello instead of your password" dialog box will appear. On this screen, you can use Windows Hello dual factor security feature, But I'll suggest do it letter (because you can setup this option anytime by going Start button > Settings > Accounts > Sign-in options. So here click on "Skip this step" option. And Microsoft account signup has been completed.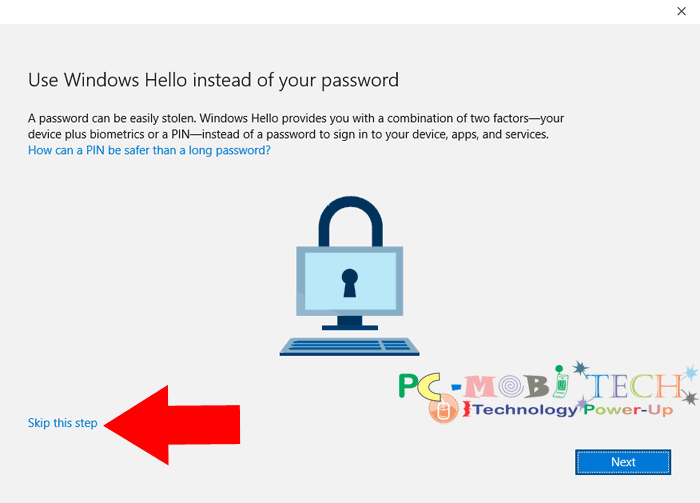 Verify your Email address.
Your account signup is now completed, but you'll need to verify your Email id to complete it. For this, an Email has been sent to your Email address which you have provided in the signup process. So go to your email account and open received mail from Microsoft account team. And after that click on Verify button.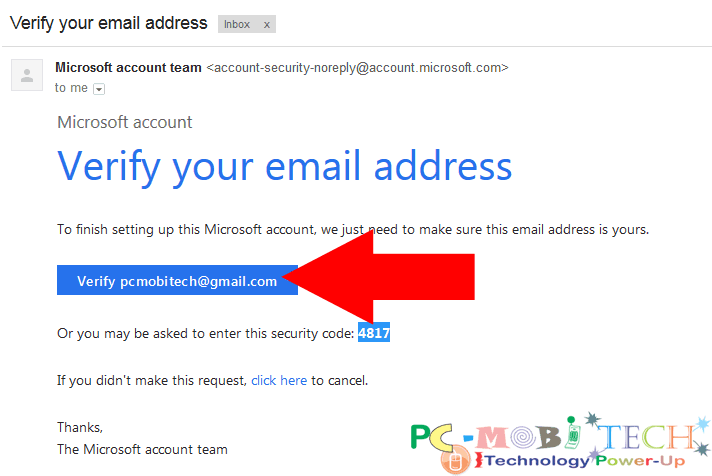 As soon as you'll click on Verify button, a new tab will open in the browser and in the new tab login with your Microsoft account ID (your email address) and password (which you have created during the signup). After this, your verification will be completed.
After Verification in Accounts Window click on Verify option and your computer has been successfully Sign in to Microsoft account.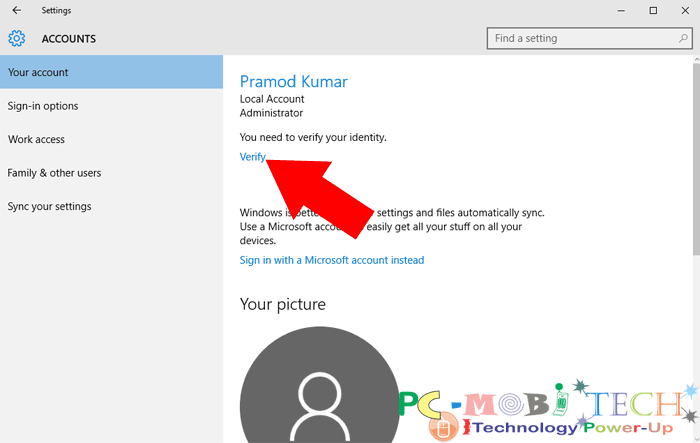 Must Check: