If you're interested in signing up for a PayPal Individual Account, the process is quick and straightforward. PayPal, a highly esteemed online money transfer system, has gained the trust of millions worldwide by providing a secure platform for money transfers and online purchases.
One of the most significant advantages of using PayPal is the protection it offers for your credit or debit card information and personal details. Your data is encrypted and stored on their robust servers, ensuring the safety and security of your information. Moreover, PayPal employs industry-leading security and fraud prevention systems to safeguard your account, never sharing your information with third parties. With PayPal, you can make payments to merchants easily, without concerns about the security of your financial information.
To get started with PayPal, you only need to create an account, after which you can confidently transfer money or make purchases.
Types of PayPal Accounts Offered
PayPal offers two types of accounts:
1. Individual Account: An Individual account is an excellent option for personal use and small businesses. With this account, you can easily send and receive money online, make purchases, and manage your finances. Signing up for an Individual account is quick, easy, and free. All that's required is an email address and a valid credit or debit card. Once signed up, you can link your bank account and start conducting secure transactions on PayPal's reliable platform.
2. Business Account: For larger online businesses, a Business account is recommended. It provides additional features, such as accepting credit and debit card payments, issuing refunds, and managing multiple users. A Business account also allows you to customize your checkout process, ensuring a seamless and professional shopping experience for your customers. Signing up for a Business account is quick and easy, with no setup fees or monthly charges. PayPal's powerful platform and advanced security features allow you to focus on growing your business while ensuring the safety of your transactions.
You May Also Like:
How to Create An Individual PayPal Account?
Since I run a personal blog, I can use an individual account. Here's a guide on how to create a PayPal individual account:
To create an individual account, visit the SignUp page.
For India-
On the signup page, select the radio button for "individual" and then click on the "Continue" button.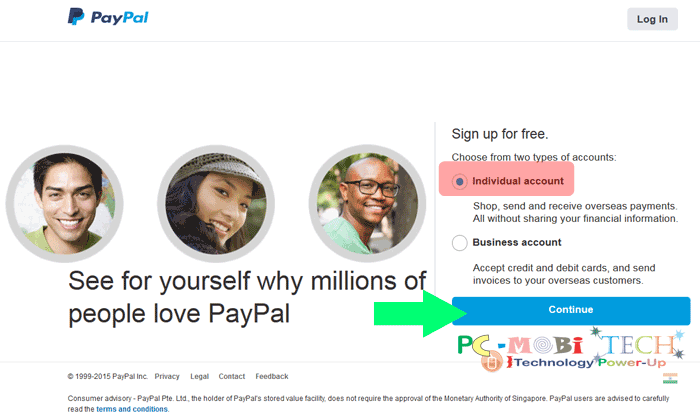 On the next page, from the first drop-down list, select your country. In the second box, enter your email address, and in the third and fourth boxes, enter your password. Now, input the code into the "Code" box, as shown in the image. After this step, click on the "Continue" button.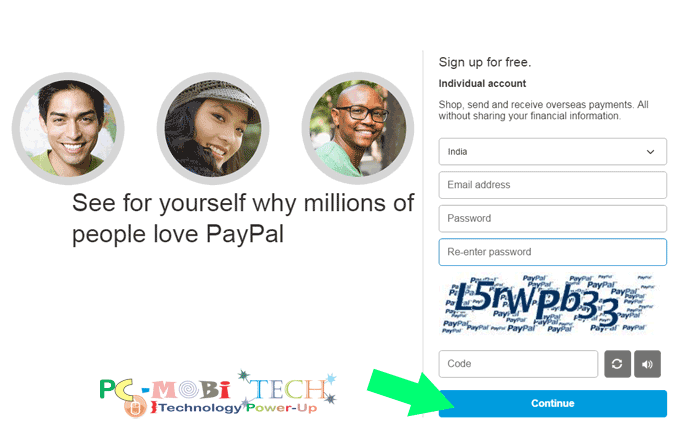 On the next page, you will need to fill the personal information.
Enter your first name, middle name, last name. for example, if your name is Mahendra Kumar Agrawal then enter Mahendra in the first box, Kumar in Middle name, & Agrawal in the last name and if your name does not have middle name eg.- Ram Singh then enter your first name Ram, last name is Singh and Middle name leave blank.
Date of birth- enter your death of birth in the format DD/MM/YY.
Nationality- Select your country from the dropdown list.
Address line 1 & 2- Enter your real postal/residential address.
Town/City- Enter here your Town or City name.
State- Your State name.
PIN code- Enter your Pin/Zipcode.
Mobile Number- Enter your working mobile number.
Code- Enter the code as you will see in the image.
Now, tick the checkbox "I agree to receive marketing communication from PayPal's I can my notification preferences at any time."
After filling in all the information correctly. Click on Agree & Create Account.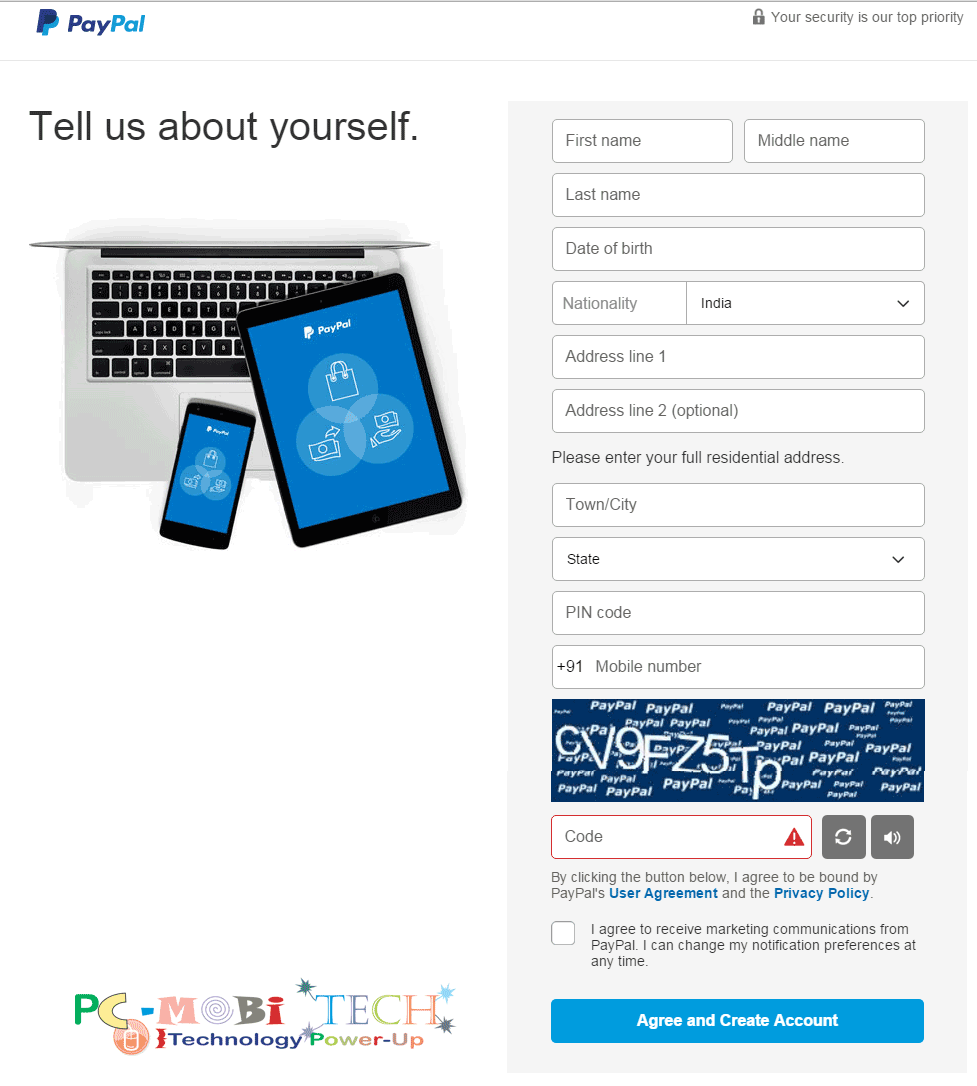 On the next page, you will be asked to fill debit and credit card Information.
Credit or debit card number- Here enter your credit or debit card number.
Expiry date- Enter expiry date of your credit or debit card. this code available on the front side of debit or credit card. (for example- 08/18, 11/22)
CVV- Enter 3 digit Card Verification Value (CVV) code. You can find this code back side of the debit or credit card.
Billing Address- This address must match your debit and credit card billing addresses.

After filling in all the above information, click on the

"Link Card"

button. Now, your debit or credit card is successfully linked with PayPal. Two transactions will be processed by PayPal from your account for card authorization, and these amounts will be refunded within 3-5 business days. Additionally, you will be prompted to enter a 4-digit verification PIN code. The PIN code will be sent to your registered mobile number along with the transaction receipt and can also be found on your bank statement (ATM/Bank).

There will be two transactions from PayPal; one of them will contain a Transaction ID similar to PP*1234CODE. Click on "Verify Your Credit Card," copy the digits, and paste them in the verification window. Shortly afterward, you will receive a notification confirming that your card has been successfully verified.
If you still do not want to fill debit and credit card information now or you want to fill later,  then click on I'll link my card later.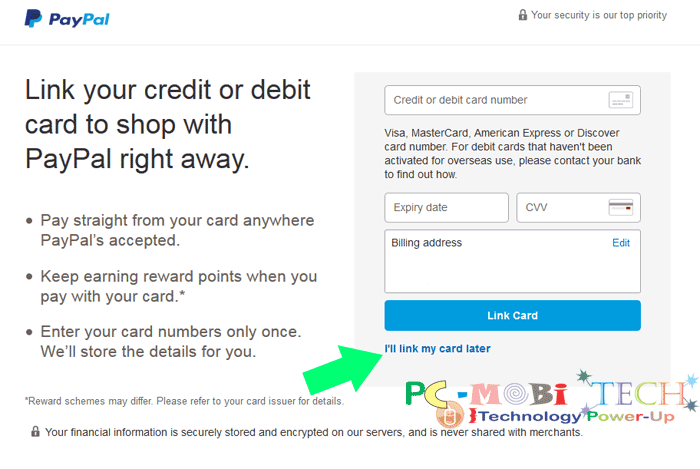 Now your PayPal Account has been successfully created. Click on the bottom option: Go to your account.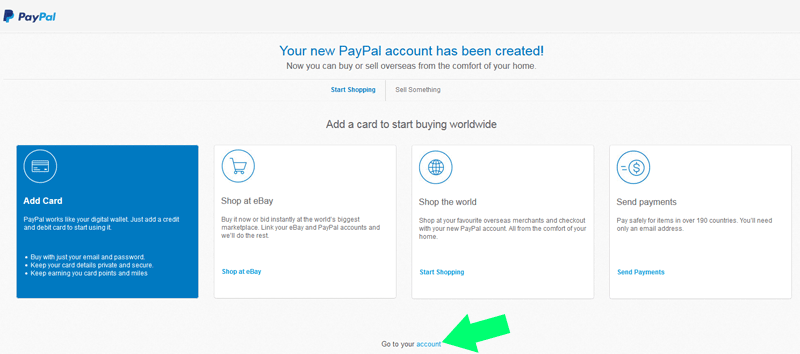 Now that you have successfully created your individual account.
Thanks for reading!