Are you amongst those who need to continue working even you are on a vacation? Then with remote support and access of Team Viewer or some other Team Viewer Alternatives will help you in this by catering your custom needs.
As you would know, TeamViewer sorts of remote tools let you interface with your PC from any side of the world. You just need a proper internet connection.
Utilizing Team Viewer Remote Desktop Access, Remote Support, and Remote Monitoring and Management, you can do numerous things like mirroring your PC over the web, sharing files, assisting someone remotely, as it will turn your Smartphone into your window to your workplace.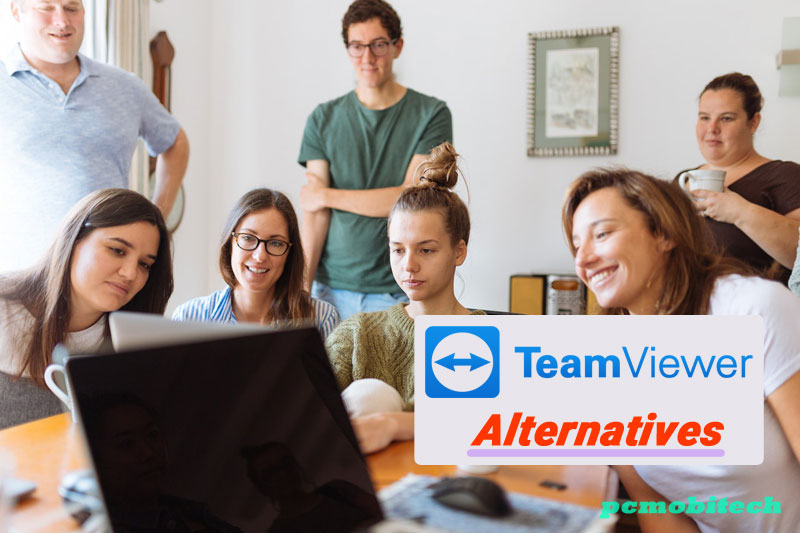 To offer adept service on different devices, it used different protocols such as Remote Desktop Protocol (RDP) on Windows, Remote Frame Buffer (RFB), Apple Remote Desktop (ARD), and so forth.
So, while discussing remote access services, it seems obvious that TeamViewer is the most famous free remote desktop tool out there. Be that as it may, imagine a scenario in which for reasons unknown you don't want to opt for Team Viewer. Then, no need to get perplexed here!
You can easily find some great TeamViewer alternatives.
In this post, we will talk about some of the best free alternatives to TeamViewer that can permit you to enjoy remote desktop access like a pro. So, let us delve into the world of Team Viewer Alternatives-
5 Best Team Viewer Alternatives
1-AnyDesk

It had launched in the year 2014, Anydesk gives you most awesome and personalized remote access experience, With it you can get cloud-based access, unattended access, and easy remote transferring of files.
It is light weight software, which can be easily download and install in just few seconds or a minute. It uses banking-standard TLS 1.2 & RSA 2048 asymmetric encryption technology to protect network connection between host and guest.
It is compatible with Android, iOS, macOS, and Windows. Its software lets it work with all the available and recent versions of Windows, Android, iOS and Mac Os. Some of the notable pros and cons of this one are-
Pros
It can be easily download and install because it is very light weight application and the file size is only 1.1+ MB.
Low-Latency and fast network connection.
No limit on bandwidth and no-time restriction.
Responsive Layout support.
Apps available for Android, Windows, iOS, and for MacOS.
Cons
Sometimes Copy Pasting doesn't work between Host and Guest, but it is solved in latest version.
Resolution related problems occur sometimes.
Platforms
Android, Windows, iOS, and for MacOS.
Price
AnyCast M2 Plus 2.4G HDMI Dongle for TV at $32.99, M100 at $39.99 and M9 at $32.99
2-Chrome Remote Desktop (Extension)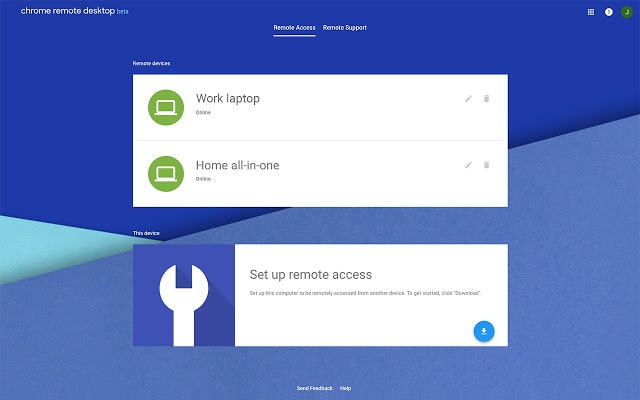 This one can be the most effortless TeamViewer alternative for you. It is a free remote desktop solution from Google, and commonly it is notable for its effortlessness in offering remote desktop services. Working on this Team Viewer alternative depends on Google's Chromoting proprietary protocol.
The most amazing feature of Chrome Remote Desktop is the way that it works inside your Google Chrome. With this, it is not required to keep up a different application on your PC. The notable upsides and downsides of this Team Viewer Alternative are-
Pros
It is a simple to use remote desktop solution
Visually engaging UI
Lets you sync clipboard with the remote gadget
Offers support for the remapping of keys on the remote gadget
Offers support for various displays associated with the remote gadget
Lets you quickly interface with different gadgets utilizing One-time passwords
Cons
Its setup procedure is somewhat monotonous
It needs Google account for the Remote Desktop connections
Platforms
Windows, Mac, Android, iPhone & iPad
Price
Free
3-Webex Meetings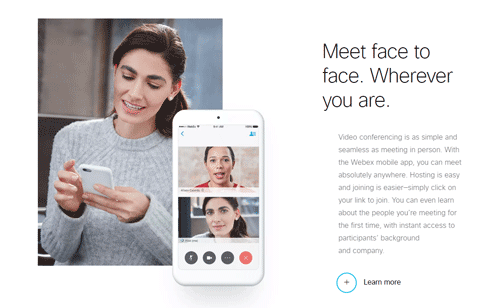 By opting for this Team Viewer alternative, you will find a Remote Desktop Solution that enjoys the most immediate rivalry to TeamViewer.
It is one of the best web conferencing tools for you. It is a cloud application appropriated over different cloud servers of Cisco that lets clients get some genuine transfer speed. Its back-up and caching features make it a fantastic answer for huge and distributed teams searching for the best remote accessibility.
It will also permit you to set up web conferences with around 100 visitors. So, all in all, it is going to be one of the most suitable Team Viewer Alternatives for you. Some of the significant pros and cons of Webex Meetings are-
Pros
HD video for face-to-face meetings
Flexible audio-only conference call options
Easy screen sharing
Meet across any device
One-on-one or group messaging
Digital two-way whiteboarding
Rich content and file sharing
Video calling
Easy to change moderators
Cons
The default browser for WebEx is Internet Explorer, so Chrome and Firefox users need to change the browser setting
Integrations are separate downloads
Platforms
iOS, Android, Windows
Price
Basic version free, Starter version at $13.50 per host/month, Plus version at $17.95 per host/month and Business version at $26.95 per host/month
4- LogMeIn Pro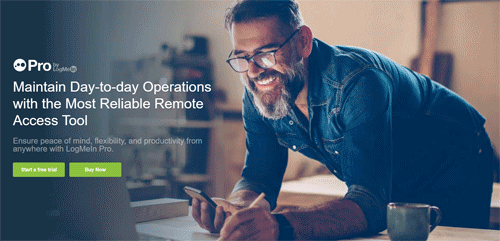 If you choose LogMeIn Pro as an alternative of Team Viewer, it will let you have a remote management app streamlining the allotment and accessibility of resources by ensuring the security of your enterprise information.
LogMeIn Pro comes up with 1TB of space on its cloud servers that you and the team can use for accessing the files and applications as all such files and apps be saved and centralized on its servers.
It likewise enables you to print documents to nearby printers remotely. Some of the pros and cons of LogMeIn Pro are-
Pros
Remote automation of routine IT tasks
Easy remote collaboration on specific files
Top-notch security
Meetings on the application are secured via TLS 1.2 transport security and AES 256-bit encryption
Servers are likewise recognized utilizing a Public Key Infrastructure
Cons
Can be a little time consuming for initial installation and connection
Pricing is considerably high
Mac screen resolution can be spotty
Needs good internet connection for stable performance
Platforms
Web-based, Cloud, SaaS
Price
Individuals at $30/month, Power users at $70/month, Small businesses at $129/month
5-Splashtop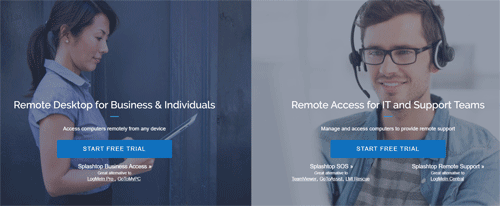 Splashtop is our fifth alternative to TeamViewer that you can use for effective mirroring of your PC remotely.
Being one of the best remote access services, Splashtop has made a decent name over the business by giving a decent blend of video features and latency over the remote connection.
With its free version, you will get the loaded highlights that can be sufficient for tenderfoots. Let us now have a look upon some of the pros and cons of Splashtop-
Pros
Easy a single tick availability to the remote machine
Offers touchpad signals, for example, pinch to zoom, and two-finger scroll sorts of features
Lets you enjoy great quality even on moderately quick connections
Offers support for the file transfer from the remote devices
Features can be extended by installing some paid add-ons
Cons
While accessing it from a new PC, you need to click the approval email
Client-end setup is a little tricky
Random crashes occur a little often
Becomes glitchy at times
Platforms
Windows, macOS, iPad, iPhone, Android, Chromebook, Chrome browser, Kindle Fire
Price
Business Access Solo at $5/ month, Business Access Pro at $8.25/ month / user, Business Access Pro Volume Licenses at $4.54 / month / user, Remote Support Plus at $25/ month, Remote Support Premium at $40/ month, and many other plans
Wrapping up Team Viewer Alternatives!
On the concluding note, we hope you would have found out some of the best alternatives to Team Viewer. You will easily find the best suited option for all your remote desktop, remote access, and remote monitoring needs.
Which one do you consider the best alternative of a Team Viewer for your specific needs? Share with us in the comment section below.