On Android Smartphone, every app running in the background always use Internet data without your permission. If you're on an unlimited data plan, then there is no problem because you don't have any restriction of data, but if you have limited data usage plan, your data will be wasted due to Background Data usage. Therefore, blocking an app from accessing the Internet will a good idea.
I already described the process how to disable Internet to all apps on Android 4.3, 4.4 & 5.1 and to the specific app such as WhatsApp, Facebook, etc. But the method only works with the previous version of Android OS. If you're using the latest Android version such as Android Nougat 7.0 or Android Oreo 8.0+, then you'll not get exact settings as it was available in the previous one.
How to Block Internet on Android Oreo 8.0
In the previous Android versions, We had settings "Restrict Background Data". But after the Android Marshmallow update, the feature was removed and replaced with "Background Data" option, and the option location again changed in Android Nougat. So for Android Nougat users can also try the following methods because it will also work for them. You can block Internet access on Android Oreo 8.0 via two ways:
Block Internet to a specific app.
Block Internet to all apps.
Block Internet to a specific app:
If you want to disable Internet for a single app, then this trick will work. First, you'll need to go to the Android Phone "Settings", and insight the Settings tap on the "Network & Internet" option. Once you come in the Network & Internet tap on the "Data usage" option.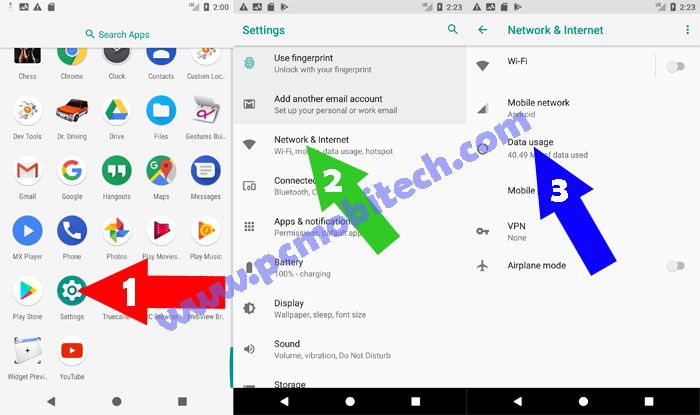 Now tap on the Mobile Data Usage option, and you'll see a list of all installed apps. Scroll down the page and tap on the app which you want to block from accessing the Internet. Now you're in the "App data usage" option, tap on the "Background data" toggle button.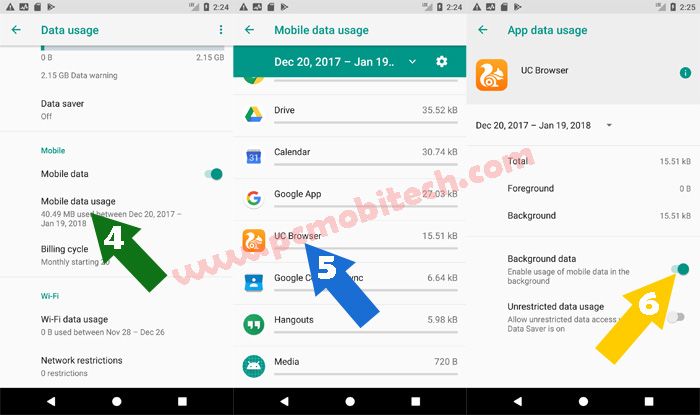 It will restrict the app from using Internet data until the app will run as a background service. But when you use the app then it can access the Internet.
You May Also Like:
Block Internet to all apps
Above method works for a specific app. Means if you want to restrict Internet to all apps then you'll need to disable Background data for every app one by one. So above method will take more and more time to turn-off and turning-on Internet data. Here is another simple process that you can block Internet to all apps in just one step.
If you need blocking Internet data for all running Background services. Go to (1) Settings >> (2) Network & Internet >> (3) Data usage. In the Data usage settings tap on the "Data saver" option and finally tap on the Data saver toggle button to Turn-Off Internet data to all apps.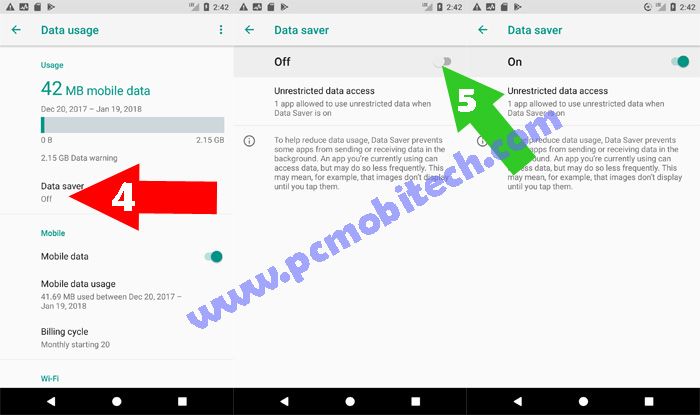 After disabling Internet to all apps, when you need to re-enable data, then follow the same steps and tap on the Data saver Toggle button "On" to unblock it and again all background apps start accessing the Internet without any restriction.