Do you want to change your Facebook Page name or username URL? If Yes, then here I'll show how you can change it with easy steps. When we create a Facebook fan page that represents our business, And sometimes when we change business name or Brand name, then Facebook Fan page remains same with the old Brand name. And when we share the new content on the old brand page, It confuses your Facebook page audience.
Therefore, many of us think to create a new page and do a fresh start. And if your page has millions of subscribers then it is not a good move because you'll lose all the followers. But don't worry, Facebook offers Facebook Page name and username changing request. So here I'm going to share Facebook fan page name and username-URL changing process and few tips with that you can quickly change your desired brand name.
Useful tips for Changing Page name and URL:
These are not necessary but help to Facebook why you want to change your Page name and URL:
First Change the Facebook Fan page profile Picture and Cover Picture according to your Brand name.
Change Website Link to new site.
Edit your About page description that matches to the new brand.
Also See:
Change Facebook Fan Page Name:
To change Facebook Fan Page Name login to your Facebook account.
After login click on drop down Settings menu from the top right bar and under Your Pages click on the page that you want to rename.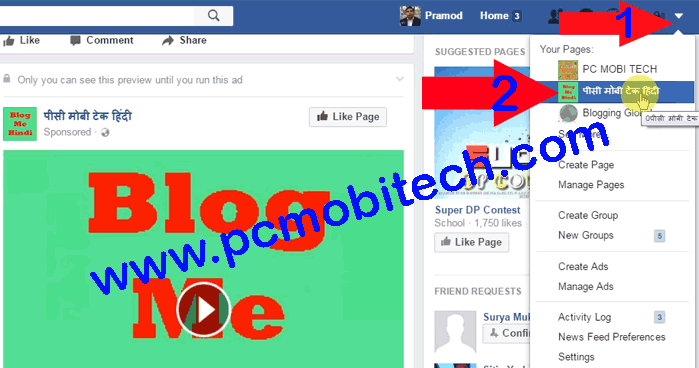 Now click on About option available on the left under the page tab. You will see About, Under the GENERAL, take mouse over the right of the Name and Edit option will appear and then click on

Edit

link.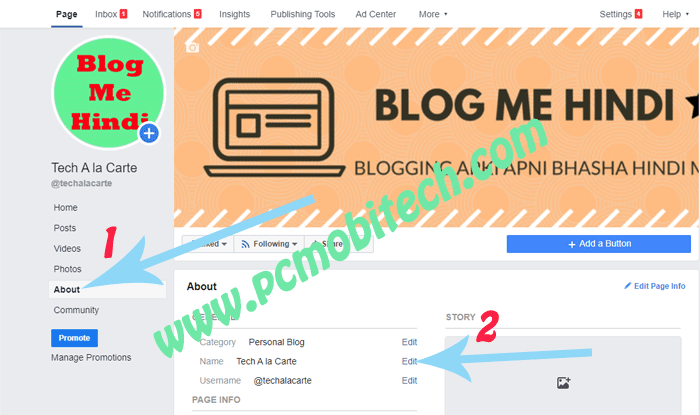 After clicking on Edit, Request New Page Name box will appear.  Enter a New name in New Page name box. And click on Continue button.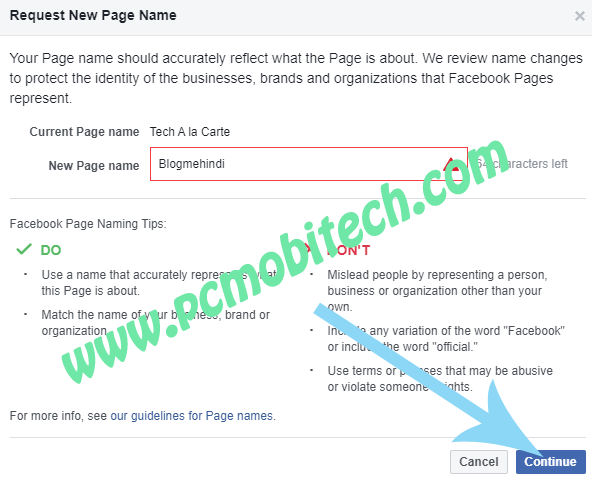 Note: Change the page name with caution because if you choose something wrong, then it can't be changed within 7 days. So be careful here and as well as don't use a name that misguides your business name. You can also Include "Official" word with your Page name if the name is using by many others. E.g.: Official Brand Name.
On Next Confirm Name Change Request box will appear. Here you can ensure that the page name is correct or not if not then you can click on Cancel button otherwise click on "Request Change" button to change the name.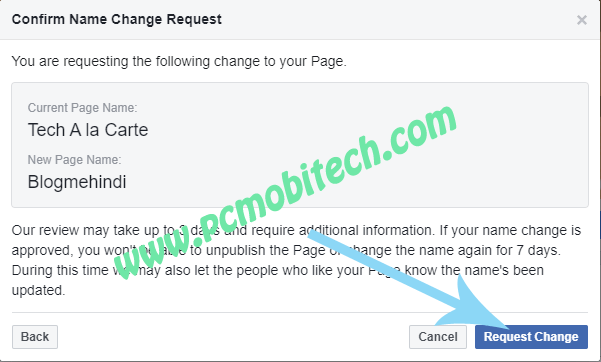 Now you'll see "We're Reviewing Your Name Change Request" dialog box. Which means the Facebook team will review your Name change request and if they found it is necessary then the page name will be changed within 3 days.  But mostly it completes within few minutes or hours. If not then wait up to 3 days.
Also Check this:
Changing Username-URL of Facebook Page:
After changing Facebook Page name, if you also want to change Username-URL of your Facebook page then do same as you have done for Page name.
Click on Settings drop-down menu and choose About from left and you'll come again on Page Info page. Here again, take the mouse over Username and click on Edit link.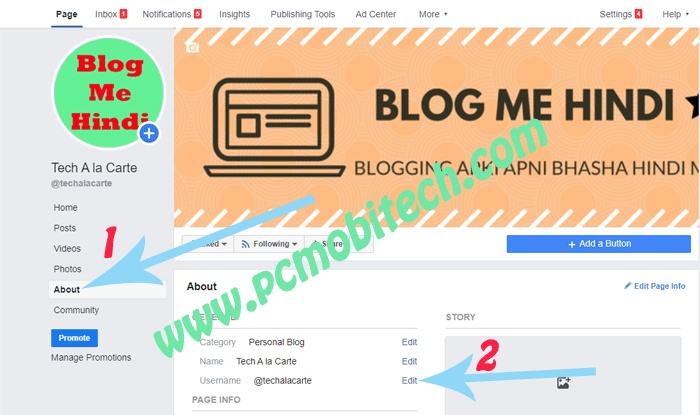 "Create Page Username" box will appear. Fill your Username in the Username box and check availability. If the username is available, then green tick (

√

) will be marked.
In case the username is not available then you can mix some other words with the username such as Official

BrandName

. And also can include dot (.). After entering a right username click on "Create Username" button.
"You're all set!" dialog box will appear. Click on "OK" button.
Now wait until Facebook review your Username URL change request, and when Facebook team find the change request is required then you'll get "Your request to change your page's name has been approved". Message and after that, your Username will be changed.