WhatsApp changed some privacy policy in the latest WhatsApp version 2.16.225. And now WhatsApp will share your account information with Facebook to improve your Facebook ads and products experiences. But it will not share your chats and phone number. As soon as you will update WhatsApp to version 2.16.225. It will ask you to AGREE with new Privacy Policy and terms and conditions. And as you will "AGREE" with T&C. It will start sharing your account related information with Facebook.
But If you don't like to share your WhatsApp account level information, then you can disallow WhatsApp to share your information on the Facebook. So in this, I'll share how to stop your account information sharing in WhatsApp.
Why WhatsApp want to share your information with Facebook?
As we know that WhatsApp is freely available for everyone. And there is no need to pay anything to WhatsApp. Thus WhatsApp is not earning anything from you, Then Why is the WhatsApp giving free service to you. For this, you will need to go back in the January 2016. When WhatsApp had announced that they are going to make WhatsApp License free for lifetime.
And they were also told us how they will earn money without third-party ads, You can read this official WhatsApp post here. And this is another way to get some profit via Facebook ads using your account information.
But We don't know what they are going to share with Facebook. Because they are saying WhatsApp will not share your chat and phone number then what will they share with Facebook to improve their Facebook ads.
However, WhatsApp is giving the option to disable account information sharing with Facebook.
Must See:
How to choose not to share WhatsApp account information with Facebook?
After a recent update or with new installation WhatsApp will ask you to accept WhatsApp new Term and Privacy Policy. So don't tap on "AGREE" button. On the Agreement page, you will also see "Read" link. So tap on Read to see new Terms and Privacy Policy.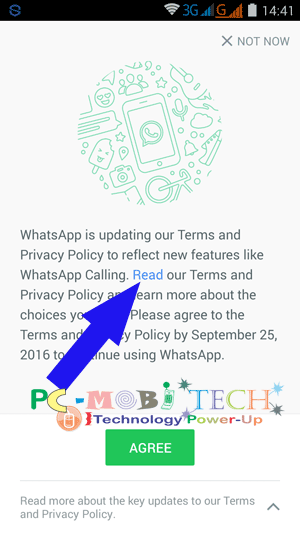 Now you will see Terms and Privacy Policy page. At the bottom of the page a checkbox available, So uncheck the checkbox to disallow WhatsApp account information sharing with Facebook.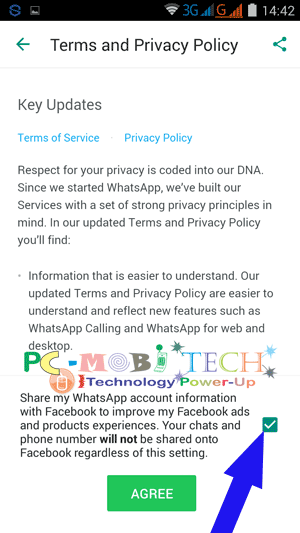 And if you have not done this and want to disable Account information sharing, then Go to WhatsApp Settings>>Account>> and untick the "Share my account info" checkbox.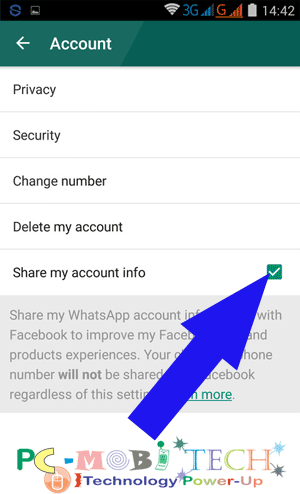 Now WhatsApp will not be shared your account related information with Facebook to improving Facebook ads.
You May Also Like: