Today Android smartphones are the most popular in the world. The main reason for the popularity of Android smartphones- Lower price & Android operating system. Today, 1.6+ million Android apps are available in the Google Play Store. There are many apps, which are very important in our personal lives. Android smartphones have become so powerful. The game was made for the PC, is now also available on smartphones.
We install several new apps and games again and again and then uninstall. But many apps are not completely removed because the apps data remains on the smartphone and then the data gradually increases, that becomes enormous, your smartphone's performance go-slows and your phone hang Often. Many times it happens, we install a wrong application by mistake & the phone becomes infected with the virus. The phone can't be repaired without resetting. We can reset android smartphone very quickly but the main problem is android apps, SMS, Contacts, Call Logs, Calendars & Bookmarks that stores in smartphone memory. When we reset the smartphone, the data is also deleted. It is why we do not reset the smartphone. Therefore, if you are afraid of the smartphone to format, so today I will tell you, how you can reset the android phone without losing your data.
Must Read:-
If you want to format your smartphone, you must first back up the data of the smartphone. So after reset, the smartphone data can be restored. To backup data, many apps available in the Android Play Store. Such as App backup and restore, SMS backup and restore. But these different ways to backup data. If you want to use only one application, the Super backup is the best and easiest application. With Super Backup app you can easily backup all apps, SMS, Contacts, Call Logs, Calendars & Bookmarks to SD Card & also on Google Drive or cloud storage.
How to Backup android smartphone data With Super Backup?
First Go to Smartphone settings» tap on storage» select External SD card. If you select internal SD card then all your apps, contacts, SMS, Call Logs, Calendars backup store on your internal SD card, So it better to store all your App & data backup on External SD card.
Now Install Super Backup app from Google Play Store- >>Click here to install<<
After installing, open Super Backup app. Please check before backup; the backup would be on SD card. To check the backup directory, tap on the top right 3 dotted menu»tap on settings»backup path. See here; the backup is only on the external SD card. If not, set the location of the external SD card. After checking backup all apps, SMS, Contacts, Call Logs, Calendars & Bookmarks to External SD Card.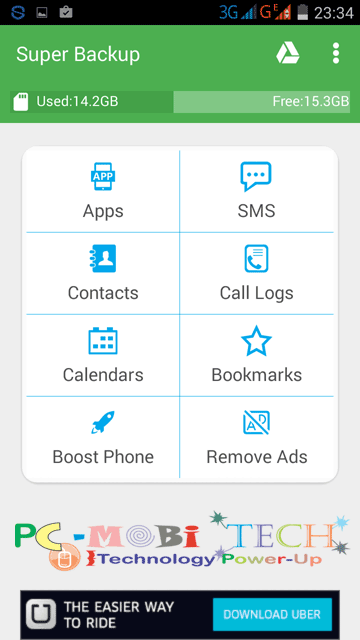 How to reset the Android phone?
After completing the backup, Go to smartphone Settings, scroll down & find Backup & reset option, tap on it.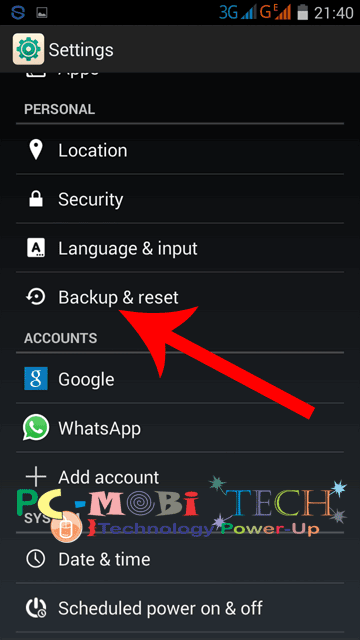 In Backup & reset tap on Factory data reset option.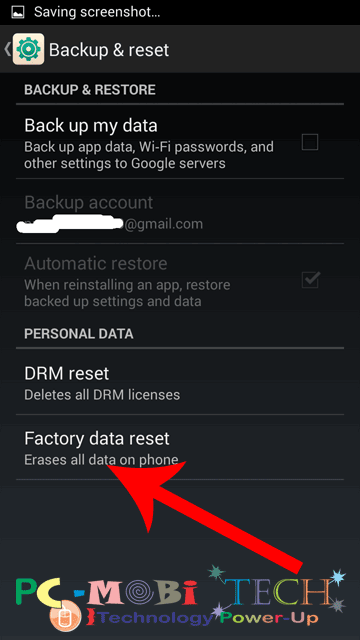 In Factory data reset, Please make sure don't enable Erase internal SD card option otherwise your data stored on internal SD card will also be formatted. Once entirely sure tap on Reset phone button.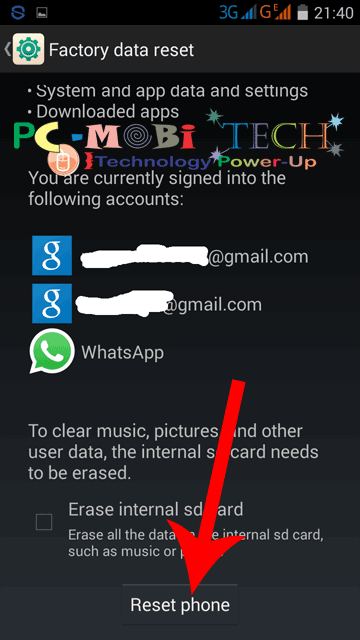 If you are asked to confirm, then tap OK. Your smartphone will now be formatted. And will restart after the reset.
Also See:
How to Restore Android smartphone data?
After restart setup your smartphone and install the Super backup app again and restore your apps, contacts, SMS, Call logs, Calendars & bookmarks. That's it! Now you have successfully reset & restore your smartphone without losing android smartphone data.
Any problem & for suggestion leave a reply.