The Google Allo Messenger is a popular Instant messaging app for Android and iOS (iPhone). It is made by the well-known company Google, so there is no need to explain more about this messenger. As you know this app is only available for Android and iPhone, If you want to run Google Allo app on PC (Including Windows, Mac, Linux and Chrome etc.) then you will need to install an Android app emulator program such as Bluestacks. But these apps consume lots of ram and also require some special hardware (Graphic Card) for smoother performance. Which many times, a common user can not afford due to lack of money. Keeping this thing in mind Google officially released a web client based messaging service.
The Google Allo for web service works same as the WhatsApp Web service. Have you remembered WhatsApp web was released in January 2015? then It was working only with Google Chrome, but after some time, it had been released for all browsers. Similarly, the Allo for Web service currently works with Google Chrome Browser.
How to Use Google "Allo for Web" on PC with Google Chrome
It is so simple, first, you'll need Google Chrome Browser on your PC, because Allo for web currently only support to Google Chrome, If you have this then start the Chrome. If you don't have then get it from here: Google Chrome Offline installer (Windows). After the installation start the Chrome and follow the steps below:
Go to Allo for web page, click here to go. You'll see the following screen with a unique Qr-Code. This QR code will be needed to scan when you want to connect your smartphone Allo app to PC browser.

Now open Allo Instant Messenger into your Smartphone and tap on the top left 3 line menu button. And a menu will appear, choose Allo for web option from the menu. On Next screen SCAN QR CODE button will appear.

Tap on the SCAN QR CODE button and you'll see QR code scanner screen, now scan the QR CODE, which you see on https://allo.google.com/web page.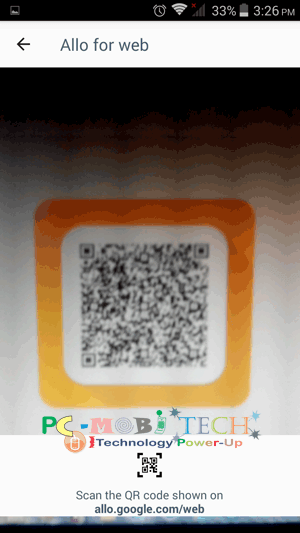 Now Your Smartphone successfully connected to PC. And all the messages when you receive on Mobile they will also be forwarded to Chrome Browser on PC. So you can Chat to your Friends without opening your SmartPhone.

Note:
You'll need to keep enable Internet data connection on PC along with your Phone, otherwise chat conversations will not be synchronized to PC.
After the successful pairing Google Allo Messenger to Allo web client. You'll not need to again verify, So if you're using a Public Computer, then it would be much better for your Security that immediately Sign-out after using the Computer. To know more about this please continue reading…
How to Sign-out Allo Messenger from a used Computer
When you pair the Allo app with Allo for web client then after scanning QR Code, The paired Computer will be added to Signed in computers list, which does not require you to scan the QR code again and again. But It can create a security issue for you because when you use a Public Computer such as Cyber Cafe. If you do not Sign-Out then when anyone opens https://allo.google.com/web page on the same used PC. Then all the conversations will start synchronizing from your Phone without your knowledge. So always remember this when using a Public computer then follow the steps below as well:
Tap on top left 3 line menu, and choose Allo for web option. Now in the Allo for web option you will see Signed in computers list, In this list find the Computer or Browser that you want to Sign-out, After finding tap on the Recycle icon (Delete icon) which is available on right of the selected computer and after tapping on the button a small verification screen will appear, then tap on the SIGN OUT option.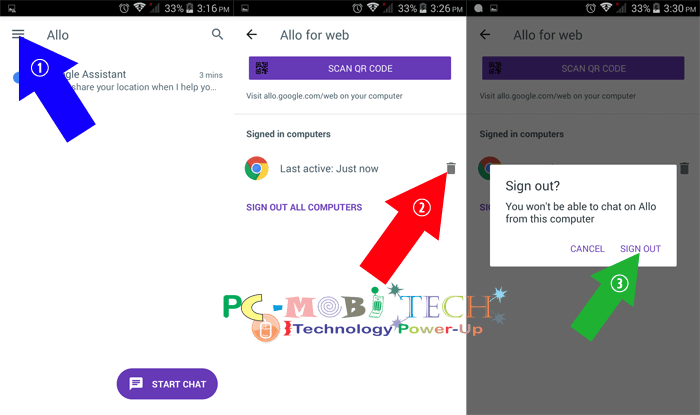 This option will only remove the selected computer from the list, in case you want to remove the full list of Signed in computers then you can tap on the SIGN OUT ALL COMPUTERS option, so all the computers will be removed at one click.
You May Also Like: