Two-step verification is now available in WhatsApp Instant Messenger. It is another good step by WhatsApp that will protect your mobile number from unauthorized registration. If you have enabled Two-step verification on your mobile number then This 2-factor authentication will help to protect your identity, When someone will try to register their WhatsApp using your mobile number. Then he/she will need to enter 6 digits PIN which you have created with your existing WhatsApp registration. So this Whatsapp Two-step authentication feature hardens your security from identity theft.
Enable Two-step verification on your WhatsApp Mobile number.
If you have not enabled Two-step verification feature then it's time to secure your mobile number identity. So follow the steps below to enable Two-step verification in WhatsApp:
Open WhatsApp and tap on upper right corner 3 dot menu and choose Settings.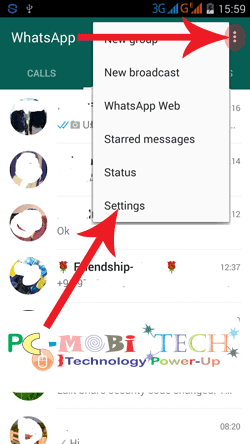 Now in the Settings tap on Account option.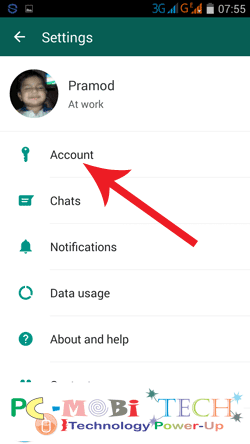 In Account, you'll get Two-step verification option. To setup 2-factor authentication tap on this option.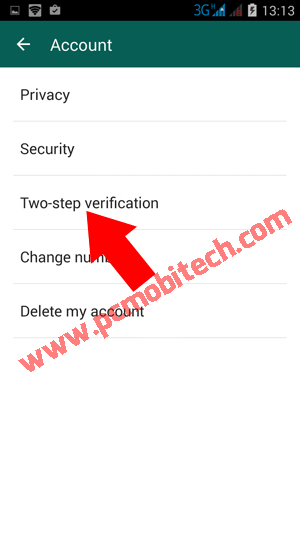 Now in the Two-step verification tap on Enable button.
On next screen enter a 6 digit PIN code and also write down the code on a paper this will help you when you forget the password. After entering PIN tap on Next button.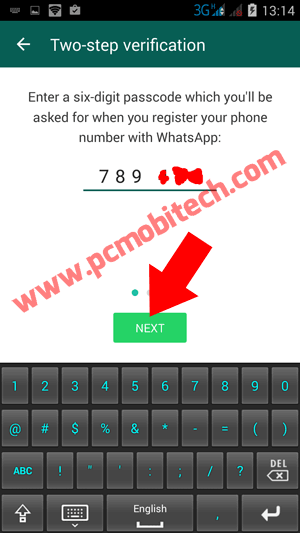 Now you'll need to verify your PIN. So confirm your passcode and tap on Next button.
Next, enter an email ID. This email id helps you to reset your passcode incase when you forget it. After entering tap on Next button.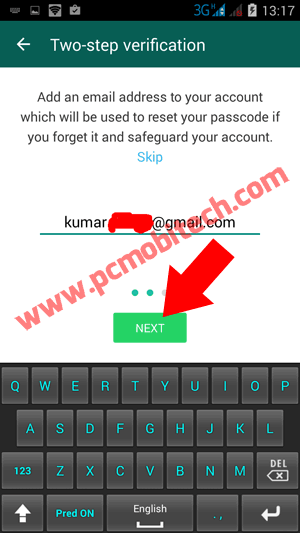 On next Confirm your email Address and Tap on Save button.
Now you have successfully enabled 2-step verification on your WhatsApp registered mobile number.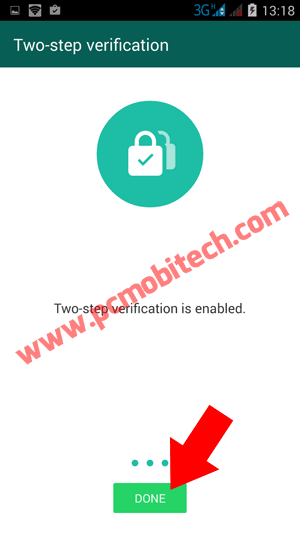 Now, whenever you or someone other will try to register WhatsApp again with your existing mobile number then WhatsApp will ask you to enter 6 digit PIN passcode. After entering the passcode you can activate your WhatsApp. Along with this if you don't open your WhatsApp upto 24 hours, it'll be locked your WhatsApp with this passcode. And anyone can't access the WhatsApp till then you don't enter the 6 digit PIN.
Disable 2-step verification on your registered mobile number:
Tap on top right 3 dot menu>>Settings>>Account>>Two-step verification>>Now tap on Disable option. On screen box will appear to turn off 2-step verification tap on Disable. Now the Two-factor authentication has been successfully disabled.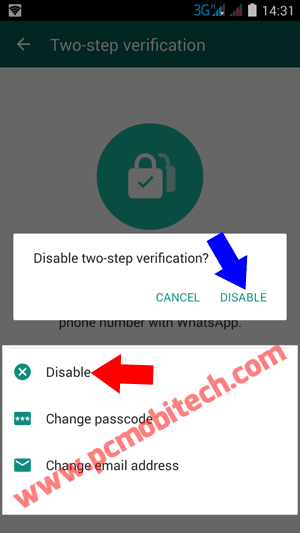 Forgotten the Two-step verification passcode:
If in-case you have forgotten verification passcode and having the problem to verify your mobile number. Then you can reset verification passcode using your registered Email ID. Which you had entered with Two-step verification PIN activation. So when you forget the 6 digit passcode then on Two-step Verification screen tap on Forgot passcode? link. After this, you'll see an on-screen message where you'll need to tap on SEND EMAIL option.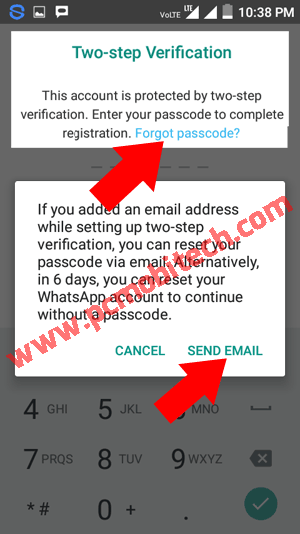 Now WhatsApp will send a passcode reset link to your registered Email ID. So you'll need to click on the reset passcode link and the passcode will be disabled successfully. After resetting you can again start to register your WhatsApp with your mobile number without any passcode.
Note: If the Two-step passcode verification is enabled on your mobile number then no one can re-verify your WhatsApp number without 6 digit passcode if you are using regularly your WhatsApp. If you will not use your WhatsApp upto 7 days then the number can be permitted to reverify on WhatsApp without 6 digit passcode. If someone will try to reset between of these 7 days then he/she will face 6 digit passcode or if he/she used forgot passcode? the option then you'll receive passcode reset email in this situation not to click on link otherwise he/she can register their WhatsApp with your Mobile number. For More information, you can read official WhatsApp Blog.
Must See: