Are you usingLastpass.compassword remember service and want to keep secure your Last Password account and all passwords that you have stored in the account. We always use different password remember techniques such as taking a username and password note in the diary, by writing in a document file eg: MS Word or MS Excel, using password remember offline PC software such as Passwordsafe. But when it comes to use an online password Remember service then we always prefer to use Last password, Dashlane, and 1Password.
But everyone who is using LastPass and thinking to increase Last Password account security, Then here I'm going to share few tips with that you can make more secure your lastpass.comaccount and all passwords.
5 tips to Keep safe your Last Password account & all password.
1: Use a secure Email ID for Last Password Login.
When you signup with Lastpass.com. you provide your email ID and the email is your username or ID on the Last Pass. And when you forget the password you'll need to use Forgot Password option to reset it. And after that LastPass will send a password reset link to your Email ID. If someone is hacked your Email account then you can't recover your LastPass account password because the hacker is hacked your account. Hacker can get all your Lastpass saved password using your Email ID.
So use a secure email ID such as Gmail. Because with Gmail you can enable Dual factor authentication feature and nobody can get access to your Email Id if the hacker braked your Pass.
2: Use a Strong password.
Always use a strong password that can't be simply guessed. You can include Capital or Small Alphabets (A to Z, a to z), Numbers (0 to 9) and Special Characters (* + # $ % & .~ ?) and can make your pass more stronger something like $Rose#love$456.%.
3: Enable Multifactor authenticater option
To enhance your account security alsolastpass.com offers Multifactor Authentication feature. With Multifactor Authentication you can enable two-factor authentication to your account. After enabling This 2-factor authentication security to protect your account with two ways 1- with the password, 2- with an Authenticator app. So when the 2-factor Authentication feature will be running to your account after login with the password you will need to enter a code to verify it is your account. And this code will be generated by the app which you will authenticate with your Last Pass account.
The last Password supports following apps for free: LastPass Authenticator, Google Authenticator, Toopher, Duo Security, Transakt & Grid. Following methods with the Premium account: YubiKey, Fingerprint / Smart Card & Sesame. and for Enterprise account: Salesforce Authenticator. So you can use anyone app which provided above. But if you are using a free account then you must use LastPass Authenticator & Google Authenticator first. because these are common and globally is used.
Enable Two-factor Authentication feature to your Last Password account:
Login to your LastPassword account and click on Account Settings (Gear) icon from Left. You can also get Account Settings option by clicking on top right email drop-down menu.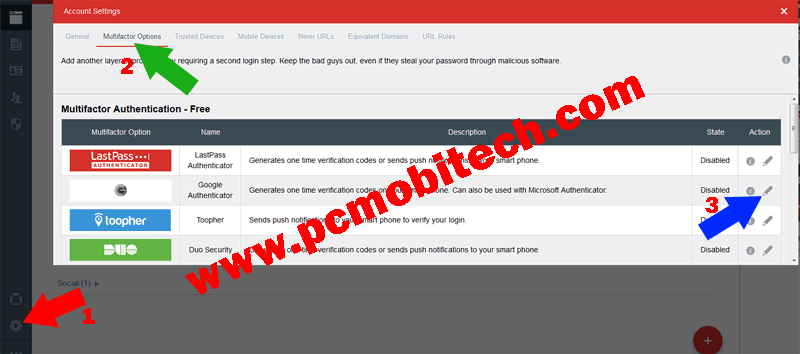 In the account settings click on Multifactor options tab and choose any app from the list. For example, here I'm going to use Google Authenticator app. So if you are going to use Google Authenticator app then click on Pencil icon available on right in Action section.
And also download Google Authenticator app to your iPhone or Android smartphone. After downloading launch the Google Authenticator on your Device and tap on Skip button. Now you will see add an account screen and two options Scan a barcode or Enter a provided key. You can use any option to verify your Last password account.
Now in your LastPassword account click on any option Barcode or Private key View link. Eg: If you are going to verify your Google Authenticator with Barcode then Barcode

View

option.

And now Password Dialog box will appear, enter here your LastPassword account password to verify it is doing by you.
After entering correct password you will see a barcode, now in your Google Authenticator app tap on Scan a barcode option and the Camera will open after this scan the given lastpassword barcode and it will automatically be authenticated.
After authentication click on Update button in Last Password account. And you will be asked again to enter account password. As soon as you will enter the password you will see Google Authenticator verification box. Now Run Google Authenticator in your phone and see the current running code and enter it to Last Password Google Authenticator verification box. After entering click on OK button.
If you entered the correct code then you will get Settings have been successfully Updated message. And now when you will want to login to your Last Password account then when you will enter the password, You will also need to verify your Google Authenticator generated code.

4: Enable "Require Password Reprompt" option.
When you create a new site password, you can enable Require Password Reprompt options. If this option will enable then if you will want to check your a site username or Password then you will need to enter your account password again. This option will help you when you have opened your Last Password account and between the work, for sometime you need to go somewhere then you will not need to Signout your account. Because after you leave if someone will want to check any site password then he/she will not check it without the password. To enable this option edit any site and click on Advanced Settings option & tick the Require Password Reprompt option.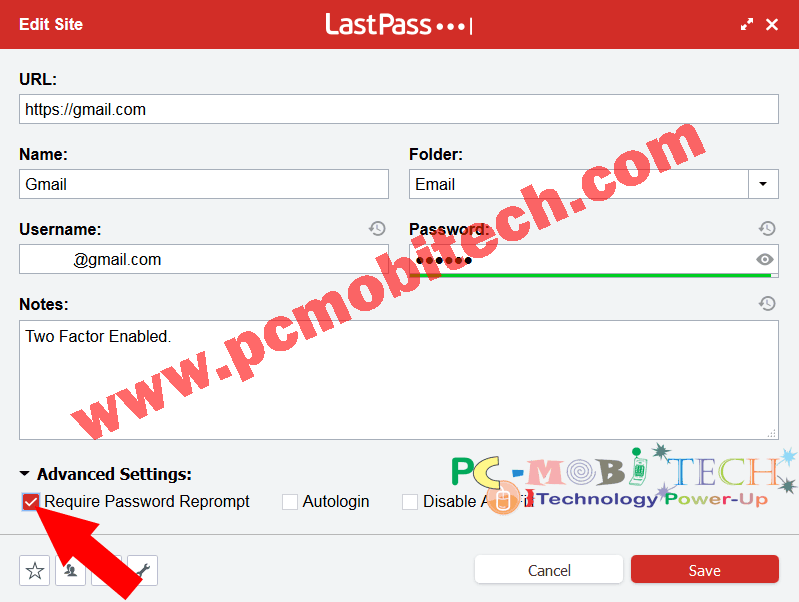 5: Setup SMS account recovery option
This option helps you when you forget the Last Password account password. So you can reset your password using Account recovery phone. And when you will want to reset your password with SMS Account Recovery option then You will receive an SMS to your registered mobile number and after that, you can reset Last Password account Password. So if you want to get more control on your LastPass account then follow the steps below to enable SMS account recovery to your account:
Login to your Last Password account and click on Account Settings (Gear icon) option from left. Now Account Settings dialog box will appear with General Tab. To get SMS Account Recovery option Scroll down the page and click on Update Phone button.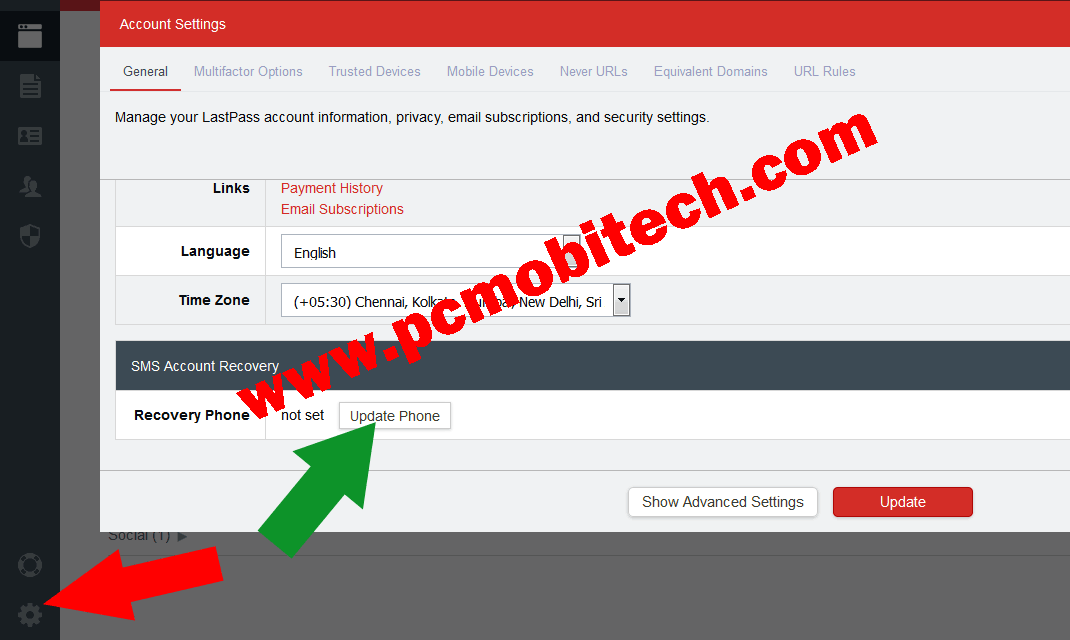 Account Recovery dialog box will appear. To add a mobile number click on

Add Number

button.
Confirm Password Dialog box will appear. Enter your Last Password account Password to verify it is your account and click on Continue button.
On next you will see Add Phone Number box, Choose your country from the drop-down menu and enter your mobile number. After this click on

Send Test Code

button.
Now you will receive a 6 digit code to your entered mobile number check your phone to received code and enter the code in the box. And then click on

Verify

button.
One Next Success dialog box will appear and SMS account recovery option has been successfully enabled to your account.
Another tip to Secure your all stored usernames & Pass:
Above 5 tips secure your account very well and this is optional for you. if you want to use LastPassword account without any tension then use this trick. As we know we have lots of user ID's and password on different site. And we can remember our ID better than the password. In most of the cases, we only forget our password. So when we can remember our username or ID, then why not to save these as for the only hint on the Last Password.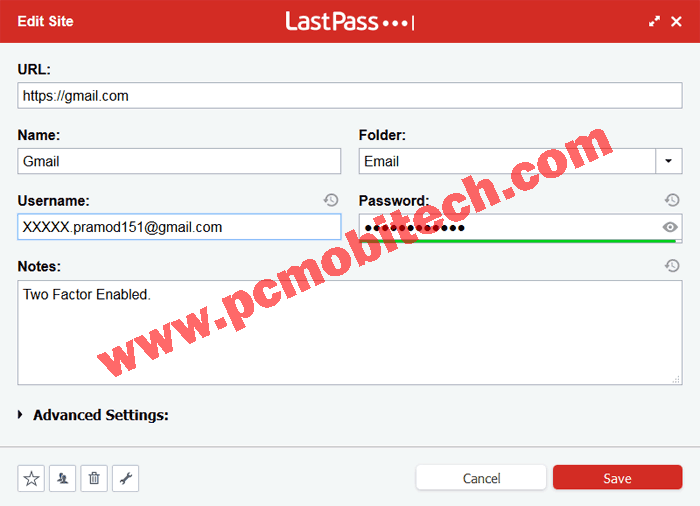 If you are saving a username or Email Id with your password in Last Password account then add username or Id with hidden words. for example for one site my username is ram.59876 then I have saved username as XXX.59876, if my email ID is [email protected] then it is added with [email protected]. So if my account has been hacked then the hacker can't identify my ID and can't get access to my other accounts.
Also See: