The Internet reserves some part of every sphere of our lives. As a result, it stores various types of data, including data that need to be private. Some of the things that we put up online require protection so that they can only be accessed by the owner. This is where the role of passwords becomes important.
Almost every account that one creates online requires password protection so that only the owner of the account can make changes to the account. With the help of Password Manager, you will be able to protect yourself in the most personalized and automated manner.
In this post, we will talk about different password managers, the role of browser Password Manager, their upsides and downsides in the most comprehensive manner possible. So, without delaying any further, let us get started right away-
Introduction to the Password Manager
Quite often than not, the online profiles of people contain private information, messages, or financial details. Thus, password protection is necessary to prevent mishandling of information or compromisation of online accounts or financial details to a third party. Now, what are passwords in their most essential form?
A password is a string of various characters which is used to authenticate a user's account by making it unique to them and inaccessible to others who may try to log in. Most of the accounts that are present online require two things for the access of the data on the online account. They are a valid username and the correct matching password for the username.
The combination of a username and a password allows users to log into their accounts, and this combination is often referred to as the login details of a person. Passwords are private property that people choose whether to share or not. The passwords that people choose for their accounts are made up of various alphabets, numerics, or signs. These combinations of letters, symbols, and numbers make for a strong password that strengthens the security profile of your account.
Usually, people select combinations that are easy for them to remember yet exclusive in such a way that people cannot guess it straightaway. While creating a password, you cannot make use of spaces in between the characters. To create a secure password, one needs to incorporate symbols in the combination of characters.
However, given the number of accounts one requires to maintain in today's day, it is difficult to memorize all the passwords of all accounts and keep track of them. To solve this problem, many of the users maintain notes to keep the username and password combination stored somewhere.
Then again, it is not easy to refer to one's notes and access the accounts as the note may not be available anywhere and everywhere. Software developers have approached this problem with an application for keeping all the passwords stored in one place. This computer or mobile application is known as the Password Manager. The web-based applications auto-guess the password while filling the box out to log in to an account and help you gain access without having to reset your password again and again.
In this article, we will discuss some of the best password managers and will also talk about how you can make your account password a strong and secure one to keep away hackers from your account. Read further to know more.
Is My Browser Password Manager Sufficient?
Using your browser to remember all your passwords may be the easiest option out there, as it saves one from going through the various password managers, downloading them, and putting them to use.
Even though your web browser may be an easy option to save passwords, there are several reasons to consider other password manager options. It is better to save your passwords on your web browser for sure.
It is free and easy to use as the web browser jumps in when you type in your password and displays a dialog box. This dialog box asks you whether you wish to save the password to the browser to predict it for you the next time you open the same web page and re-enter the password.
Pros and Cons of Browser Password Manager
Let us look at the benefits of using a built-in password manager.
It is convenient to use a web browser-based password manager to manage all the passwords.
The web browser detects a password box being utilized and shows you a prompt to save or ignore it. Thus, it reduces work on your part.
The in-built password manager auto-fills the password box when you type in the password once it has been saved by the web browser.
Furthermore, the password manager will also keep track of all the passwords and won't fail you to recall any of them in times of need. As long as you have your laptop with you, you have access to all your accounts.
However, it is not compulsory to save your password on your web browser. You can either choose to 'Save,' or you can opt for 'Not Now' if you do not want to save it. Of course, it is convenient as the password is saved automatically. The prompt that appears is also automatic. Overall, it is the responsibility of the web browser to detect passwords being entered by the user and thereby save them according to the instructions received.
However, are in-built password managers safe for use? The in-built browsers on your web browser are simply a feature that functions as an add-on. It helps one with convenient password saving options instead of providing additional security.
Some of the faults of the web browser and more particularly, Google Chrome as a password manager are given below:
The password manager on the web browser is not very secure. The web browsers focus on providing you with a good experience while browsing the Internet. The in-built password managers are not designed to provide extra security to passwords. Anyone with access to your computer system or laptop can open all your accounts with the help of your web browser. Thus, your privacy is easily jeopardized to strangers or other known people. The security imposed on the password saving procedure is low.
A particular password manager on a web browser will keep you restricted to using only that web browser for your subsequent internet browsing. You cannot utilize your password manager if you have saved your passwords on Google Chrome, yet you have turned to Mozilla Firefox for browsing the internet. Changing the computer system also restricts you from using the password manager.
The in-built password managers will not help you generate strong passwords for your accounts online. Even though web browsers let you generate passwords, they do not generate strong enough combinations of characters. Moreover, the option to create a password with the help of the web browser does not always show when you right-click on the password box. More importantly, the password that the web browser generates for you cannot be changed later if you wish to.
Now you must realize how important it is to make use of a password manager to ensure safety for your private details. Thus, let us take a look at some of the best password managers that can be easily downloaded and installed. These password managers allow users to quit depending on their web browsers or notes to keep in mind the passwords for various accounts.
Furthermore, they also generate strong combinations of characters to result in a strong password that keeps your account secure and protected. The objective of a password manager is to ensure safety and to keep track of all the passwords of all accounts.
Let us now have a look upon some of the best password managers right away-
5 Best Password Managers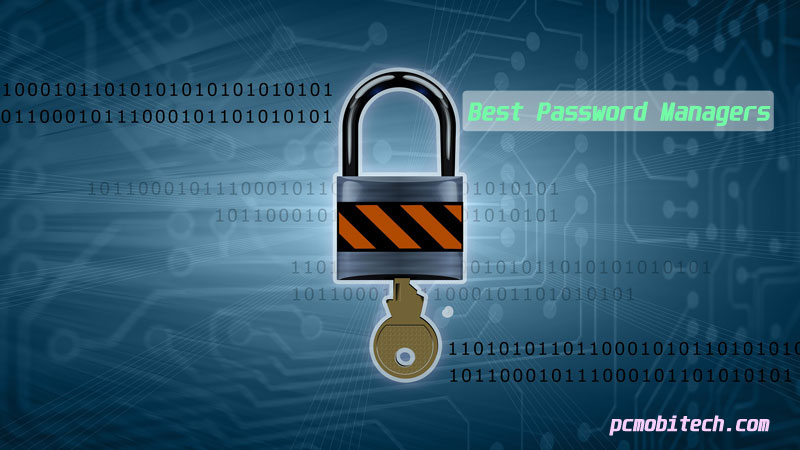 1PASSWORD
1Password is a popular and trustworthy password manager that helps your keep your login credentials safe and secure from other parties. 1Password aims to allow access to all your accounts with one Master password. This password manager works across many platforms, which include Android, iOS, Windows, Linux, macOS, and Chrome OS. One can find browser extensions for Safari, Google Chrome, Opera, Firefox, and Edge.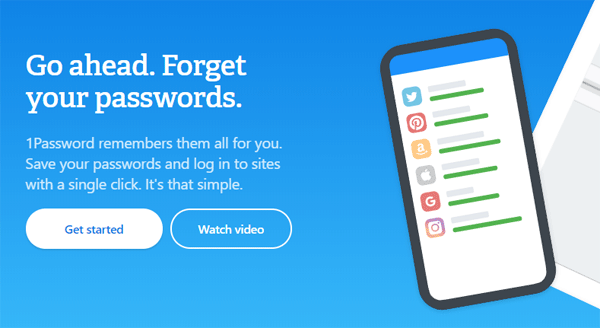 The interface of this password manager is very neat and clean. However, 1Password does not have a free version. Users are allowed to try a free trial for 30 days, after which they are charged $35.88 for an entire year.
This password manager has quite a few intelligent options. One of that is this application allows users to remove all sensitive data from your device. You can restore all of them when you consider it to be safe. Furthermore, Apple products have the facility to use touch and face recognition. This password manager also comes with a vault.
DASHLANE
Dashlane is a password manager that is quite simple to use. It essentially stores all your passwords of all your accounts and services. It keeps all your other login information stored on it. Dashlane has two versions for use. One is a free version that is restricted to only one device and a total of 50 passwords.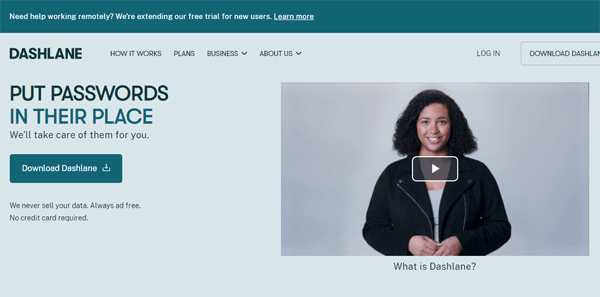 The base price of Dashlane is $59.88 for an entire year. It works efficiently on Windows, Android, iOS, macOS, and Linux. Dashlane also provides extensions for all the Internet Explorer, Edge, Google Chrome, Mozilla Firefox, and Opera. The plans on the Dashlane Premium is quite similar to the ones of 1Password and LastPass.
ENPASS
Enpass is one of the best and one of the strongest free applications for various platforms like Linux, Mac, and Windows. It has free mobile applications for iOS and Android, which supports up to a total of 25 passwords. Enpass charges $1.49 every month for protection on all devices. The charge goes up to $17.99 for a year.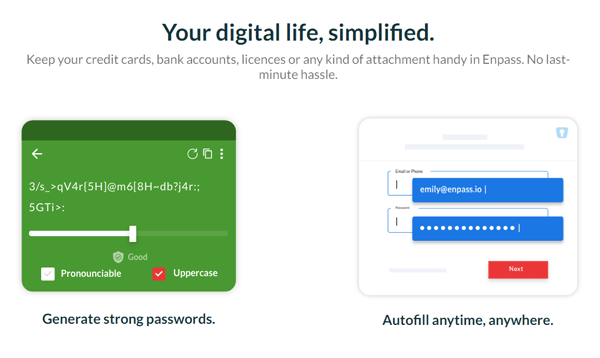 However, if you make a one-time purchase, Enpass charges users $53.99. It requires you to synchronize all your devices via Dropbox or Google Drive. This password manager does not provide cloud storage of its own. The user interface is a bit naked, yet it is highly functional. Biometrics are also utilized to heighten the security of your accounts and services.
LAST PASSWORD
Last Password has done well to garner the Editor's Choice Award along with Dashlane. It was awarded so for the best password manager for its ease of use. It allows a wide range of functions, features, and a plethora of settings for the user to customize the functionality according to their preference.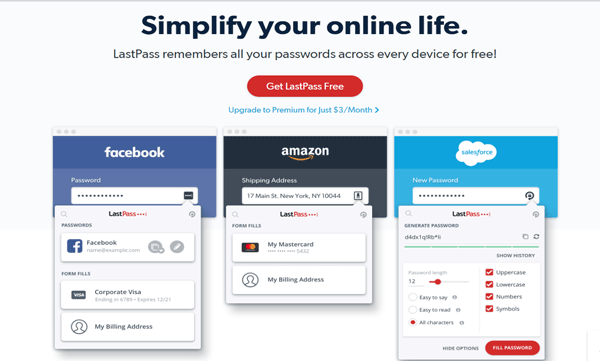 There is a free version of the Last Password that can be utilized for several devices without any cap on it. You can use the password generator, a secure storage option, and unlimited passwords.
The paid version of LastPass is at $36 per year, where it allows users to use a USB two-factor authentication option, 1GB of free online cloud storage, and passwords for desktop applications. Furthermore, to make things even more convenient, the Last Password does not require a separate application. It can be used as the web version and can also exist as an add-on on the web browser. Use on platforms like Chrome OS, Windows, Mac, Android, iOS, and Linux. Browser plugins for innumerable browsers are available. There is also an option for biometric logins.
KEEPER
Keeper is known for its intuitive design over a variety of platforms. It charges a total of $25.49 every year for the Premium service. It is quick and functional. It provides for the highly secure management of passwords overall. This password manager is quite cheap compared to LastPass and Dashlane.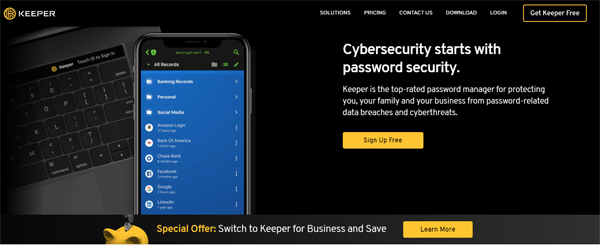 However, you will not find a password changer in bulk. Furthermore, it does not even allow let users make a PIN password to access mobile devices. Keeper lets you stay vigil by keeping track of the unauthorized usage of your data with an extra payment of $20 for an entire year.
Furthermore, to keep up with the advancing technology, it also provides an instant messaging service. Use Keeper on platforms like Windows, Mac, iOS, Chrome OS, Linux, and Android. It allows touch IS, face recognition technology, and biometric readers as well.
Concluding Thoughts
Password managers are a boon to every person who finds it difficult to maintain too many passwords on their computer system.