The Google Maps is a globally popular app for Android & iPhone, which provides accurate Navigation & Transit information to users in real-time when you're connected to The INTERNET and also enable Location service on your device. It means Google Maps – Navigation & Transit app will only work unless you stay online. So this service fails on those places where the Internet is not available.
Don't worry there is an option available in Google Maps – Navigation & Transit app Android. That offers to save Google maps offline of a selected area. The Offline Maps feature gives access to the map without the Internet, so you can quickly find the location of a place if it is available in the Saved offline map. The feature is limited to use because you can't get step by step navigation for Public transport direction, Walking direction, Taxi service information without enabling Internet data. But whatever Route direction for Car works well in offline mode, this feature is very useful for us.

How to Use Google Map Offline?
Start the Google Maps – Navigation & Transit app on your Android Smartphone and tap on the top left 3 line menu button. A menu will appear, choose Offline maps option from it. In the Offline maps tap on the SELECT YOUR OWN MAP option.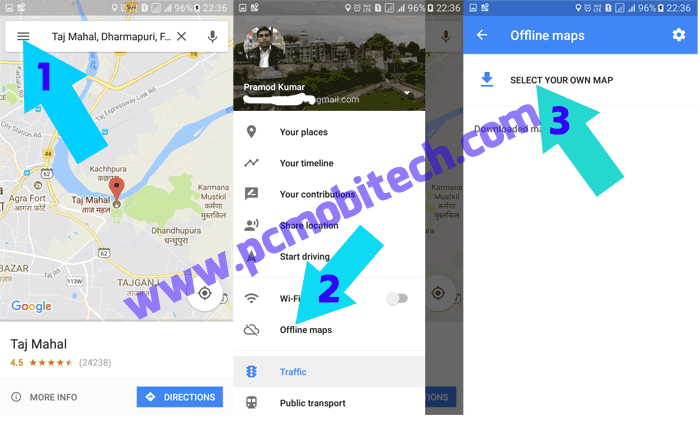 On the next Download a map of this area? a window appears. Now Pinch in or out the map (only under the frame area) and according to the map, Download size will be automatically adjusted. After the selection of the map area tap on the DOWNLOAD button. Now the map downloading will be started, so wait for some time. When it gets the download, tap on the downloaded map.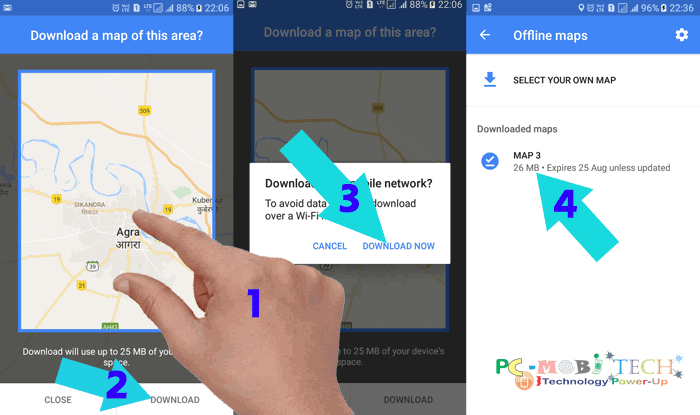 After taping on the downloaded map name, you'll see selected area snapshot tap on the snapshot (The downloaded map will only work for 25 to 30 days and after that, it will expire, So if you want to continue using the downloaded app then Update the map time to time.) Now Search for the place where you want to go on the downloaded map as you normally search with the Google maps. After that tap on the DIRECTION button which will available at the bottom right. And on next screen choose a starting point available on the downloaded map. Now as you have selected Starting point and Endpoint direction, tap on the Car driving direction icon and it will show the best route. After seeing Car route direction, tap on the » PREVIEW button to get step by step Navigation direction.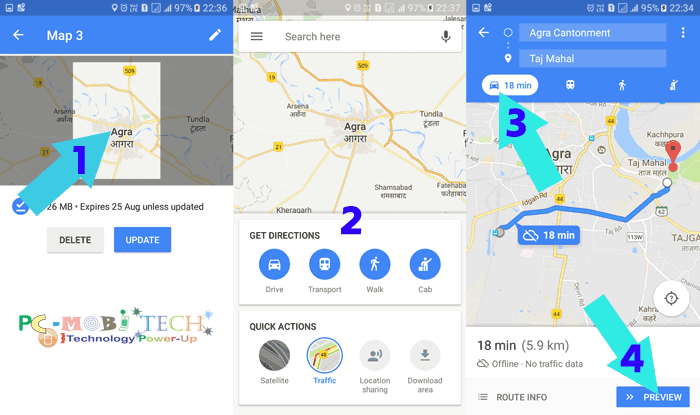 You May Also Like:
Note: The Public transport direction, Walking direction and Taxi services won't work in the offline mode and Car route direction service will work well in Offline mode but without the traffic data.