If you have recently upgraded your Android version to Android Oreo Pie 9.0 or Android Oreo 8.1 or purchased a new device which is based on latest Android OS. You'll see lots of changes in features. Many settings have been moved to another location. Such one Phone Setting is "Language and Input". Which is the main option to change the phone's language, and keyboard related settings?

The Android Pie and Oreo supports languages of almost all countries and comes with default Virtual Android Keyboard & Voice typing inputs. Sometimes Smartphone Manufacturers also include their own Virtual Keyboard. And when you install another keyboard from
Google Play Store
. Then sometimes you need to change some Keyboard Settings. So how to change Smartphone Language and Input settings on Android.
Android Pie and Oreo Language and Input Settings:
First, go to Smartphone Settings, Scroll down the page to the last option and tap on the System. Now in the System Settings, you'll see Language & Input Settings, tap "Language & Input" option to change its settings.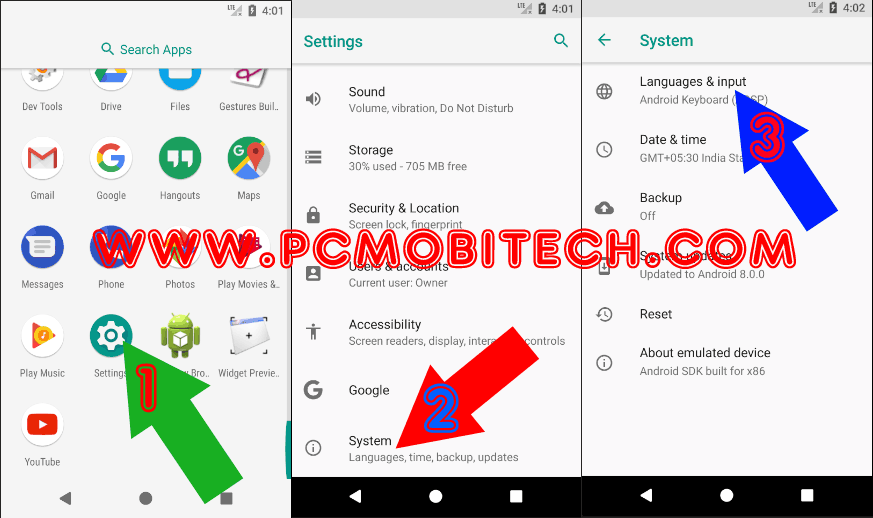 Language Settings & Selection:
First, we will try to change Phone Language and how to add & set another Language to your Android Smartphone. For this tap on the Languages option, Now you're Language preferences. Here you'll see default language and if you want to use another one then tap on the + Add a language option. Now in the Add a language find the necessary language from the list and after finding tap on the language to add it to the language preferences list.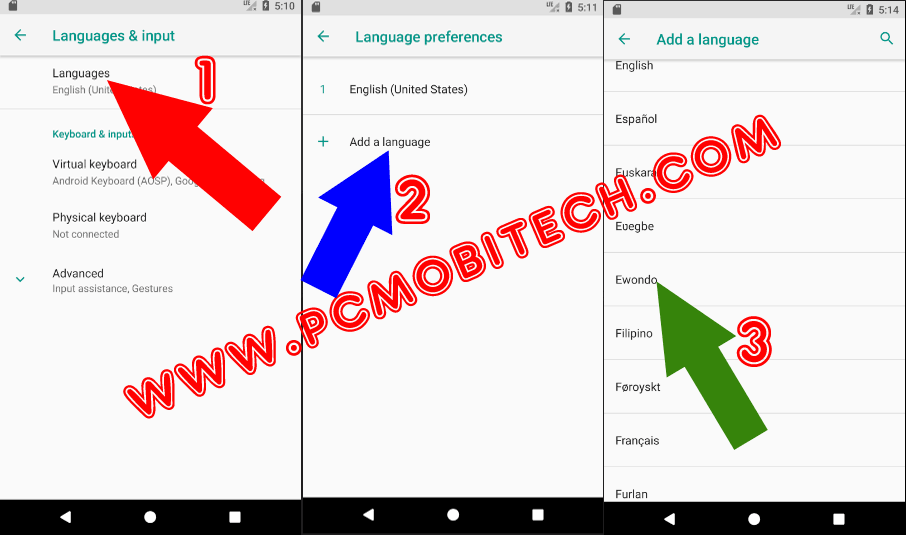 Now the selected language has been added to the Language preferences. If you want to apply the language on your Android Phone then you'll need to drag the language at top of the languages list. For moving the language to the top you'll need to hold 4 line button and then drag and drop at the first number of the list. Your favorite language will be set automatically.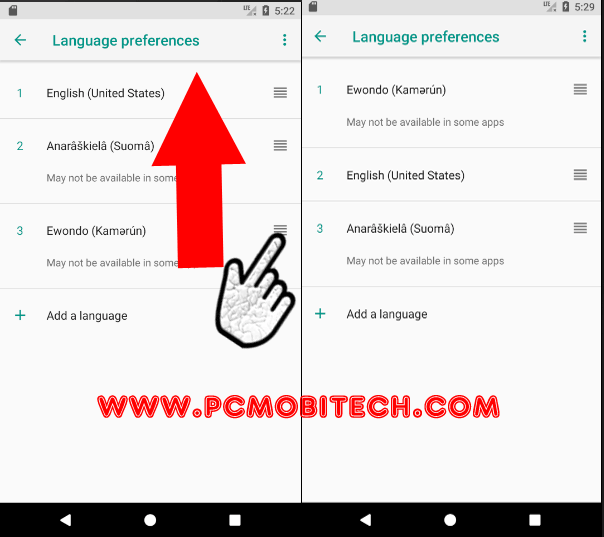 And when you think, you have added unnecessary languages in the Language preferences list. Then the unwanted languages can be removed using following way:
In the Language preferences tap on top right 3 dot menu, a menu will appear with Remove option. Tap on the Remove and next, you can select the preferred language and tap on the top right Recycle icon (Delete button) and the selected language will be removed from the list.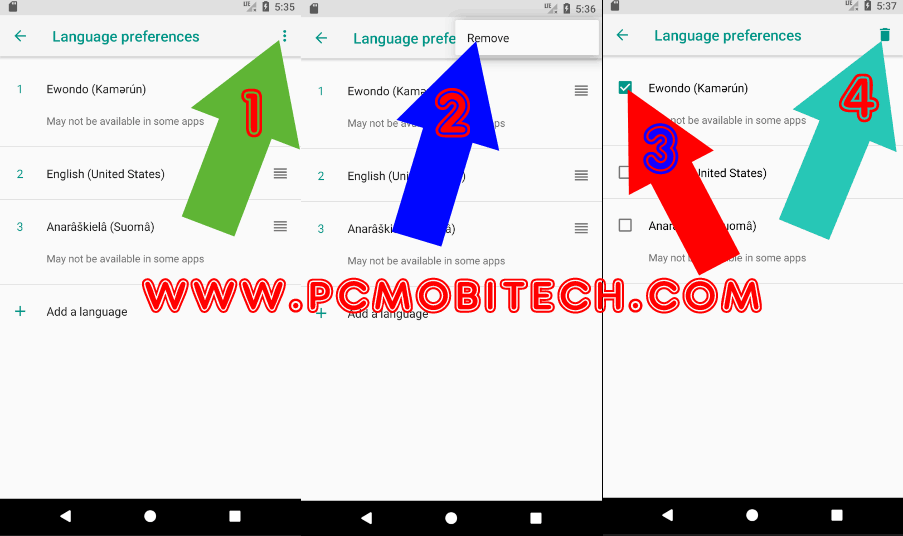 After tapping on Recycle button, a confirmation dialog box will appear, tap on OK to confirm the deletion.
Virtual Keyboard Settings and Selection
As you know, if you're using a stock version of Android Oreo, then it comes with Virtual Android Keyboard & Google Voice Typing input tool. And basically, you don't need to use another because all the necessary typing work these two can easily handle. However, there are plenty good alternatives Virtual Keyboards available in Google Play Store. So if you want to use another keyboard then it can be enabled via this way:
In the Language & input, tap on the Virtual keyboard option and now you'll see two main Virtual Keyboard apps by default. To use another tap on the + Manage keyboards and in the Manage Keyboards, if you have installed another one then it will available here and you'll just need to tap on the toggle button to enable this.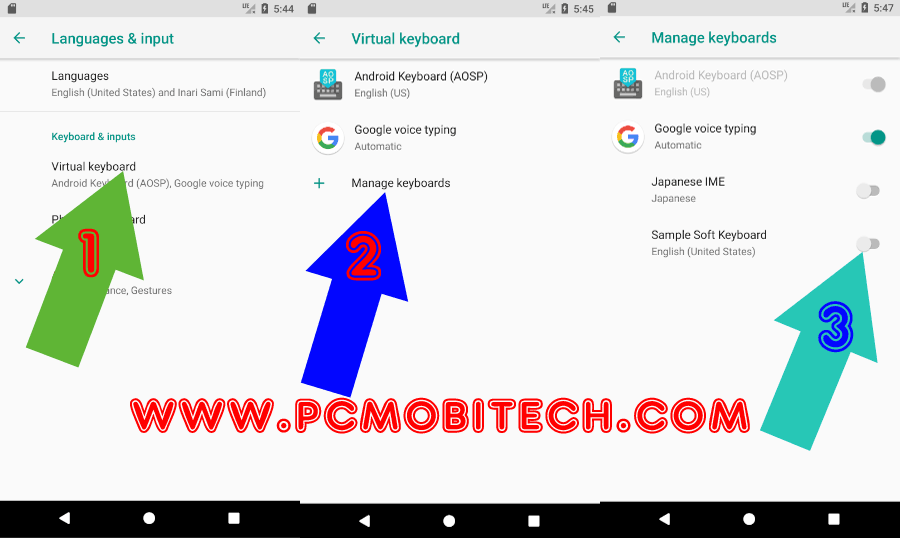 As soon as you toggle button a warning message will appear and you'll need to confirm that you'll still want to enable the keyboard. Once you confirm this, the selected keyboard will be listed to Virtual keyboard list.
How to use another Virtual Keyboard
When you add favorite keyboard into Virtual Keyboard list then it doesn't mean it has been enabled for use because for using this you'll need to select the Keyboard first.
When you type using any keyboard then a keyboard icon will appear on main key-bar (Back Space, Home, and Recent app key). To use another keyboard you'll need to tap on this keyboard icon. And Change keyboard screen will appear, tap on the favorite keyboard from the list and your keyboard will be selected for typing use.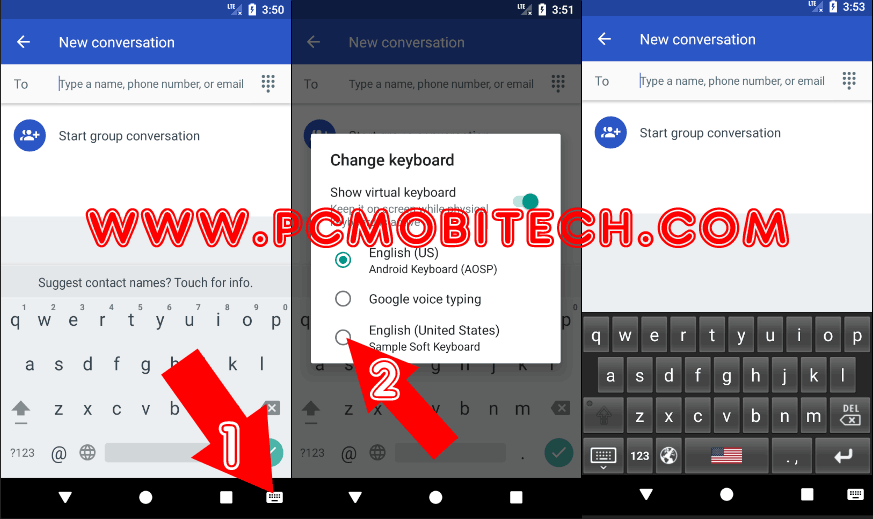 Along with Language and Keyboard, there are few other options is also available in the "Language and Input" Settings, such as Physical Keyboard, Input assistance, Spell checker and Gestures setting can be setup etc.

You May Also Like: