Are you using a battery saver app on your android phone? Does it help to increase phone battery life? If you are not sure battery saving app help or not to increase your Android Smartphone battery life. Then read this article to understand.
When we buy an android phone, everyone recommends us to install a good battery saver. It will help you to enhance your battery life. But it really helps let me explain.
What a battery saving app can do?
Before installing a battery saving app we first analyze what a battery saver can do for us. Mostly Battery saving app do these things:
Ram Cleaner:
As we all know, Android Smartphone apps keep running in the background which continues to drain the battery life. If we don't stop them then the phone battery will perform 20% to 30% lesser than the normal. Due to this all the battery saving utilities comes with a Ram cleaner option.
Must Check: Enable battery saver & increase battery life with Opera Browser PC.
Screen Backlight
Screen backlight is a huge battery hungry source. Whenever you use high contrast or brightness for the better viewing experience. It will drain the battery at a very high speed. So a battery saver will remind you to reduce screen backlight according to daytime. Battery saver analyzes daylight for your backlight using light sensor and reduces it to the necessary level.
If the Light Sensor is not available on your phone then a good battery saver use your phone time to determine your daylight. And it will increase the light in the day and decrease it in the night. So it will save more battery using this smart technique.
Sound Volume & Vibration.
Unwanted sounds and vibrations also use some power of your battery. If you take care of it the phone battery can be saved more. There are many options available for different Sound volume and Vibration Control: Media, Alarm, Ring, Notification, DialPad Tones, Screen Locking sound, Touch sound & Call volume etc. And Vibration on call & messages, Vibrate on touch etc. And if you use smart battery saver then it helps you to control unwanted sound volume and vibration.
Disable Unwanted running services.
We enable Data Connection, WiFi, WiFi hotspot, Bluetooth, and Location service according to our need. But many times we forget to disable these then a battery saver will remind you to disable any opened feature.
Do you really need a Battery Saving app?
It totally depends on you, if you can do these all things manually then there is no need to install a battery saver. If you think a battery saver increase phone battery life, Yes it does something but not as same if you do these with manual work.
As you know if an app runs in the background then it consumes some extra battery juice. So your maximum battery drains due to background apps. And if you install another battery saver then it will also run in the background and along with some help, it will use the extra power. So decide yourself that do you really need a Battery saving app.
Must Read this: How to Block calls with Avast Mobile Security & Antivirus app.
Increase phone battery life without Battery Saver?
It is not much hard work because if you have basic knowledge about your Smartphone. And if you can manage your Phone settings then here I'm sharing few tips with that you can extend your Phone battery:
Cleaning your Ram memory:
As I said above if you are using a battery saver reminds time to time to clean background running apps. But in case you want to do this manually then this Work can be done via following ways:
This button is also called Task Switcher or Recent apps button. Basically, Android smartphone comes with three buttons: Back, Home and Overview button:

When you tap on the Overview button you'll see recently opened application list, here a CLOSE ALL or Clear All button. So you can simply click the button to stop all running apps.
Also Check: 5 Video Players that can play all Videos & AC3 audio in Android 2017.
2. Via

Running apps

in Application manager:
In Android 5.0 Lollipop or below version comes with this option, where you can get all running app list. And you can do a force stop to immediately kill running process. To get Running apps option in Android 5.0 or below version Go to Settings>>Apps (Application Manager)>> tap on the RUNNING tab.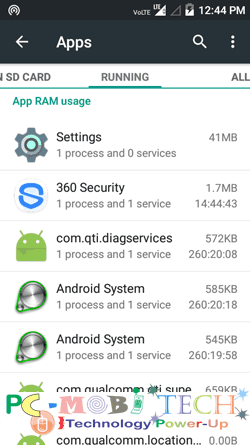 But in Android 6.0 MarshMallow & Android 7.0 this option has been moved to Developers options. To enable Developers options: Go to smartphone settings>>About Device>>Software info>> tap on Build number upto 5 times and Developers options will be enabled. And after that you will need to Go in Settings>>Developers Options>>Running Services.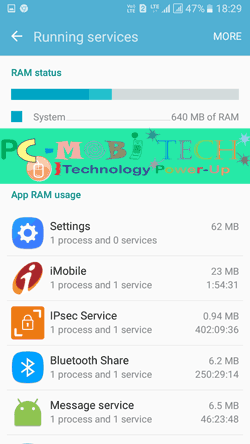 If there are plenty of apps are running in Background then tap on any app and tap on STOP or FORCE STOP button to kill running app process.
3. Built-in RAM cleaner option:
Some Smartphone comes with a bunch of good features such as Smart Manager (Samsung Galaxy MarshMallow 6.0 Phone series has this option). Which offer a built-in RAM Cleaner option.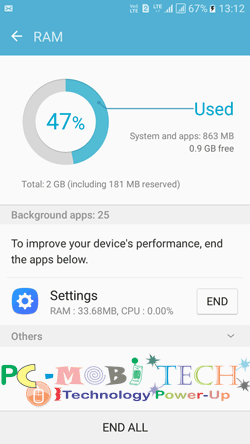 Manage Backlight brightness level:
If you reduce your screen brightness then it'll help to save some extra battery power and So your phone will run more hours than in High Brightness mode. To make changes in Brightness Go to Settings >>Display>> Brightness and reduce your screen brightness.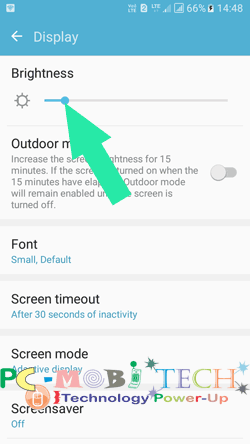 Some phone comes with Auto brightness mode, If your phone has this option then you will not need to maintain your screen backlight brightness level because this option will automatically adjust your screen brightness.
Control Sound Volume & Vibration:
As you have read above there are many options available for Sound and Vibration. If you disable unnecessary options then it will help to increase phone battery life. So Go to Settings>> Sound & Notification (Sounds & Vibrations).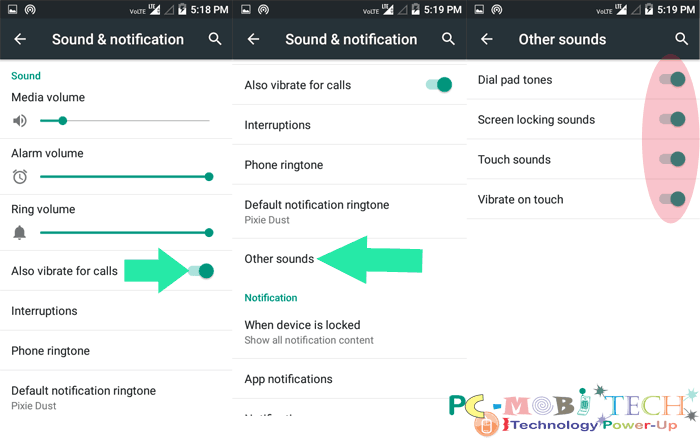 In the Sound & Notification (Sounds & Vibrations) you can disable vibrate for calls or something same option, After this, you can disable Vibrate on touch, screen locking sound, touch sound etc. Sometimes these options available in main Sound & notification option window or sometimes in Other sounds option, depends on your Android version.

If you can handle all the task manually then it will much better for your phone that not to use battery saver. I think I have covered all things. But in case I missed something then you can suggest it via comment box. And also don't forget to read this topic: 5 Battery saving tips for Android Smartphone Users.
You May Also Like: