If an Android user has a little a bit knowledge about how to hide Videos, Audios, Photos and other files. Then they first try to hide private videos. I have also described it in my previous post How to Protect your files with and without apps. But after hiding the Videos and other files, to view any file you will need to always unhide the files and folder. It is because if you have hidden the files (Videos, Audios, Photos) in a folder using .nomedia file and with (.) dot folder name. Then any android app will not show the folder content by default. You use an explorer app to unhide the folder and then watch the videos. And after watching again hide the folder using the same trick.
Must See:
If you're tired doing this thing again and again and want a simple approach to watch videos without unhidden the content then you can use MX Video Player. It is available free in Google Play Store.
Many videos players are available for android device. And many of them are also popular. But as features available in Free MX Player, I'm not found in others. So if you're already using MX Player then follow the steps below to unhide the hidden Videos and Audios without unlocking and unhiding the Files and folder.
Watch hidden Videos on Android Smartphone using MX Player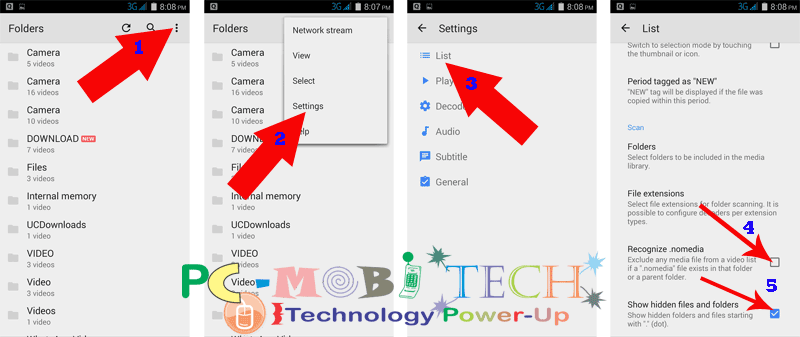 Launch the MX Video Player in android phone and tap on the top right 3 dot menu.
A menu will appear, choose Settings from the menu.
In the Settings tap on List option.
Now in the List untick the Recognize ".nomedia" checkbox.
And tick the "Show hidden files and folder" checkbox.
Now go back to the MX Player main screen and Refresh the Video folder list. Now you'll see many hidden folders that you have hidden. Watch your videos and listen to audios without any problem. And when you want again to hide these folders from MX Player List then again follow steps above and tick the checkbox Recognize .nomedia check box and untick the checkbox Show hidden files and folder check box. And folder will be hidden again.
Also See: