Discover the Top 5 Android Launchers that will elevate the personalization of your phone in 2023. Android reigns supreme among mobile operating systems, offering unparalleled options for customization, theming, modding, and tweaking your smartphone. If you're looking to revamp the look and feel of your Android device, look no further than a Launcher app.
A Launcher essentially encompasses the Home screen and App Drawer components of your phone. While most smartphone manufacturers have their own custom launchers like Samsung's Touchwiz UX, Google Pixel UI, Xiaomi MIUI, OnePlus OxygenOS UI, Realme UI, Sony's Timescape UI, HTC's Sense, or Motorola's MotoBLUR UX, you can effortlessly replace them with a third-party launcher available on the Google Play Store.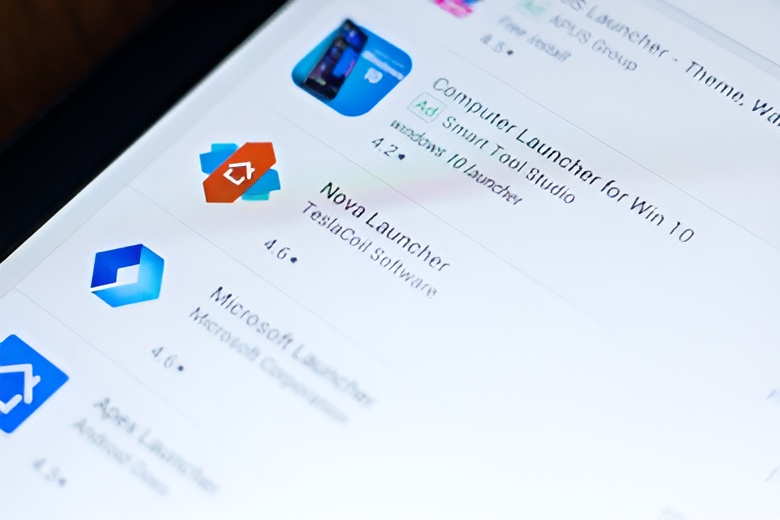 In this post, we will explore the Top 5 Android Launchers, delving into their unique features, advantages, drawbacks, device compatibility, and pricing.
Top 5 Android Launchers
Transform your smartphone experience in 2023 with these 5 Best Home Launchers for Android devices:
1. Nova Launcher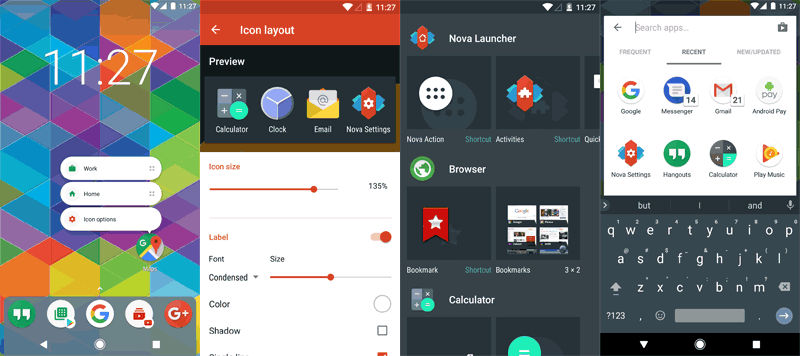 Nova Launcher stands as the top choice among Android launchers, offering a remarkable blend of features. This lightweight launcher is highly regarded for its exceptional customization options, efficient RAM usage, and captivating 3D effects. Notably, Nova's standout feature is its intuitive gesture control, enabling users to launch apps, expand notifications, and modify home screens with ease. Additionally, Nova allows you to conceal apps, customize app drawer tabs, modify the appearance of docks and folders, and enjoy various 3D transition animations.
Based on the stock Android Launcher, Nova retains the familiar Nexus-like look and feel. However, the launcher's appearance can be easily modified through a wide range of icon packs available in the Play Store. Nova Launcher offers both a free version with limited features and a paid version.
You May Also Like: How to Enable-Disable and use Night Mode Nova Launcher?
2. Microsoft Launcher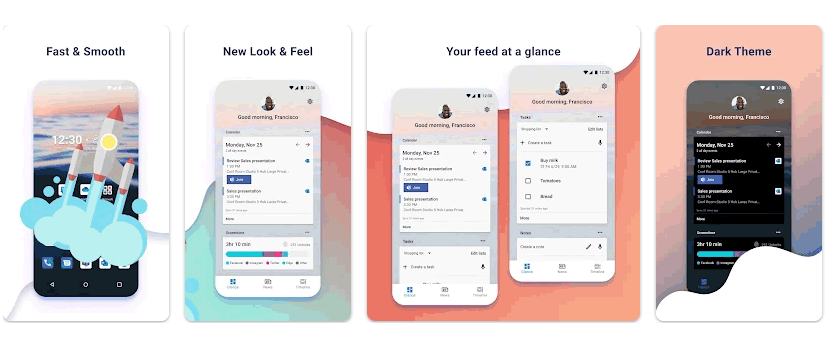 Microsoft Launcher is an Android application developed by Microsoft Corporation, aimed at providing Android users with a seamless and highly personalized experience. It goes beyond the basic functionalities of a launcher, offering integration with Microsoft services and features that enhance both productivity and personalization.
Microsoft Launcher offers a personalized experience with features like a tailored feed for news and events. Customize your device with themes, icons, and gestures. Stay organized using integrated Microsoft To-Do, glanceable widgets, and Cortana's voice assistance. Secure Folder safeguards private data, while notification management keeps you on top of alerts. Enjoy seamless Windows integration, synchronized browsing with Microsoft Edge, and continuity through Timeline. Elevate your Android usage with Microsoft Launcher's efficient and connected features.
3. Go Launcher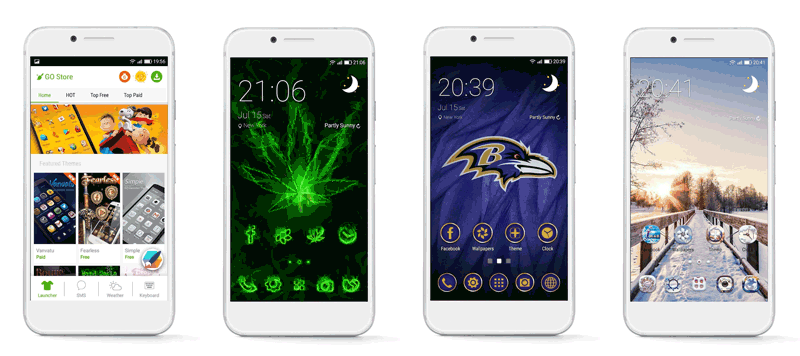 Go Launcher is a widely recognized Android launcher, It has around 100M+ downloads from the Play Store. It focuses on theming and offers a wide variety of pre-designed icons for popular apps, along with an extensive library of over 10,000 downloadable themes. The launcher boasts features like an inbuilt task killer, app hider, app locker, and the impressive 3D Core for advanced transition effects. Additionally, Go Launcher includes a set of 15+ pre-loaded widgets, with options to download even more themed widgets.
What sets this Android launcher apart is its compatibility with a broad range of Android versions, ranging from the older 2.2 Froyo to the latest 4.3 Jellybean. However, one drawback is that Go Launcher is not as lightweight as stock Android-based launchers, and it consumes a significant amount of RAM. Consequently, it may not be suitable for users with older or slower phones. There is also a paid version of Go Launcher available, offering benefits such as the removal of in-app ads, a vertical dock, additional 3D core effects, more gestures, and other enhanced features. It is available in both free and paid version.
4. ADW Launcher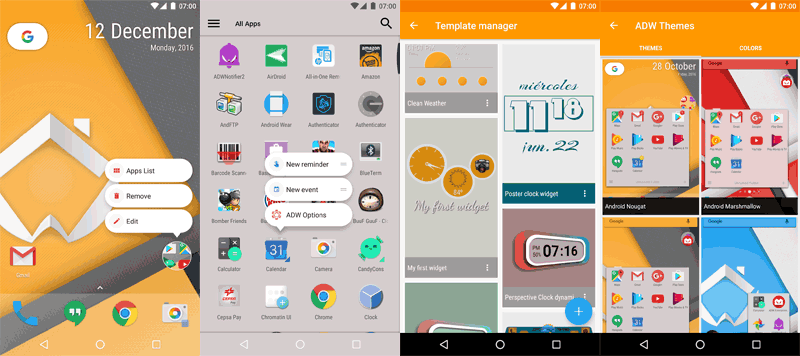 ADW stands out among stock Android-based launchers, offering a unique look and feel that sets it apart from Nova or Apex. What sets ADW apart is its compatibility with a wide range of Android versions, spanning from Android 1.6 Donut to Android 4.3 Jellybean. With ADW, you have the freedom to personalize your device extensively, thanks to its vast collection of icon packs and themes. You can mix and match themes according to your preferences, customize the desktop layout, resize widgets, and even modify text color, animations, size, and unread notifications counter.
Additionally, ADW offers a paid version called ADW Launcher EX, which unlocks even more features, including 10 different app drawer styles, an abundance of desktop animations, and the ability to backup and restore your custom layout.
5. POCO Launcher 2.0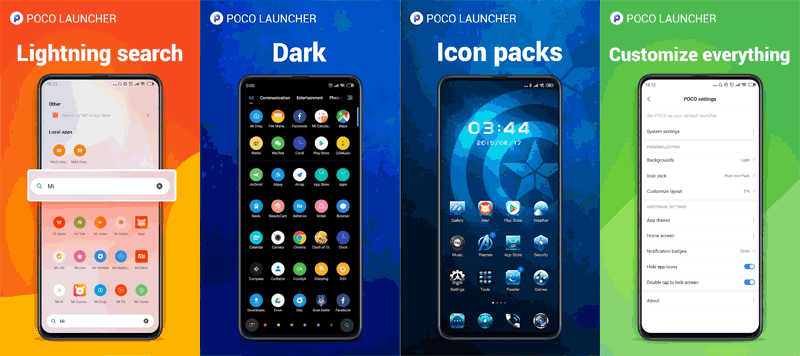 POCO Launcher 2.0 is a launcher for Android phones that you can download for free from the Google Play Store. It's made to be simple and easy to use, and it doesn't take up much space on your phone.
The launcher has a lot of cool features. It has a clean and easy-to-understand interface, so you can find what you need quickly. You can also customize it to make it look and work the way you want. You can change how the home screen and app drawer look, use different icon packs, set your own wallpaper, and even choose different themes.
Even if you have an older phone, POCO Launcher 2.0 will still work well. It's designed to be fast and efficient, so it won't slow down your device. Plus, it's really small and won't take up much storage space when you download it.
It works on Android 8.0 and newer versions, and it's really small, so it won't take long to download. Overall, POCO Launcher 2.0 is a great option if you want a lightweight and fast launcher that lets you personalize your phone just the way you like it.
The Conclusion
After careful analysis and consideration of various Android launchers available in the market, we have identified the top five options that offer exceptional features and user experiences. Each launcher has its own unique strengths, but they all provide a level of customization and usability that sets them apart.
Ultimately, the best Android launcher for you will depend on your personal preferences and requirements. Whether you prioritize customization, productivity, or simplicity, these five launchers provide excellent options that can enhance your Android device's usability and aesthetics.