We protect our smartphone apps and settings with Password locking app, such as AppLock. It increases smartphone security and anyone can't access our important data (Files, Music, Videos, Apps and settings without permission.
This protection can be unlocked by 1- Entering a correct password, 2- Password reset option, 3- Uninstalling AppLocking app.
The third trick will only work when we have not locked Smartphone Settings with the AppLock password. But will do, if we have also locked Smartphone Settings with the AppLock password. Can't do anything because we can uninstall AppLock from the App manager option and the App manager is available in the Smartphone Settings. Therefore when App Manager is locked with password then we can't uninstall it.
Related:
If you are suffering from above problem, here I'm sharing a trick with which you can uninstall AppLocking app.
Uninstall AppLock app when Settings is locked with Password
Many times we install useless apps in our smartphone, and sometimes these useless apps will work in most cases, If you have any of following or same app installed in your smartphone, It can help you to uninstall the AppLock application or password protector apps without opening Smartphone Settings.
How to Uninstall app using above apps?
Open app>>Find App manager or Uninstall Manager or Backup manager>> Mostly apps have uninstalled button if don't have then press the apps for few moment and you will see Uninstall option. Tap on Uninstall.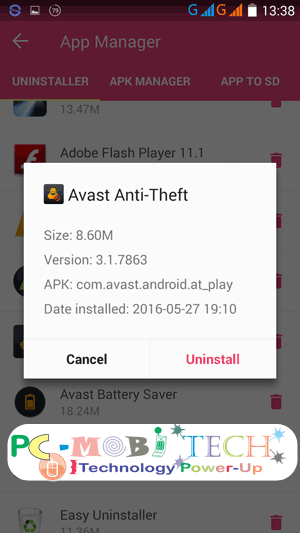 360 Security App Manager
Note: If you don't have above apps installed on your android smartphone. Then download from Google Play Store. Or Google Play Store is already locked then try to download from third party store eg: 9Apps, Mobogenie, APK Mirror etc. But for third-party app installation, you will need to enable Unknown Sources option.
If you don't have any above app installed then you have only one option left:
Helpful? Leave a reply in the comment box.
Also See: