In the fast-paced digital world, email communication remains a crucial aspect of our daily lives. Gmail has long been a popular choice for managing emails, but there are alternative Gmail client apps that offer unique features and enhanced functionalities. If you're looking to explore new possibilities and streamline your email experience, here are the 10 best alternative Gmail client apps to consider.
What is Gmail Client Apps?
A Gmail client app is a specialized software application created to offer users an alternative interface with enhanced functionalities for accessing and managing their Gmail email accounts. This app acts as a replacement for the default Gmail web interface or mobile app, delivering a more personalized and tailor-made experience.
These Gmail client apps are equipped with a diverse range of features designed to enhance email management, boost productivity, and facilitate effective communication.
Using a Gmail client app allows individuals to customize their email experience according to their specific needs and preferences. This makes it a favored option for those who desire a more efficient and user-friendly approach to managing their Gmail accounts.
You May Also Like:
The Best Gmail Client Apps: Enhance Your Gmail Experience with These Alternatives
There are several alternative Gmail client apps available that you can use with your Gmail account to enhance your email management experience. Here are some of the 10 best Gmail Client options:
1) Spike Email

Hey there! Meet Spike, the fantastic Windows Gmail client app that's here to revolutionize your email experience with its ingenious conversational email functionality.
Gone are the days of sifting through cluttered inboxes! With conversational email, Spike transforms all your email threads into friendly chat-style conversations. Sending and receiving emails becomes as effortless and natural as having an instant messaging conversation with a friend!
But wait, there's more to love about Spike! It's not just a Gmail alternative; it's a powerhouse of productivity, collaboration, and communication tools. Picture this: video meetings, voice messages, tasks, to-do lists, group chats, collaborative online notes, and even more awesomeness all wrapped up in one app!
With Spike, you no longer need a bunch of different subscriptions for various tools like video conferencing, team chat, or project management apps. It's all right there, seamlessly integrated into this amazing app.
Now, let's talk about saving time and boosting productivity. Spike's built-in features drastically cut down the need for constant app-switching between different tools and platforms throughout your day. It puts you back in control of your time, allowing you to focus on what matters most.
Signing up for Spike is a breeze! Simply download the app on your mobile, access it on the web, or use the desktop version and sign in with your Gmail account to sync everything effortlessly. Once you're in, voila! All your emails appear in delightful chat format. You can organize chats by people, subject, or stick to the good ol' normal inbox view – your call!
In a nutshell, Spike is the ultimate game-changer in the realm of Gmail clients. It brings you the best of both worlds: the convenience of email and the simplicity of messaging. Say goodbye to email overwhelm and embrace a new era of efficient communication with Spike!
2) Kiwi for Gmail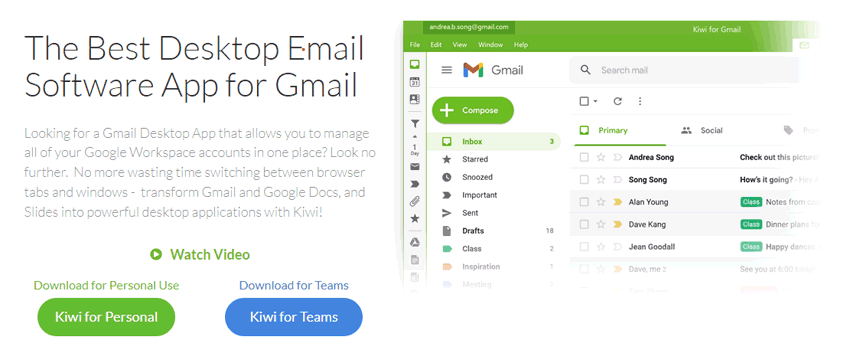 Kiwi for Gmail serves as a desktop email client exclusively designed for Gmail and Google Workspace, offering the convenience of accessing these services outside of your web browser. With Kiwi for Gmail, you can manage your inbox and utilize Google Docs, Google Sheets, and Google Slides within dedicated desktop windows, eliminating the need to open your internet browser.
One of Kiwi for Gmail's standout features is the "Focus Filter Inbox." This unique function enables you to customize the emails you view based on various filters, such as date, importance, unread status, attachments, and starred messages. This way, you can focus on the most relevant and critical emails, streamlining your workflow.
Moreover, Kiwi for Gmail integrates seamlessly with Boomerang, a useful tool that allows you to schedule emails for later sending. With Boomerang, you can compose replies in advance and choose the exact date and time for them to be delivered, optimizing your email communication.
In essence, Kiwi for Gmail offers a comprehensive and efficient desktop solution for managing your Gmail and Google Workspace tasks, providing valuable features that enhance productivity and organization.
3) ProtonMail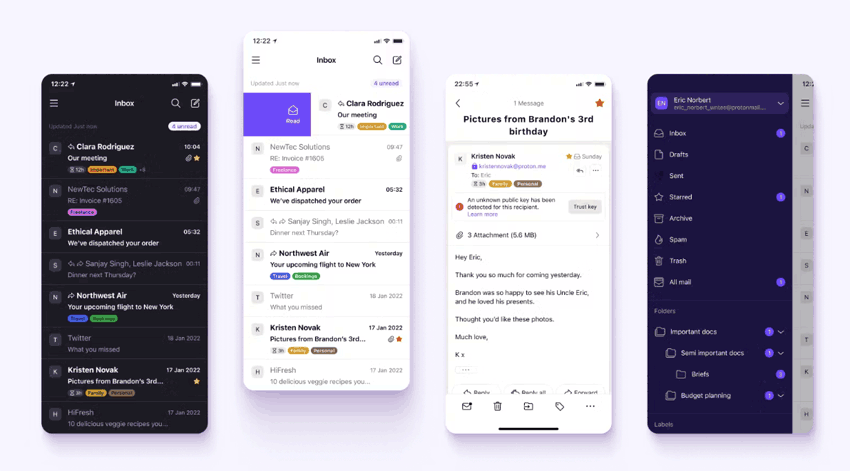 ProtonMail is a stellar alternative email app for Gmail that takes security and privacy to a whole new level. While Gmail is undoubtedly secure, ProtonMail goes above and beyond to safeguard its users with robust end-to-end encryption and an array of beefed-up security measures. Your data is off-limits, not just to ProtonMail but to anyone else, and the risk of message interception is practically non-existent.
Here's what sets ProtonMail apart: the ability to password-lock emails for non-ProtonMail users. With this feature, you can add an extra layer of protection to your sensitive messages, ensuring only the intended recipient can access them. But that's not all; you can also set an expiry time for your emails. Say goodbye to lingering messages – they automatically disappear for both you and the receiver after a specified amount of time.
ProtonMail's dedication to security and privacy makes it a prime choice for individuals who prioritize safeguarding their communications. If you seek an email app that puts your privacy first and empowers you with cutting-edge security features, ProtonMail is the ultimate solution. Trust in ProtonMail to keep your digital exchanges private and secure, giving you peace of mind like never before.
4) Thunderbird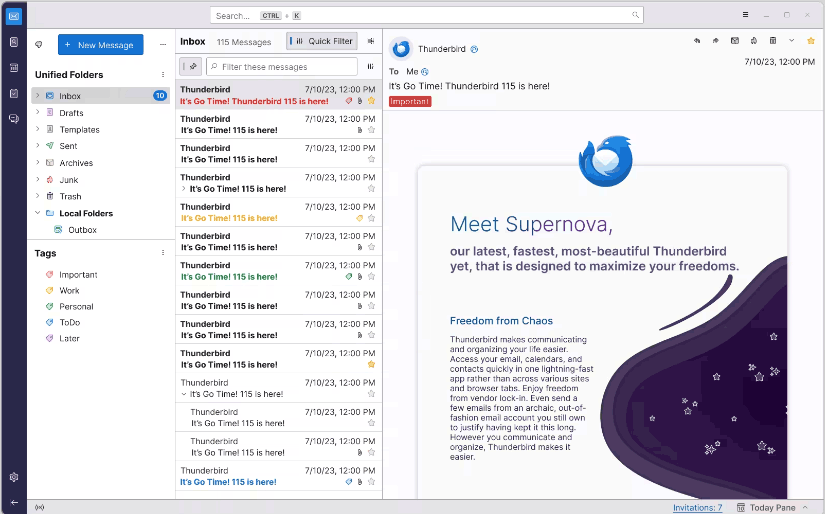 Thunderbird, the brainchild of Mozilla, is a trusted open-source email client app that caters to Gmail and other popular email services. What makes it stand out is its vast array of add-ons and extensions, granting users unparalleled flexibility and versatility.
With Thunderbird's advanced filtering and search capabilities, managing and locating emails becomes a seamless experience. Stay organized effortlessly, and find what you need with just a few clicks.
Privacy and security are at the heart of Thunderbird's mission. For those who prioritize safeguarding their digital communications, Thunderbird is an exceptional choice. Rest assured, your sensitive information is in good hands.
Whether you're a Gmail enthusiast or use other prominent email services, Thunderbird's got you covered. Embrace the power of open-source software, and elevate your email experience to new heights. Thunderbird: the ultimate companion for efficient, secure, and personalized emailing.
5) TouchMail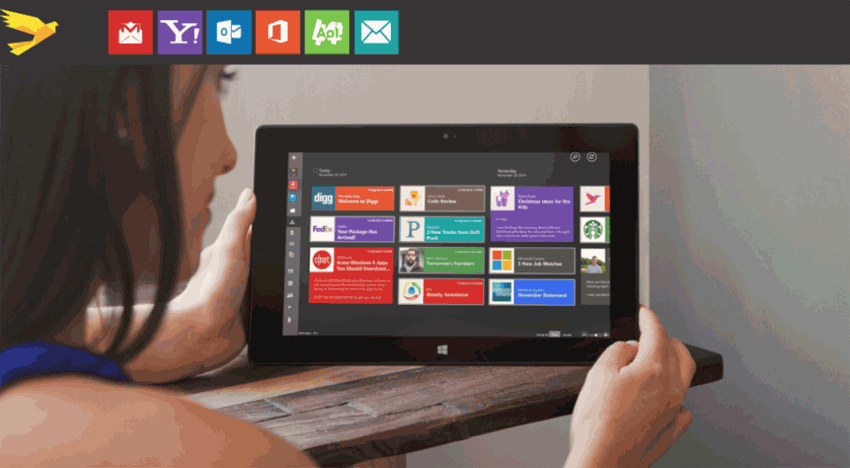 TouchMail presents itself as an exceptional third-party Windows email client specially designed for Gmail users who appreciate a highly visual approach to managing their inbox.
With TouchMail, your emails are intelligently organized using color-coded groups, creating a visually appealing grid format reminiscent of the Windows 10 desktop app interface. This unique presentation style allows for easy navigation and quick identification of different email categories, streamlining your email management experience.
Furthermore, TouchMail caters to various user preferences by offering compatibility with both touch-enabled devices and traditional input methods like keyboard and mouse. This ensures a seamless and intuitive interaction, regardless of the device you're using.
6) Aqua Mail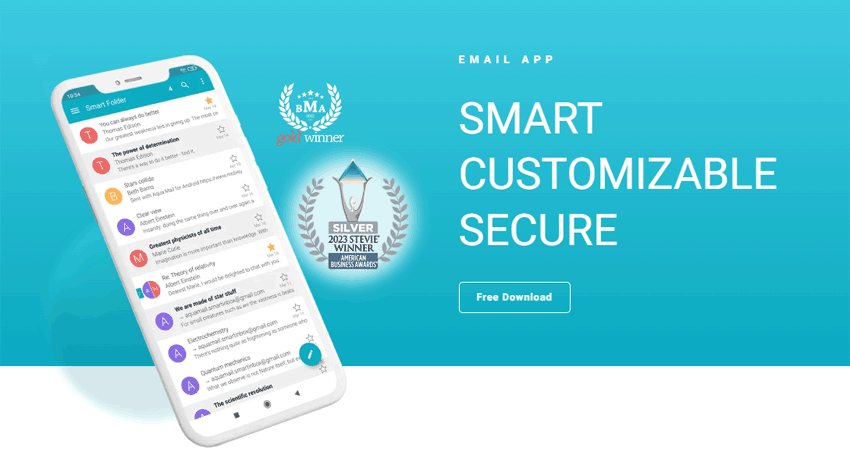 If you're on the lookout for a fantastic email app that works exclusively on Android, then Aqua Mail might just be your perfect fit. This app is tailored specifically for Gmail users on Android devices, offering a seamless and tightly integrated experience with other Android apps.
While you won't find Aqua Mail on PC or Apple devices, it truly shines on Android. The best part is the level of customization it offers, allowing you to personalize your email experience like never before. Unlike the standard Gmail app, Aqua Mail gives you more control over your interface, making it a favorite among Android users who love to tweak things their way.
So, if you're seeking an email app that's uniquely designed for Android enthusiasts, Aqua Mail has got your back. Embrace the exclusivity and make the most of its seamless integration with your Android ecosystem. Say goodbye to ordinary and hello to extraordinary!
7) Outlook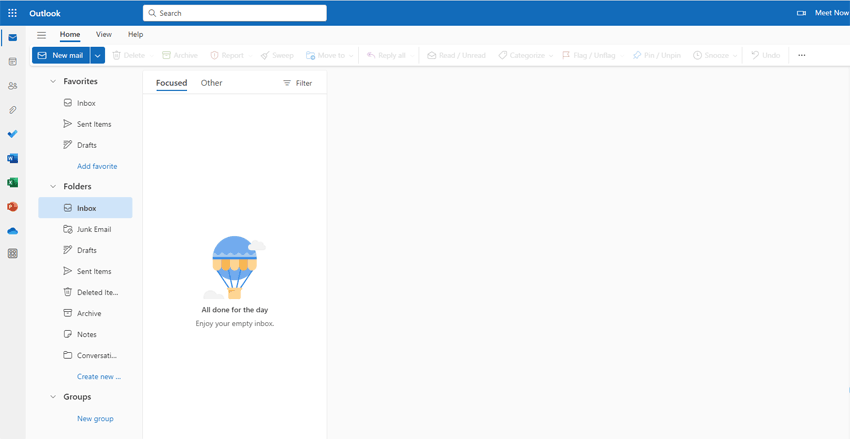 Ever considered using Microsoft's Outlook app with your Gmail account? Surprisingly, it's a fantastic alternative to the Gmail app. Don't be hesitant; this dynamic duo can be a game-changer for your email experience.
Getting started is a breeze – simply sync your existing Gmail account with Outlook, and voilà! You're all set to explore the exciting features. Especially if you're a Windows PC user, Outlook's layout and familiarity will make you feel right at home.
One of the standout features is the Focused Inbox, a true gem for busy individuals. Say goodbye to inbox noise, and let Outlook intelligently organize your emails, so you can focus on what matters most. But wait, there's more! This app allows you to tailor your inbox like never before. With filters and folders at your disposal, you can effortlessly prioritize your business and personal emails, ensuring you never miss a beat.
So, if you're looking for an outstanding email experience that seamlessly combines Gmail and Microsoft's prowess, Outlook is the way to go. Embrace the fusion of functionality and familiarity, and discover a whole new level of email productivity. Try it now and thank us later!
8) Mailbird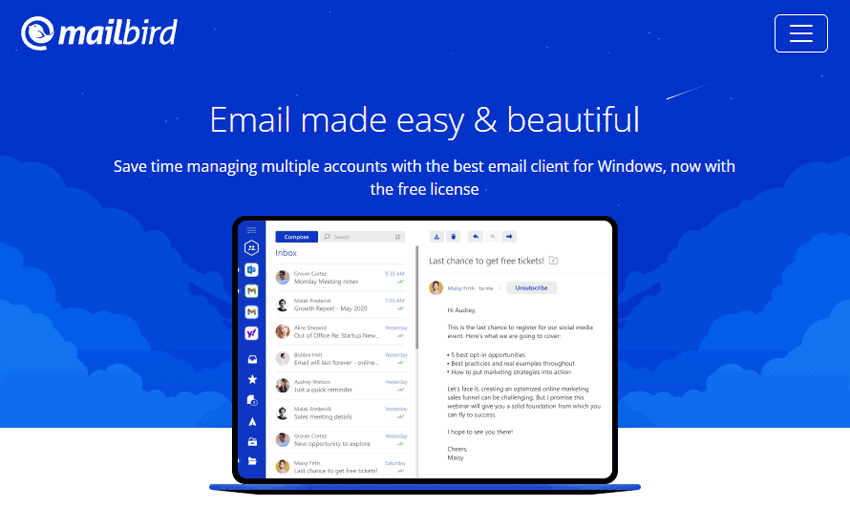 Meet Mailbird, the formidable and intuitive Gmail client app that deserves a top spot on our list. This gem of an application boasts a user-friendly interface and seamlessly integrates with Gmail, offering a remarkable alternative to the standard Gmail interface.
What sets Mailbird apart is its dedication to personalization. You're in the driver's seat, with various customization options at your disposal. Make your inbox uniquely yours, ensuring a delightful email experience every time you open the app.
But that's not all! Mailbird takes convenience to a whole new level with its unified inbox feature. Managing multiple email accounts has never been easier; you can now handle them all in one place. Professionals and multitaskers rejoice – this is a game-changer for staying organized and on top of your email game.
So, if you crave power, simplicity, and a truly tailored email experience, Mailbird is your ultimate choice. Embrace the possibilities, streamline your email management, and let Mailbird soar your productivity to new heights. Get ready to conquer your inbox like a pro!
9) Spark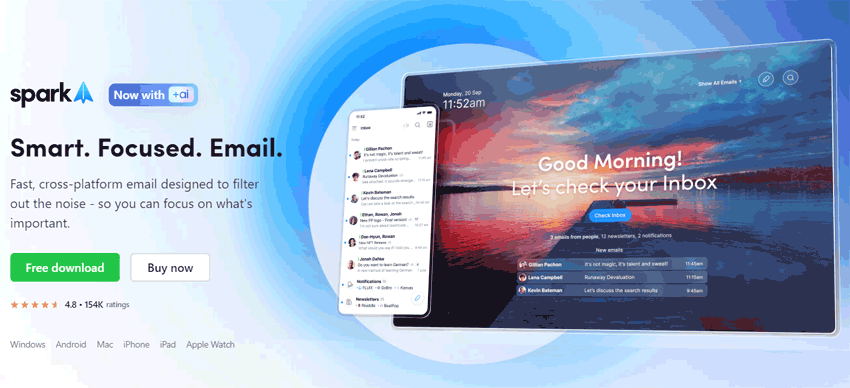 Let me introduce you to Spark, a Gmail client app renowned for its intelligence and email prioritization prowess. This app takes your email experience to the next level with its cutting-edge AI-driven algorithms that sort and highlight essential messages, making sure you never overlook critical information.
One of Spark's most impressive aspects is its collaboration tools. It's not just about managing your inbox; it's about fostering teamwork. Spark allows you to effortlessly discuss and share emails with your colleagues, enabling seamless collaboration on various projects.
Beyond its brainpower, Spark's user-friendly design is another highlight. Navigating through your emails becomes a breeze, and its time-saving features empower you to be more productive and efficient in your communication.
It's no wonder that Spark has garnered widespread acclaim from users across the globe. With its intelligent approach to email management and robust collaboration capabilities, Spark is a game-changer for both individuals and teams. Embrace the power of smart emailing and witness your productivity soar to new heights with Spark!
10) Mail App by Apple: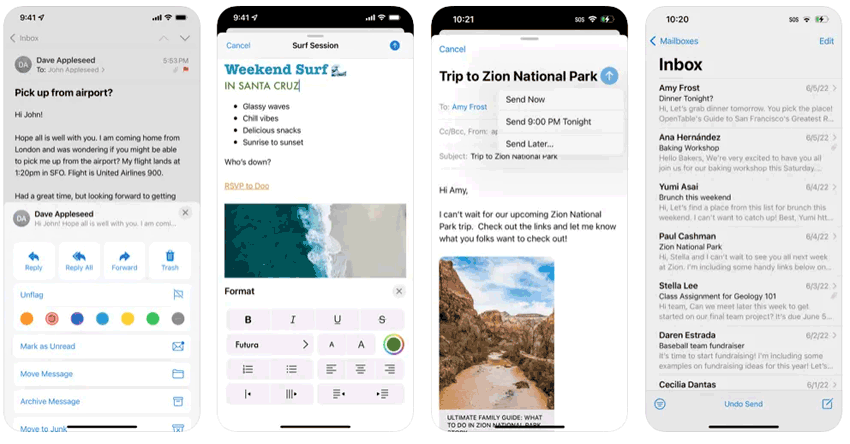 The Mail app by Apple is a reliable and widely-used email client that comes pre-installed on Apple devices. It offers a seamless and intuitive email experience, making it a favorite among Apple users.
With its clean and user-friendly interface, the Mail app allows you to manage multiple email accounts effortlessly. You can easily send, receive, and organize emails, ensuring you stay on top of your digital communications.
One of the key strengths of the Mail app is its tight integration with other Apple services and apps. This means that you can easily access your emails, attachments, and contacts across all your Apple devices, creating a unified and streamlined experience.
Moreover, the Mail app supports various email providers, making it versatile and accommodating for different users' preferences. Whether you have a Gmail, Yahoo, Outlook, or any other email account, the Mail app has got you covered.
Apple's commitment to security and privacy is evident in the Mail app as well. It incorporates advanced security features to protect your sensitive information and prevent unauthorized access.
Final Words
In conclusion, while Gmail remains a popular choice for email management, these alternative Gmail client apps offer unique features and functionalities to enhance your email experience. Whether you prioritize advanced search options, smart inboxes, or seamless integration with multiple accounts, there's a perfect alternative Gmail client app for you.
FAQs – The 10 Best Alternative Gmail Client Apps
Are these alternative Gmail client apps free to use?

Yes, all the mentioned apps offer free versions with basic features. However, some also provide premium plans with additional functionalities.

Can I use these apps on multiple devices?

Absolutely! Most of these apps offer cross-platform support, allowing you to access your emails on various devices.

Will my emails be safe and secure with these apps?

Yes, these apps prioritize user privacy and employ encryption protocols to ensure your emails remain secure.

Can I use these apps with my custom domain email address?

Yes, you can configure these apps to work with custom domain email addresses associated with Gmail.

Do these apps support offline access to emails?

Yes, many of these Gmail client apps offer offline access, allowing you to view and respond to emails without an internet connection.

Should I Stop Using Gmail?

If privacy and data security are major concerns for you, you might explore alternative email services that place a greater emphasis on user privacy. Some email clients, like ProtonMail or Thunderbird with encryption add-ons, prioritize user privacy and security, offering end-to-end encryption and other privacy features.