Google mail or Gmail is the one most popular free Email service in the World. It is the popular because of its features and security, Due to this we first prefer to use Gmail over other Email Providers. But sometimes it happens that we forget the Gmail or Google account password and then you need to recover Gmail Password.
Gmail provides many options to recover forgotten Password and one most easier recovery option is Phone number recovery. What will you do if you don't have the phone number or mobile number? So here I'm sharing 8 ways with them you can reset easily Gmail or Google account password.
Recover Forgotten Gmail ID Password
If you 're one from them who has forgotten their Gmail or Google account password and want to recover then use the following ways:
First, you will need to go on main Gmail Sign-in page.
On the Gmail Sign in page enter your Gmail ID in the Email or phone box and click on "NEXT" button.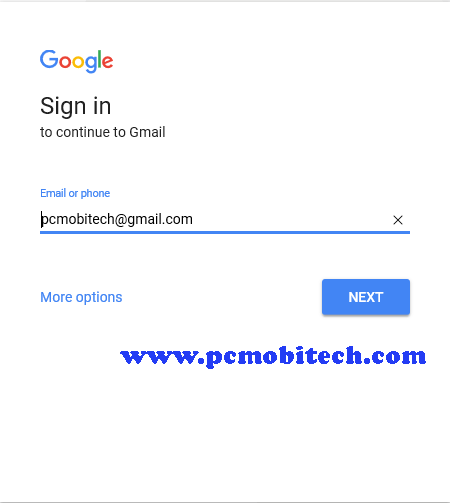 On the next page, you'll need to click on the Forgot password? option.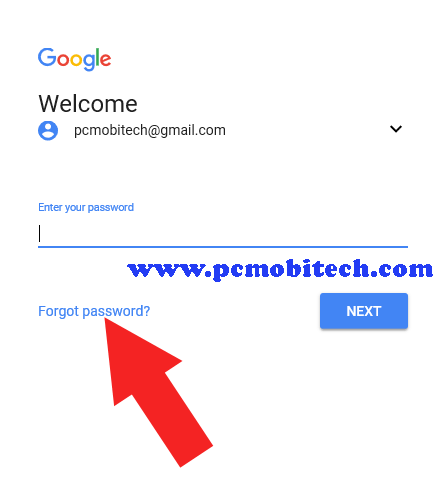 Now you have following ways to recover forgotten Gmail password:
#1 Last Password:
As you click on the "Forgot Password" option link, The Last Password is option appears first. If you remember the Last Password then Enter it here and click on Next.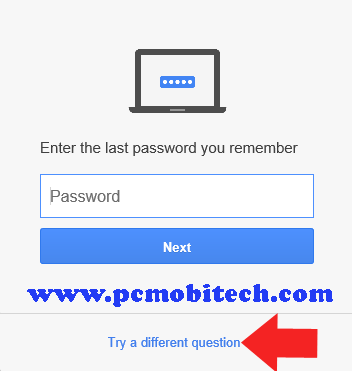 If you do not remember it then Try a different question or 'Try another way to sign in' option.
#2 Google Authenticator:
If you have enabled 2-Step verification on Google account using Google Authenticator then this option will appear. So just open your Google Authenticator app and enter the 6-digit code and click on Next button.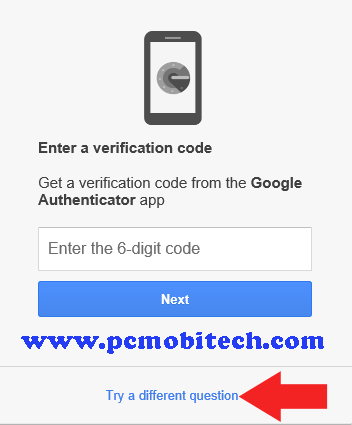 If 2-Step verification has not been activated using Google Authentication app then this option will not appear. In case you can't use Google Authenticator to unlock your account, Click on the Try a different question.
Also Check: How to do a safe banking transaction online.
#3 Mobile number verification:
This is a most usable option, And you'll need to enter your Phone number or Mobile number, after entering when you click on the Send text message button, A verification code will be sent to your registered mobile number, with which you can simply recover your Gmail password.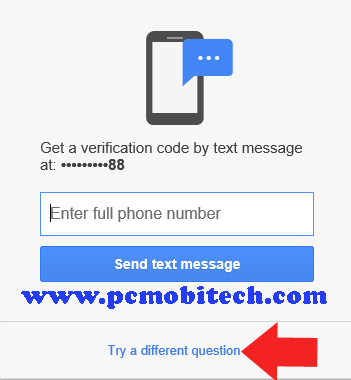 If you can't use registered mobile number due to any reason. Click to Try a different question ('Try another way to sign in').
#4 Using Backup code:
The Backup Code option will only appear if you have set up 2-Step verification using Voice or text message (SMS) service. When you activate 2-step verification using Voice or text message service, Gmail provides 10 Backup codes.
These backup codes help when you can't use second verification methods such as Google Authenticator, Google Prompt, and Voice or text message. To use backup code enter the 8-digit code and click on Next button.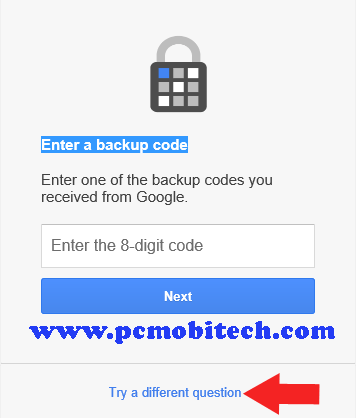 If this option doesn't work then Try a different question again.
Must Check: Disable internet access to all android apps.
#5 Security Question:
Security Question is very old and less secure method of account protection. When you create Google account or Gmail ID, a security question is compulsory to add as a password recovery option. So if you have remembered correct answer of the asked question then Gmail Password can be easily recovered.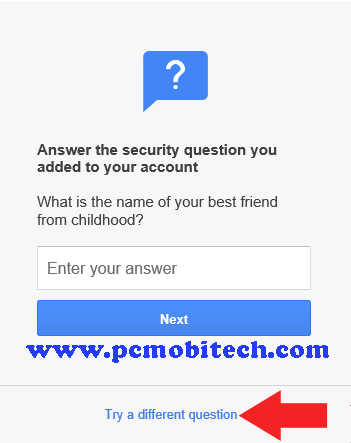 In the situation you can't answer the asked question, again Try a different question.
#6 Confirming Phone which you provided in your Security Settings:
It is another phone number which you had added it into Security Settings as a Backup phone. If you have added another phone number then try it to reset Gmail Password. Or Try a different question.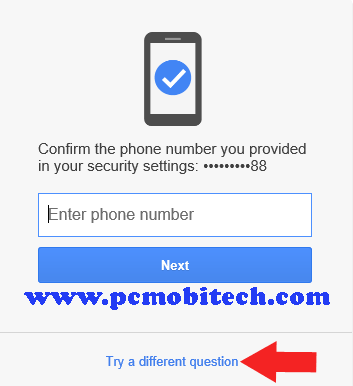 Must See:
#7 using Google Account creation date:
Do you remember the month and year for creating a Google Account? If yes then this option will definitely help you.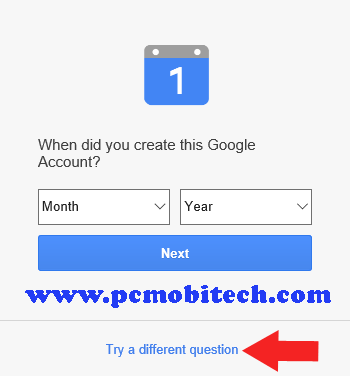 #8 Email Verification:
This is another very old and secure password recovery option. When you create Gmail account then it asks to enter "Your current Email Address". So if you have entered another Email ID for the Password Recovery then it can be used for resetting your Gmail Password. When you enter correct recovery email ID in the box and click Next, A Password reset code will be sent to your Secondary Email. So this code can be used for the Gmail account Password Recovery.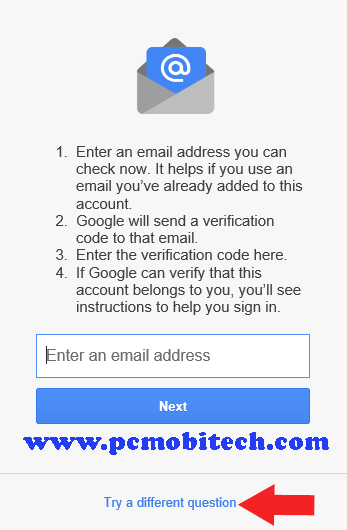 Note: To recover forgotten Gmail or Google account password, you'll need to verify more than one question and you have currently total 8 options and they are adding many new ways. From them sometimes 2-3 options need to verify then only Gmail ID Password can be recovered.
More Tips:
Try to answer all questions as possible
As you can see you have many options to recover google account, it is required try not to skip questions. If you skip 1 or more question it is certain the account will not be recovered. So you should try to give best guess before hitting 'Try a different question' or 'Try another way to sign in' option link.
If possible try to use a same device & location
When you're try to recover your account be sure use a same device in which you have previously logged in. And also use the same browser that you regularly used in previous days, if possible try these steps at the same location such as home or office, so you will have more chances of recovery of google account.
Most common mistake when entering password
Many times it comes to see that, even though you remember the password, you are entering the password incorrectly. These mistakes are typos related, to fix this you will have to pay attention to uppercase and lowercase letters.
Enter an email for recovery
In case you're asked to enter an email address, here enter one that you have submitted to your account, such as:
(1) A Recovery email address, (2) An alternate email address, (3) A contact email address.
After reading these helpful tips, you can understand that after the signup of google account, you should fill all the required information, if multiple options are available for recovery than you have more chances to get back your account easy and fast.