When we give like or comment on a Facebook Post. Then after the liking or commenting we continue to receive new Facebook Post notifications if someone like or comment on the same post. It is helpful because Facebook wants to notify you that someone is also liked or commented. So you can quickly check the post via clicking on the notification.
But sometimes these types of Facebook notifications too much irritate us. So if the Facebook Post Notifications are disturbing you then here I'm sharing few methods with that you can easily disable Facebook Post Notifications. Or if you want to subscribe post notification on Facebook you can also enable notifications from a specific post using below method.
How to turn off Facebook Post Notifications.
Method 1:
Login to your Facebook account and after login:
Click on top right Glob icon (Notifications menu).
Now a menu will appear and then take mouse over the notification and you will see 3 dot line then click on the 3 dot line.
And when you click on the 3 dot line you will get another sub menu. To disable the unwanted Facebook Notification from the post click on the option Turn off notifications about this photo or Post.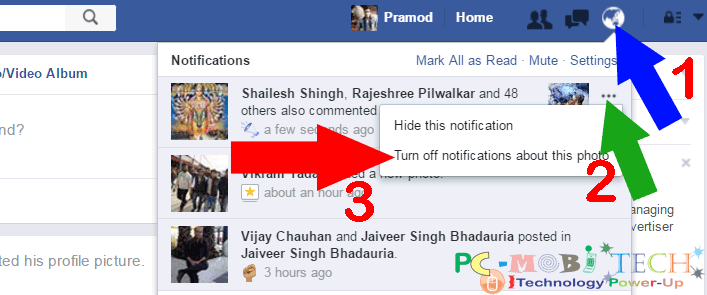 Method 2:
Click on top right corner menu ∨ icon of Facebook Post on which you have commented or Liked and don't want to receive notifications. After clicking on the icon, you will see "Turn off notifications for this post" option. To disable Facebook Photo or post messages click on Turn off notifications of this post or Photo.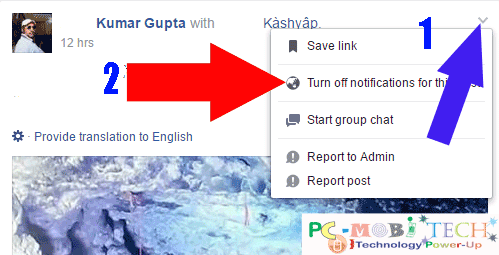 As soon as you disable above-described option, Facebook notifications will be instantly stopped from the unwanted post.
Enable and start receiving live Facebook Notifications from a post.
If you have found an interesting post or photo on Facebook and of which you want to read discussion (comments) then you can turn on notifications of the post.
To start receiving Notifications from a post click on top right corner menu ∨ icon of the post.
And choose the option "Turn on notifications for this post" option.
After this, you'll continue start receiving notifications from the post which you have subscribed.
Also See: