Update:
"Good news for Avast Free Antivirus users. Now newer versions of Avast Free Antivirus will no longer ask you to register, and there is no need to update another key on older versions of Avast Free Antivirus and they will continue to work with old key even after the expiration."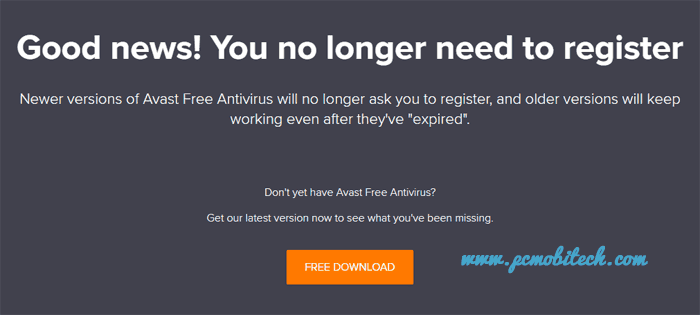 Avast Free Antivirus is the best protection for your home PC. It provides intelligent antivirus & anti-malware, which offers you real-time protection for your PC, scan viruses, malware, and when you surf the INTERNET. It can block phishing sites, Home Network Security that Scan your home network for weak spots & Browser Cleanup that Remove annoying browser toolbars or extensions, and restore your hijacked search browser & protect your privacy Free of Cost.
You can use Avast free Antivirus lifetime without paying anything. For monitoring Avast Antivirus license keys you'll need to register for free Avast account. However, you Avast free antivirus will continue work, even when you don't create free account.
When you install Avast Free Antivirus, then your license will be activated automatically for 365 days. And the license will be extended when it will expire. So you don't need to worry for free license renewal because now license renewal process is on Auto mode.
How to Check Avast Antivirus License Status?
To check Avast Free Antivirus, Avast Internet Security and Avast Premium license status. Open Avast Antivirus, take mouse over the Menu and choose the My licenses option.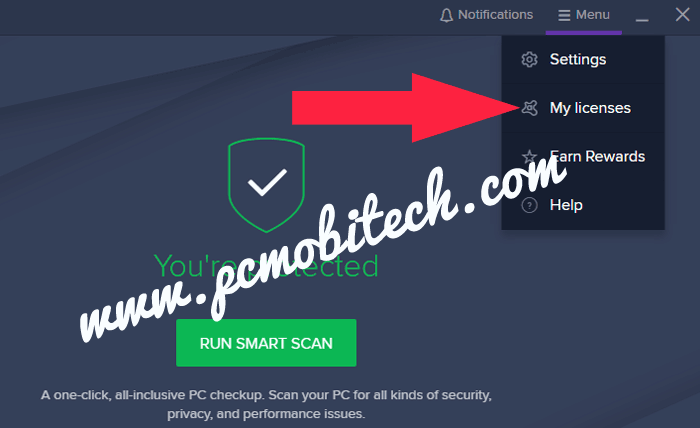 Now, you're in Avast Antivirus My licenses section. Here, under the Licenses on this PC heading you can check the Avast Antivirus Expire time. If you want to know about which license key is currently being used with the Antivirus then click on the dropdown ∨ icon, which is available on the right UPGRADE NOW button.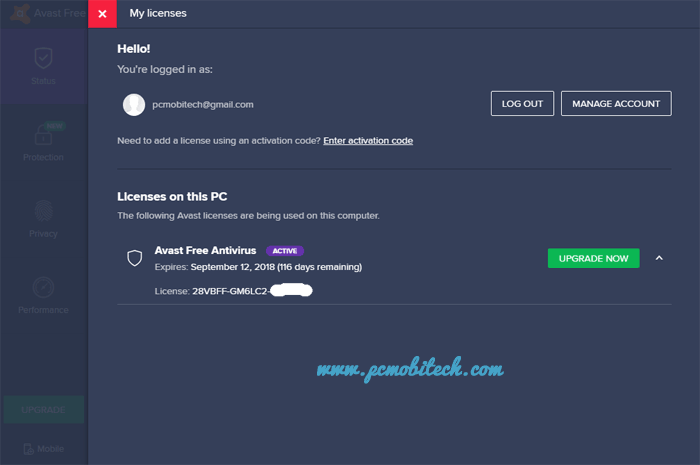 Login to Avast Free account to synchronous license
Once you sign up for Free Avast Account or if you have existing account, then you can login to that account. This is a good option because you can synchronous the license between your  software and the online account. Even when you reinstall the software then the license will be automatically installed, when you login your Avast software to account.
To do login, go to the Menu and choose My licenses option. In the My Licenses, click on the Log in to your Avast Account option.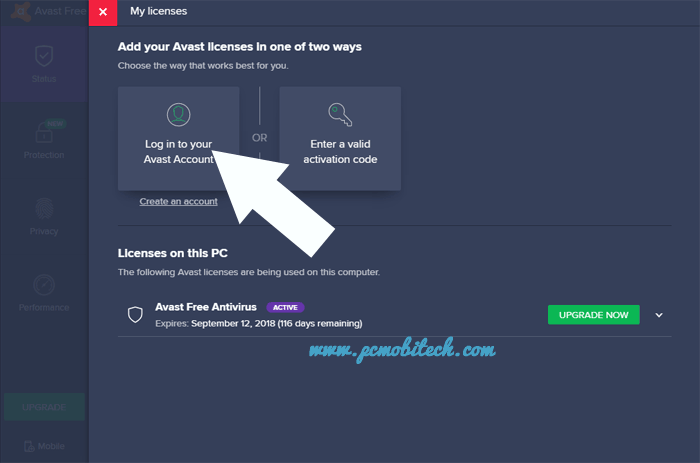 Next, you'll need to enter your registered Email ID & password and click on the LOG IN button.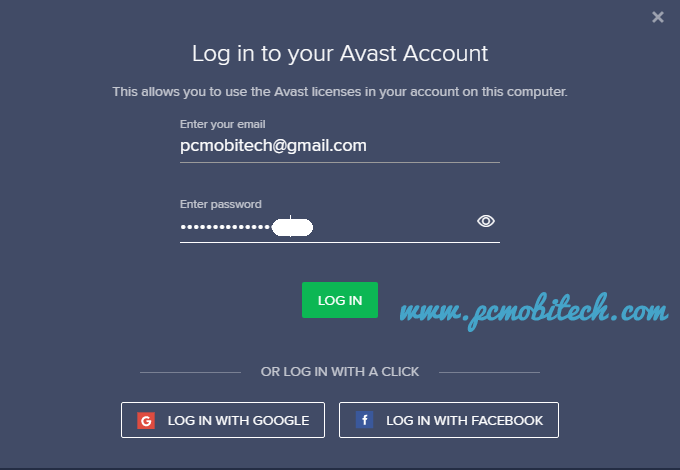 You account will be successfully connected with Avast software and License synchronizing will be activated automatically.
Note- After 1 year when your Avast Free Antivirus registration License will be expired. The license will be automatically extended for one year. So you can continue use the Avast Free Antivirus for lifetime.
Register for Avast Antivirus Free Account?
If you have not registered yet for free Avast account then it can be easily created by going to Avast signup page. On the signup page, you'll need to enter your Email ID, and last two boxes are for password, enter the same password in the both boxes and click on the Create new account button.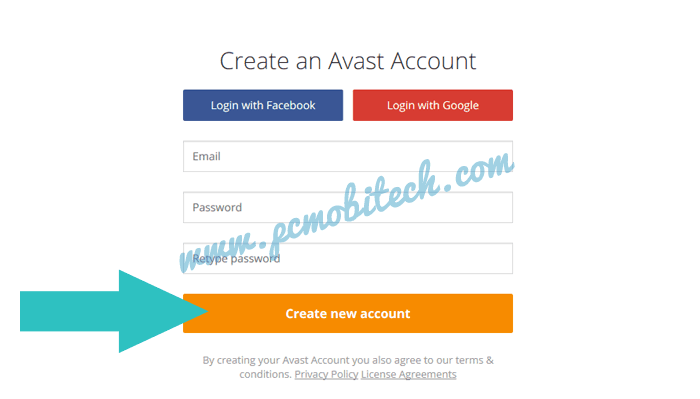 If you have added the correct email id and password, then next, you'll see info about "An activation email has been sent to your email address you provided".

Now login to your email account and open the received message. There will be a link in this message, click on the confirmation link. You'll see Your registration is complete screen.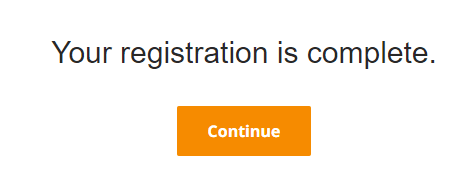 So, you have successfully signed up for free Avast Account. Click on the Continue button and you'll be logged in to new Avast account.
Also See:
Any query leave a reply in the comment box.