Update:
"Good news for Avast Free Antivirus 2017 users. Now newer versions of Avast Free Antivirus will no longer ask you to register, and there is no need to update another key on older versions of Avast Free Antivirus and they will continue to work with old key even after the expiration."
Avast Free Antivirus is best protection for your home PC. It provides intelligent antivirus & anti-malware which provide you real time protection for your PC, scan viruses, malwares, and when you surf on INTERNET it also block phishing sites, Home Network Security that Scan your home network for weak spots & Browser Cleanup that Remove annoying browser toolbars or extensions, and restore your hijacked search browser & protect your privacy Free of Cost.
You can use Avast free Antivirus 2017 lifetime without paying anything. People who don't know about Avast Free Antivirus 2016 registration process. So here I will show you how to register and use Avast free Antivirus Life Time?
You can get Avast Free Antivirus 2017 for 1 Year Free Registration key & when your registration Expire after one year, you can re-register once again continue to use for lifetime.
How to Register Avast Free Antivirus 2017?
You can register Avast Free Antivirus 2017 for 1 year with two ways:
(1) Online With Antivirus-
This Process is very simple and working only when your PC has a working internet connection.
Open Avast Free Antivirus & Click on the top right Settings (Gear icon)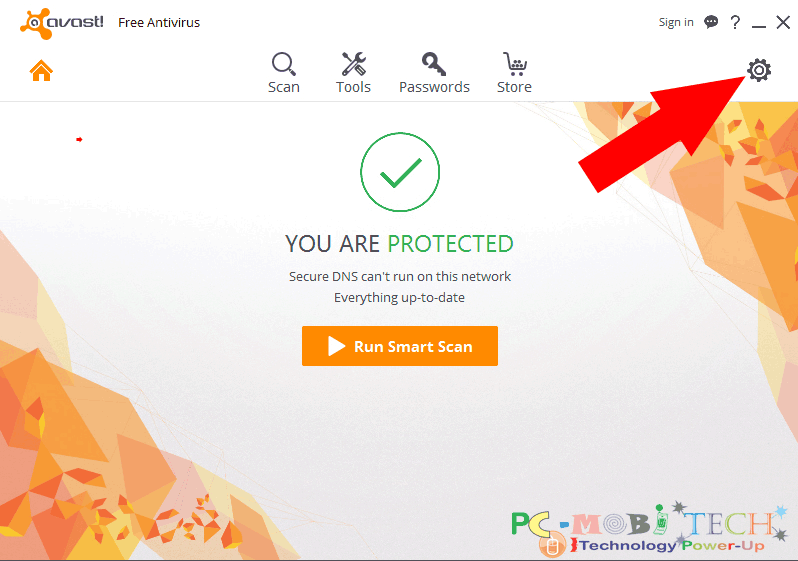 Now Choose Registration option from left and click on Register now button.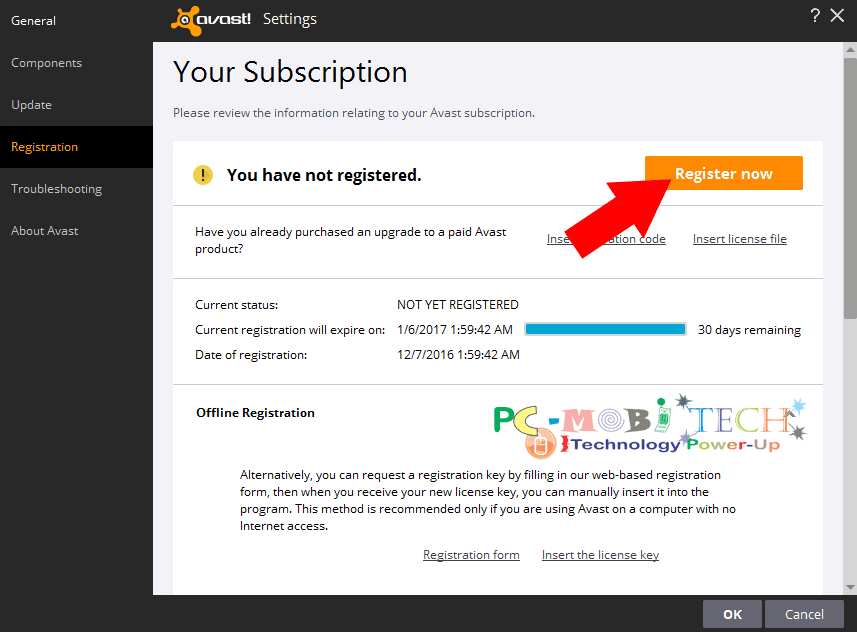 Click on Standard protection "select" button.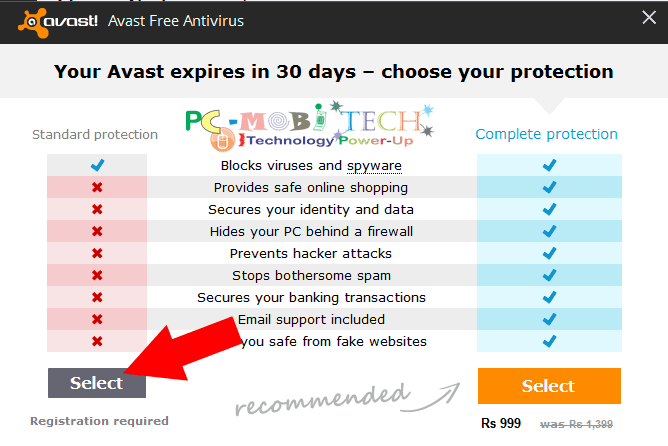 Now registration form will open. Here fill your email address after this click on "Register" button.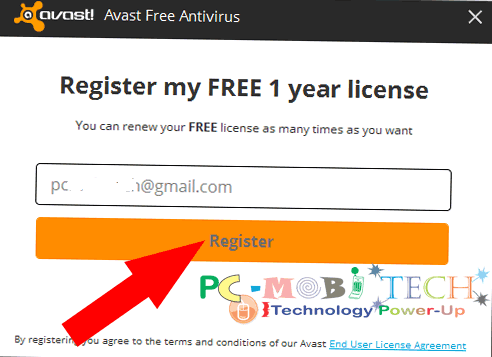 On next window you'll see Thank you for registering Avast Free Antivirus message, To complete your process click on No Thanks button.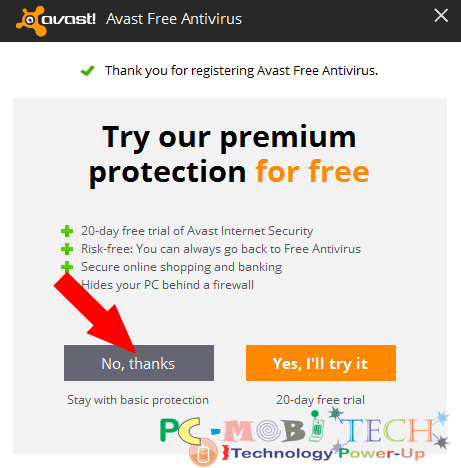 Now Avast Free Antivirus  2017 registration has been completed successfully.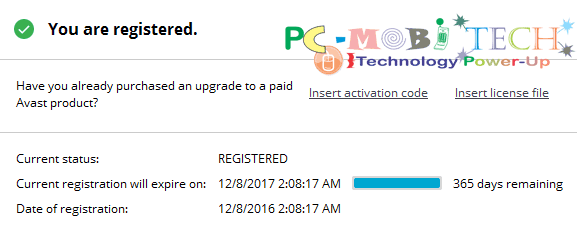 (2) Offline Mode (register with website)-
This process will work for those people who don't have internet connection in their PC. In this situation you can get Avast Free Antivirus 2017 registration KEY using cyber cafe or friends PC and where the internet available. If you want to register offline simply
Visit this registration page.
Now registration form open, here fill all your information: First Name, Last Name,  your email address & re enter your email address (most important because avast.com send you a serial key on this email address), select your Country. And under the Please let us know is (optional): Choose options Why did you choose avast?, Did you already have antivirus on this PC?, Your age ? and Computer Ability? But these information are not compulsory. So if you don't want to fill Please let us know is (optional) information then simply click on "REGISTER FOR FREE LICENSE KEY".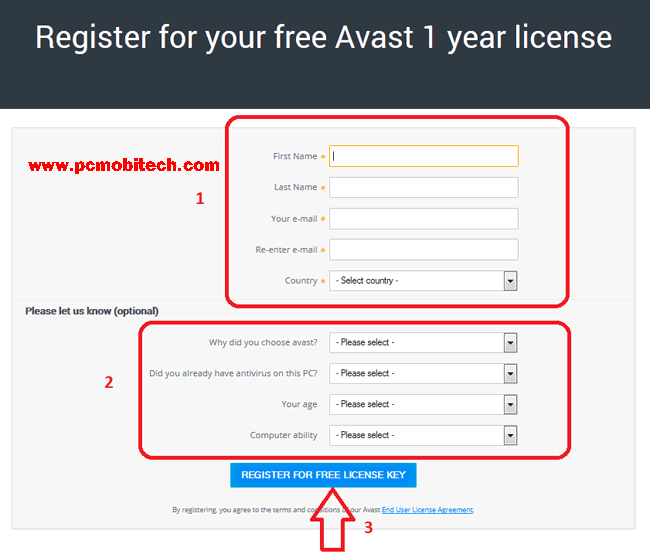 Now You will get Your registration was successful Message in next window. And after this Avast will send you a serial key on your registered email ID with in 30 Minutes. Some times it receives only in 5 Minutes. If you have not received the Registration email with in 24 hours then check your Spam Folder.

So check you email id. If you received any mail from avast, open it & copy given Avast Free Antivirus2017 serial key.

Now open avast free antivirus & Click on "SETTINGS" Icon as I described in above online process.

Click on "Registration" from left and scroll down the page Click on  "insert the license key" option available in Offline Registration.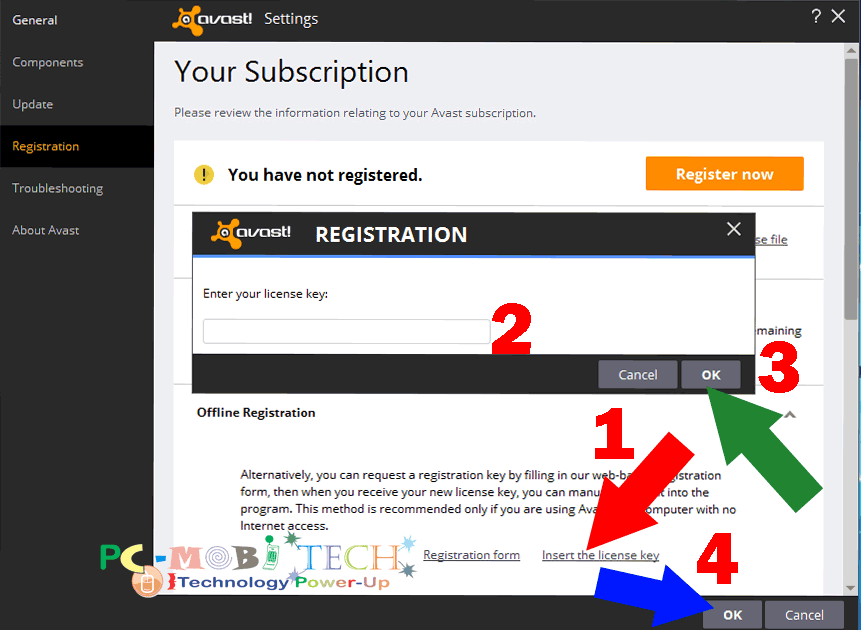 Now "Enter your license key" which you have received on your Email ID. Copy & simply right click & paste and click on OK button.

Now your Registration is successful & you will see you are registered.

Note- After 1 year when your registration expires. Use this same process to continue using Avast Free Antivirus for lifetime.

Any query leave a reply in the comment box..

Also See: