Are you tired of experiencing subpar sound quality on your Windows computer? If so, it's time to explore the world of sound equalizers. A sound equalizer can significantly improve your audio experience by fine-tuning the frequencies and enhancing the overall sound output. In this article, we'll dive into the best sound equalizers available for Windows, exploring their features and how they can elevate your listening pleasure.
What is a Sound Equalizer?
Before we delve into the top sound equalizers, let's first understand what they are. A sound equalizer is a software tool that allows users to adjust audio frequencies and tailor the sound output according to their preferences. By modifying the bass, treble, and other frequencies, you can optimize the audio to suit different types of content, such as music, movies, or gaming.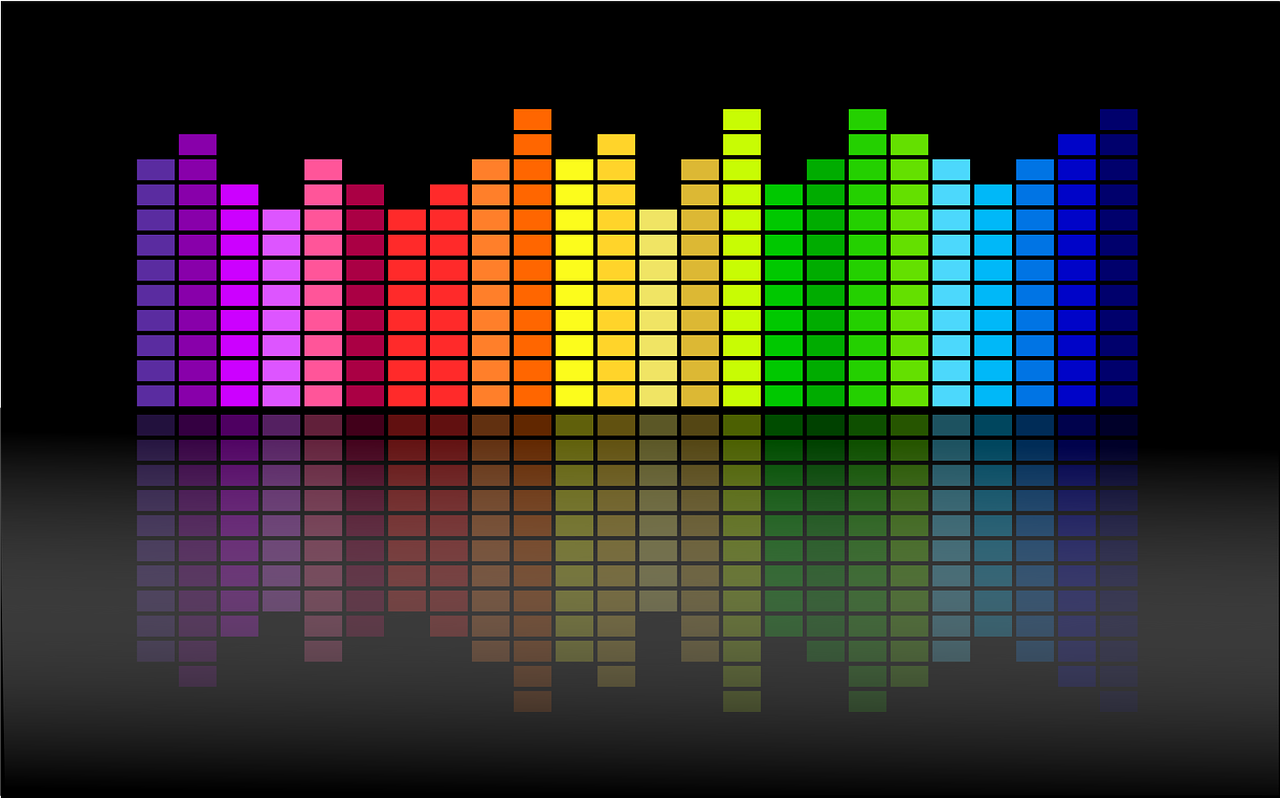 Top 10 Equalizers for Windows 8, 10 and 11 (2023)
Check out our handpicked selection of the top 10 Equalizers for Windows that can easily be downloaded and installed. These Equalizers will take your audio to the next level, providing you with improved sound quality and customization options, making your favorite music, movies, and games sound even better!"
1) Viper4Windows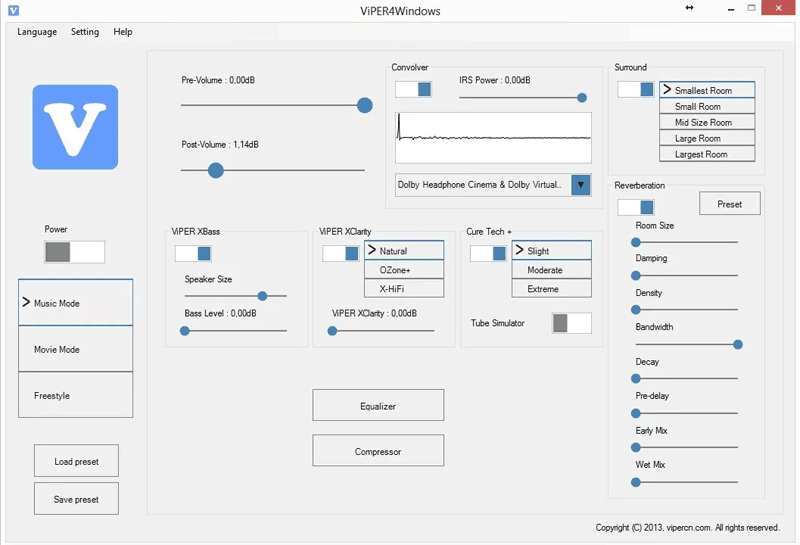 Viper4Windows takes the lead on our list, offering a free download and usage option. This remarkable equalizer allows users to customize audio through 18 bands, boasting a band range from -120dB to 13dB. A stellar choice for Windows users, especially as an alternative to the default equalizer.
Features of Viper4Windows:
Viper4Windows empowers users to select different modes for music playback via headphones or speakers.
Reverberation control based on room and environmental factors.
Sound settings tailored to different music genres such as Music, Movie, or Freestyle.
2) Realtek HD Audio Manager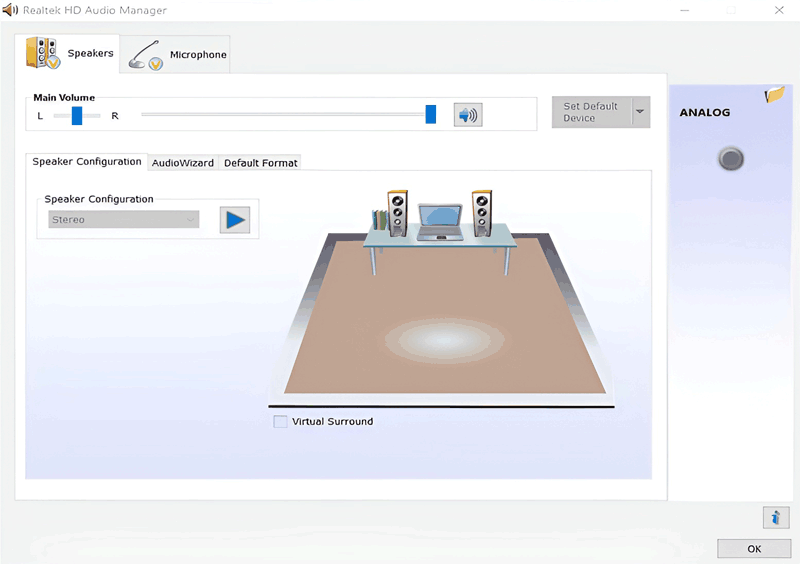 An open-source application on our list, the Realtek HD Audio Manager offers Windows users an abundance of modification options. It grants users the ability to tweak various sound settings, including speakers, microphone, stereo mix, and line-in.
Features of Realtek HD Audio Manager:
Choose between different environments such as living room, underwater, or forest, depending on surroundings.
Band range from 31 dB to 16k dB, similar to the default Windows equalizer.
Numerous presets available, and users can create and save their own presets.
» Download Realtek HD Audio Manager «
3) Equalizer APO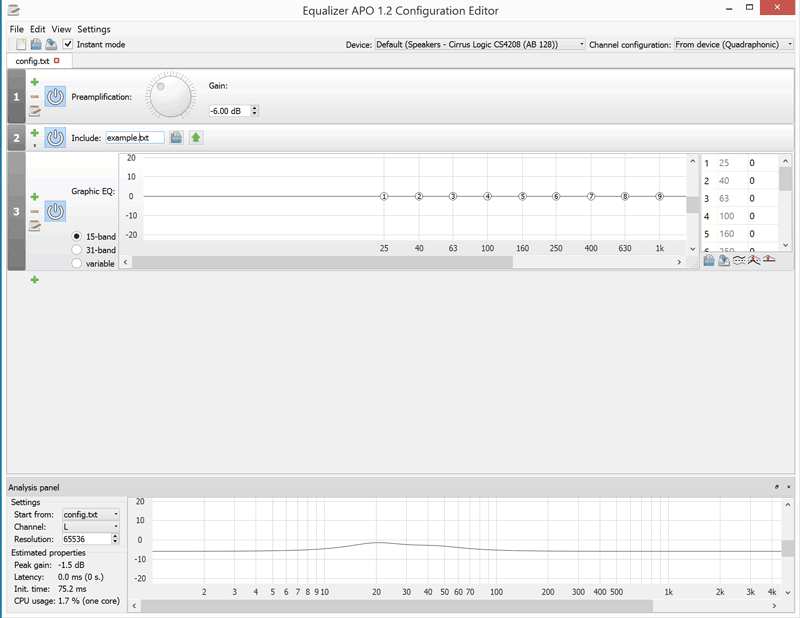 Developed by jthedering, Equalizer APO presents itself as the next application on our best Windows 10 equalizer list. It is an open-source application with advanced equalization capabilities that employ a wide range of techniques to fine-tune the audio.
Features of Equalizer APO:
Offers an unlimited number of filters for diverse use cases.
Operates with low CPU usage while working in the background.
Features a modular Graphic User Interface, supporting any number of channels, including 5.1, 8.1, and more.
4) Realtime Equalizer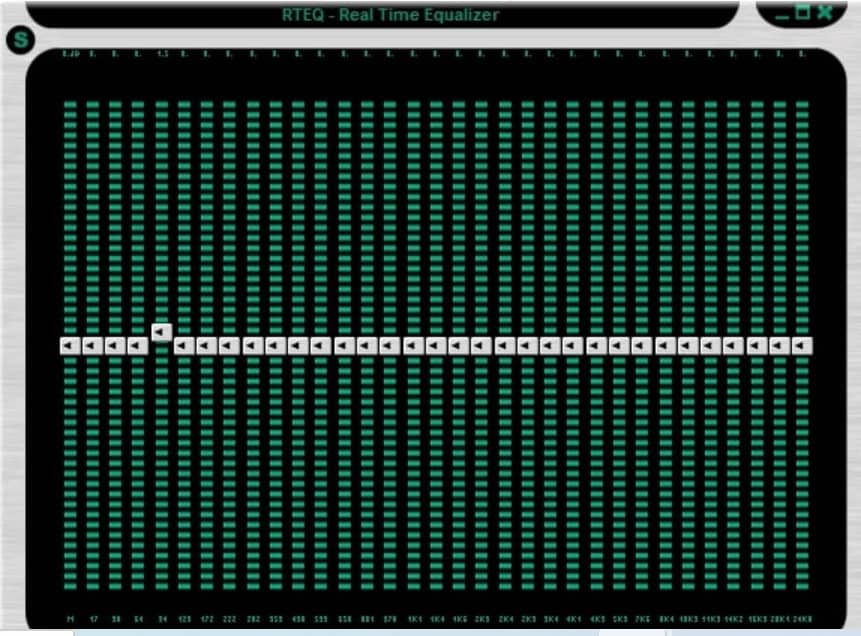 Realtime Equalizer, also known as RTEQ, holds its place as a standalone application and Winamp plugin. Widely used as a sound equalizer for Windows, it offers a versatile audio equalization experience.
Features of Realtime Equalizer:
Allows audio equalization from up to 300 audio channels.
Audio equalization on bands ranging from -INF to 90 dB.
Offers presets for different scenarios and facilitates the creation of custom presets.
» Download Realtime Equalizer «
5) FXSound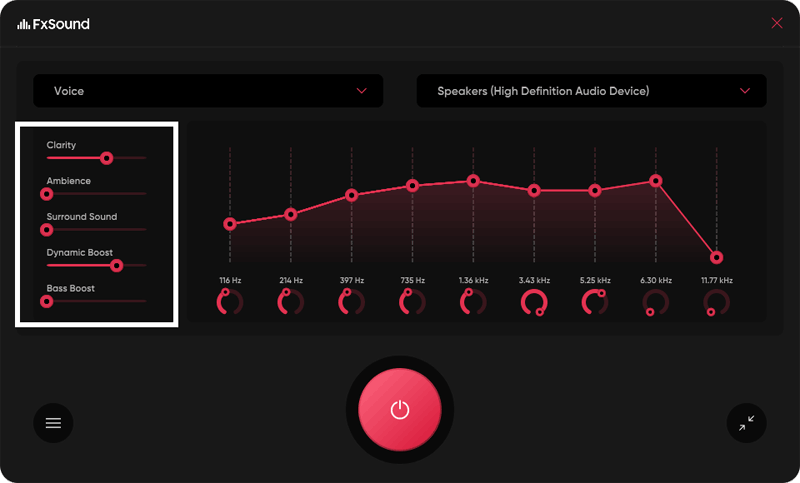 FXSound offers a free-to-try option for a 30-day trial period, following which users have the option to purchase the FXSound Premium for $49.99. It promises unparalleled sound quality, including 3D Surround, deep bass, higher fidelity, dynamic gain boosting, and more.
Features of FXSound:
Optimizes low-quality tracks from online streaming sites like YouTube, Spotify, or Pandora.
Provides presets and allows customization of parameters such as bass, fidelity, ambiance, etc.
Claims to deliver 3D surround sound and impressive bass, even on low-end headphones or speakers.
6) Peace Equalizer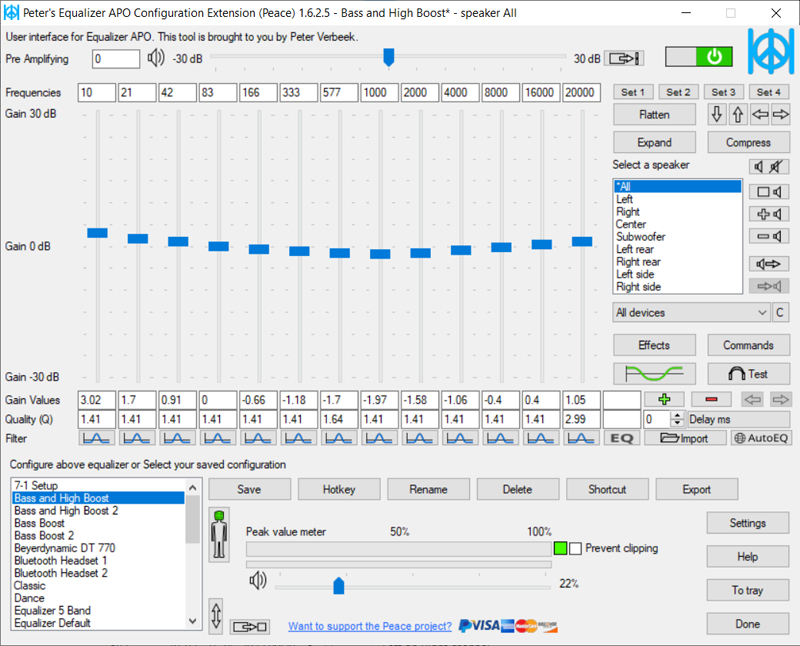 Peace Equalizer is a powerful audio equalizer software for Windows operating systems. It allows you to fine-tune and customize your sound settings, providing a better audio listening experience. With Peace Equalizer, you can adjust various frequencies, control the bass, treble, and other audio parameters to suit your preferences.
This software is compatible with Windows 8, 10, and 11, making it an excellent choice for users on these platforms.
Features of Peace Equalizer:
Peace Equalizer allows you to adjust the audio frequencies, including bass, treble, midrange, and more, to customize the sound according to your preferences.
The software provides real-time audio preview, enabling you to hear the effects of your adjustments instantly.
You can create your own custom presets, allowing you to save and apply specific equalizer settings for your favorite audio tracks or media applications.
Peace Equalizer can be set to automatically apply your preferred equalizer settings whenever you start specific applications or play certain audio files.
7) Bass Treble Booster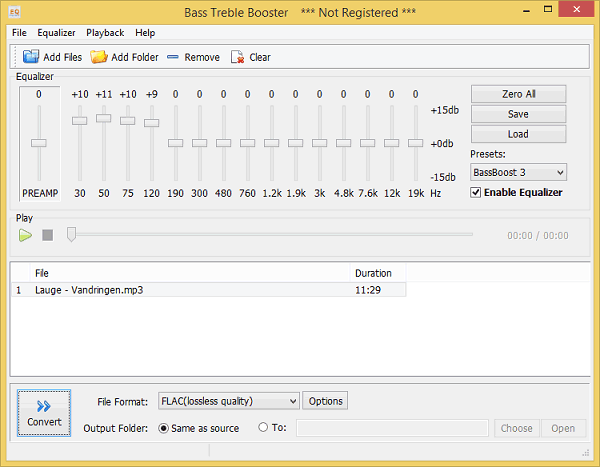 Developed by Mypcsoft, Bass Treble Booster stands as another freemium equalizer for Windows. It allows Bass/Treble frequency editing and boasts file conversion capabilities.
Features of Bass Treble Booster:
Facilitates lossless audio conversion to formats such as FLAC, WAV, or MP3.
Enables cutting or boosting the energy of specific frequency bands.
Supports a wide range of audio file extensions, including Mp3, FLAC, WAV, WMA, WV, AAC, M4A, AIFF.
8) Breakaway Audio Enhancer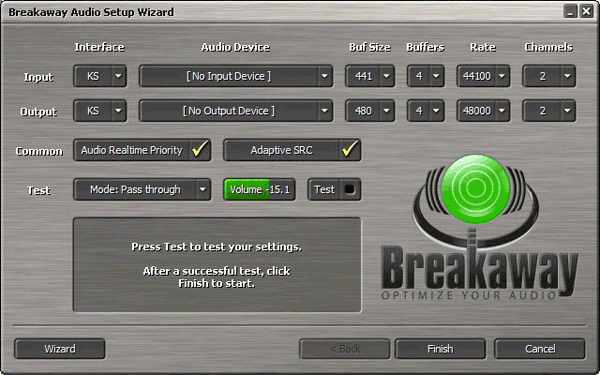 Penultimate on our list, Breakaway Audio Enhancer is developed by Claesson Edwards Audio. It employs multi-band audio processing to enhance audio and includes a feature to increase volume for low tones and decrease volume for higher tones, ensuring a seamless listening experience.
Features of Breakaway Audio Enhancer:
Utilizes multi-band audio processing for enhanced sound quality.
Adjusts volume for different tones, delivering a balanced audio experience.
Offers an Internet Explorer extension for convenient audio control.
» Download Breakaway Audio Enhancer «
9) Graphic Equalizer Studio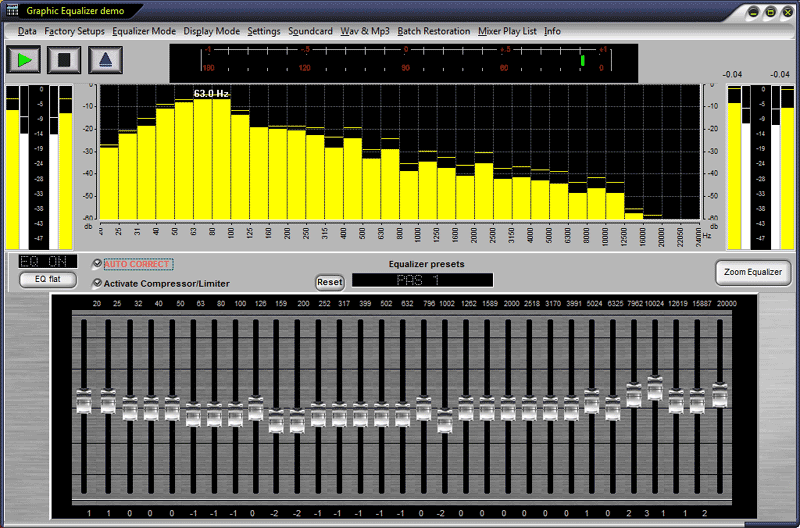 Graphic Equalizer Studio is our next Windows sound equalizer. This application is compatible with various Windows sound apps and DVD Player software, allowing seamless equalization.
Features of Graphic Equalizer Studio:
Includes an audio limiter and a compressor to adjust volume for different tones.
Auto-correct feature scans selected frequencies to determine minimum and maximum amplitudes.
Presents presets like speech level, noise field, and subwoofer, catering to various situations.
» Download Graphic Equalizer Studio «
10) EqualizerPro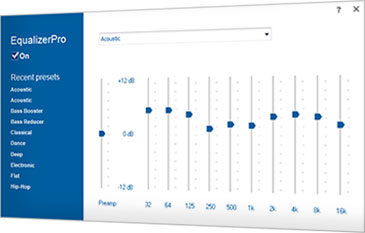 EqualizerPro, compatible with Windows 7, 8.1, 10 and 11, concludes our list with its 10-band equalization support. Developed by Probit Software Ltd., it offers numerous features, including a bass boost effect, equalizer presets, and custom preset creation.
Features of EqualizerPro:
Supports 10-band equalization for precise audio tuning.
Includes a bass boost effect for enhancing low frequencies.
Offers over 20 equalizer presets and allows the creation of custom presets.
Features a simple on/off switch for activating or deactivating the equalizer.
In conclusion, if you've recently acquired a new Windows laptop or PC and wish to elevate your audio experience, exploring these Windows equalizer options is essential. Each of these applications brings unique features to the table, catering to different preferences and scenarios. Whether you seek a free option like Viper4Windows or are willing to invest in premium solutions like FXSound or EqualizerPro, these equalizers will undoubtedly enhance your audio journey. Try them out for yourself and discover the perfect sound equalizer that suits your needs.
You May Also Like: How to Enable Dolby Atmos For Your Headphone?
FAQs – Unlocking the Potential of Sound Equalizers
What is a sound equalizer, and how does it work?
A sound equalizer is a tool that allows users to adjust audio frequencies to customize their sound output. It works by modifying the amplitudes of specific frequency bands to achieve the desired audio profile.
Are sound equalizers compatible with all audio devices?
Yes, most sound equalizers are designed to work with various audio devices, including Windows computers, laptops, smartphones, and tablets.
Can I create my own custom presets with these sound equalizers?
Absolutely! All the mentioned sound equalizers provide the option to create and save custom presets tailored to your specific preferences.
Are these sound equalizers suitable for gaming?
Yes, these sound equalizers can significantly enhance your gaming experience by providing immersive audio and precise adjustments to suit different game genres.
Is it possible to use multiple sound equalizers simultaneously?
While it is technically possible, it is not recommended to use multiple sound equalizers at once, as they may interfere with each other and lead to undesirable audio results.