Now WhatsApp's Calling feature available for the android user, but you can't activate your WhatsApp calling feature yourself. The WhatsApp servers are the main responsible to enable the service on your device If WhatsApp activation servers are down when WhatsApp activated user call you then you can just get a call, answer and chat, but not get activated.
There are random times in a day or week when the WhatsApp servers are online, and without any notice. So if you are at the right time to get a call, you are very lucky. You can Also then call your friend else to activate his or her WhatsApp calling feature.
How to Activate WhatsApp Calling Feature?
1- First download & install latest WhatsApp from Google Play Store Click here or you can download it from third-party source APK Mirror.
2- You need to find out someone who already have this feature activated on their WhatsApp and then request him for a WhatsApp call. If you got your WhatsApp call then your WhatsApp Calling feature activated.
3- If anybody calls you from WhatsApp then a call screen appear on your smartphone. like this-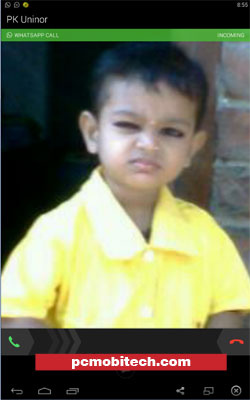 4- Accept this call by dragging green dialer button from left to right wait for 2-5 seconds & after this disconnected call.
5- If your whatsapp call function activated then you will see that three tab appear on whatsapp home screen – Calls, Chats, Contacts. Now you have activated your Whatsapp calling feature.
6- In calls tab you will find your call history detail. You can also make a call from calls tab or you can use dialer button in chat window.
7- If you have activated whatsapp call feature then you can also activate this feature on your friends whatsapp no, by calling him from whatsapp.
8- If your friends don't have latest version then when you calling him a message appear like this-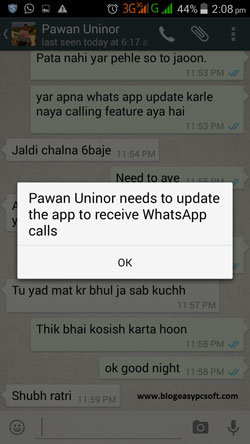 Tips-
You need to Keep running mobile data in your smartphone because if someone call, you need to receive that call then your whatsapp calling feature activated. Otherwise your whatsapp call feature will not activate.