Do you want use Surfshark VPN for 30 days, if yes, then here you will understand that what is SurfShark vpn 30 days Risk-free trial and how you can get full refund with in 1 month. When you look for free trial from a VPN service then you will get two types of vpn trials: Complete Free trial & With Payment trial.
Some VPN services offer a complete free vpn trial and you will not have to pay anything for that trial period once trial ends, you will have to purchase vpn pack full price. And some vpn services such as Expressvpn and Surfshark gives risk free 30 days trial with payment. So you will have to pay complete fees of a pack with discount offer and later within the 30-day you can ask them to refund of full money.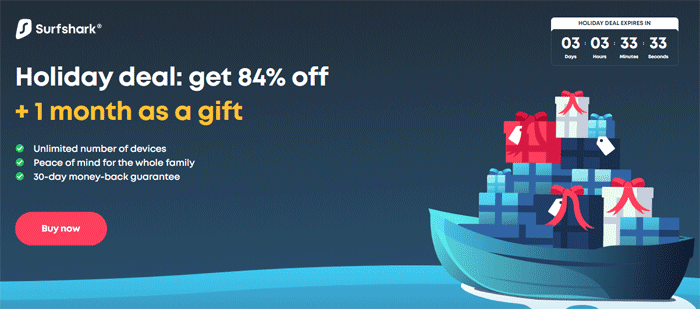 How to Try SurfShark VPN For 30 days?
Now you will thought about why will we pay to Surfshark before vpn trial? Then this is because the rules. Surfshark follows simple guidelines to protect VPN service fraud.
Many times VPN service faces free vpn trial fraud from the users because if a user gets free trial using an email id and after trial end they apply for another trial with different names and Email address. So it is much harder for a vpn service to identify that the user has already used its trial offer.
Hence, many premium vpn services implemented prepaid trial method. For this, first you will have to make full payment of a selected package with discount offer. And later during the testing of 1 month (within 30 days) If you are not happy with VPN service, Surfshark will refund your money without any question asked. That's why it is risk-free VPN trial.
It doesn't matter you have purchased one month plan or the 2 years VPN pack, if you're unsatisfied you can ask for the money back within 30 days. This is unconditional guarantee with 100% trust, you will get full money refund once you send the request them cancellation of service.
To ask for money back just send your request using registered email id to [email protected].
Also See:
Now you have understand that if you want to use Surfshark VPN service with its full potential, just go with paid plan and buy any plan and use services without any tension. If you found the service is not upto mark as they are describing then immediately ask for the refund. In addition Surfshark offering upto 84% discount if you buy 24 months of plan. For this you don't need any coupon code, just use below link and appropriate discount will be automatically applied at checkout.
» GRAB THIS DEAL «
Who will buy Surfshark VPN during the deal, will receive 84% discount and can buy 24 months premium plan at just $1.91/month basis. Once you click on above link, you will be redirected to Surfshark vpn exclusive discount page where you can buy 1 month, 12 months or 24 months plan with decent discounted price.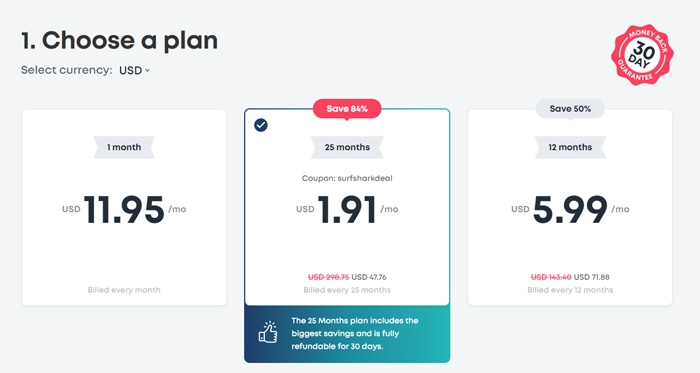 As you might guess, the best value is the plan for 2 years of service. The discounts are clearly displayed on the Surfshark special page. Remember that you will not need a promo code to take advantage of the offer. The Surfshark team has made it very easy to sign up and get started.
As we said, you will get 30 day money-back guarantee, and 30 days are enough for you to test all vpn features. So later you can take better decision to continue or ask for the refund money. After doing test if you feel happy then continue the use of the service, but we can say you will not face any issue because of their best customer support and services.
» Get Risk-Free Trial «
Use the link and signup SurfShark VPN 12 months plan or 24 months plan and get upto 84% discount (pay just $1.91/mo) during checkout.